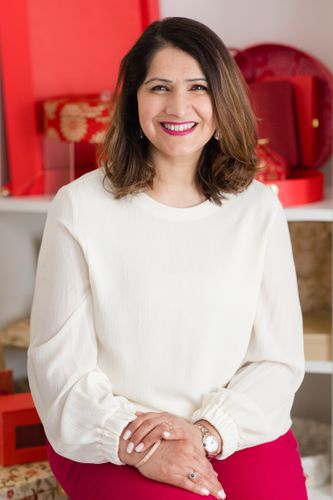 JINNY KUDHAIL
Jinny Kudhail is the creative director at Decorasian: a luxury gift packaging service aimed at cultural gifting. All the gift packaging products are made from eco-friendly recycled cottons and silks with an emphasis on luxury, elegance and quality with signature bright colours and patterns.
Jinny knows that gifting someone can bring so many emotions such as happiness and joy, often even more so than receiving a gift. She believes that these positive effects are elevated when the gift is packaged to perfection. This is what builds up anticipation, and so is as important as the gift itself. The creativity behind this process is something the brand loves and adores! Furthermore, presenting your gifts beautifully can transform your items making the look a million dollars!
Jinny is also the creator of the luxury Punjabi Gifting Guide aimed at Asian weddings and received "Highly Commendable Gifts" at the Gift of The Year competition 2020 in the Cards & wrap category.