TRENDS SS18
SPRING/SUMMER 2018 TRENDS ALERT
We are delighted to present you some of the latest trends for the new season. To discover the more, register now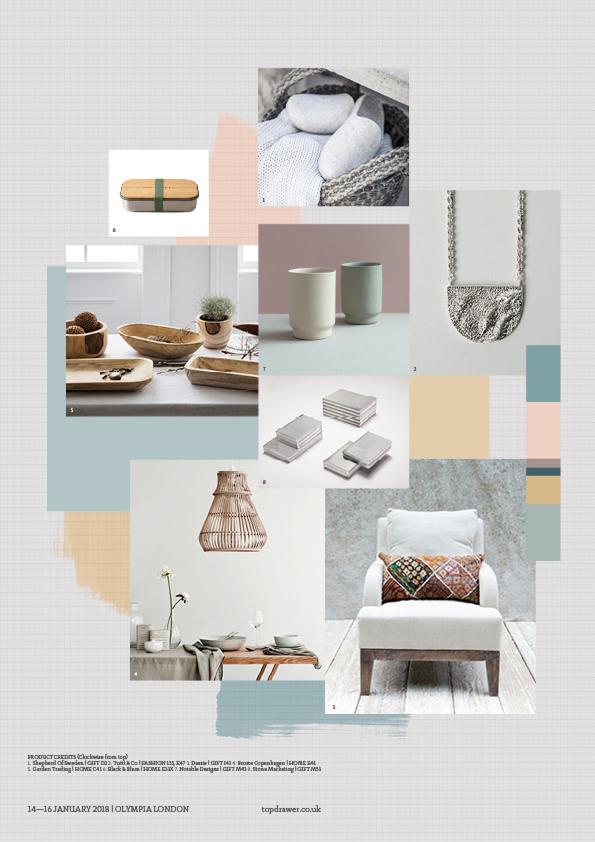 EASY LIVING
Smooth shapes, natural colours, tantalising textures…make space for these exquisitely simple characters.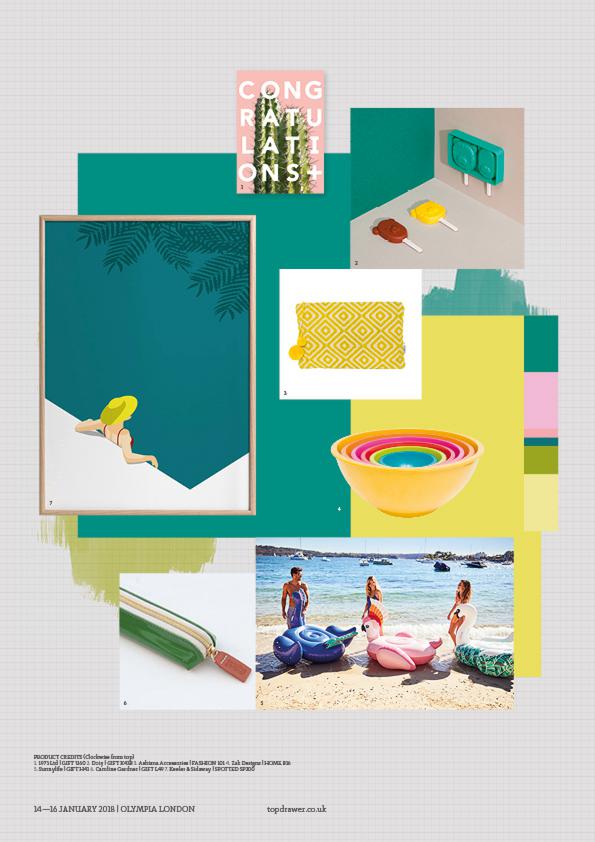 CALIFORNIA DREAMING
The citrus hit and sunny vibe inject a zesty twist to this searingly hot, fresh direction.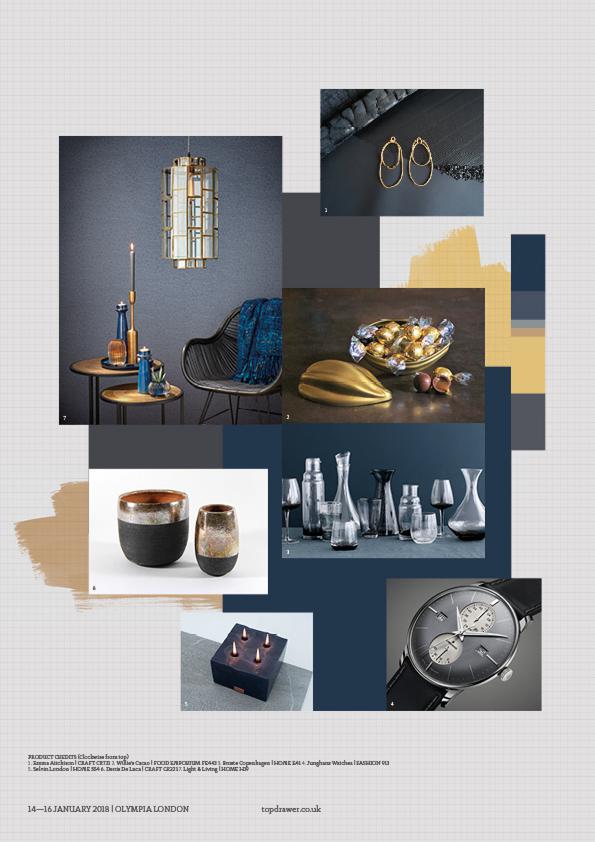 DARK LUX
The irresistible allure of mysterious beauty: this narrative is moody, dark, enigmatic, and irresistible.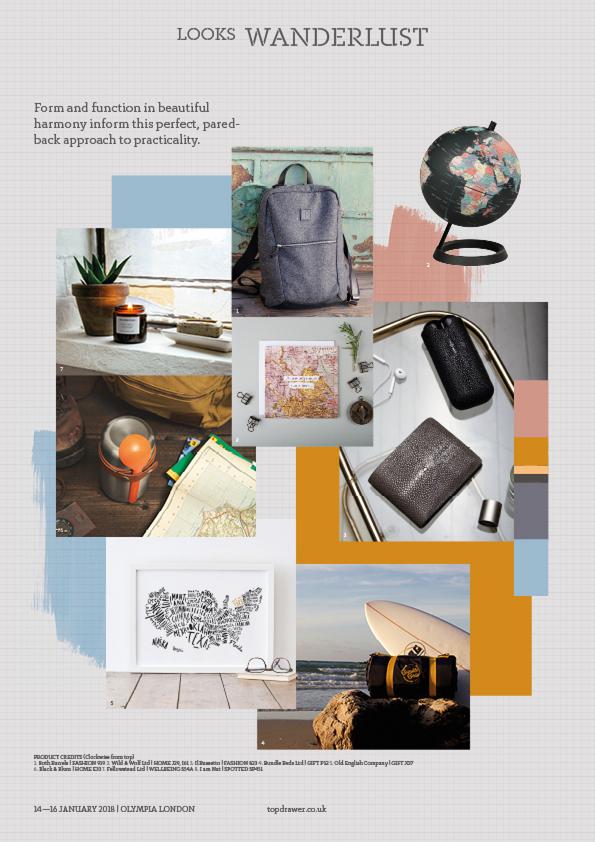 WANDERLUST
Form and function in beautiful harmony inform this perfect, paredback approach to practicality.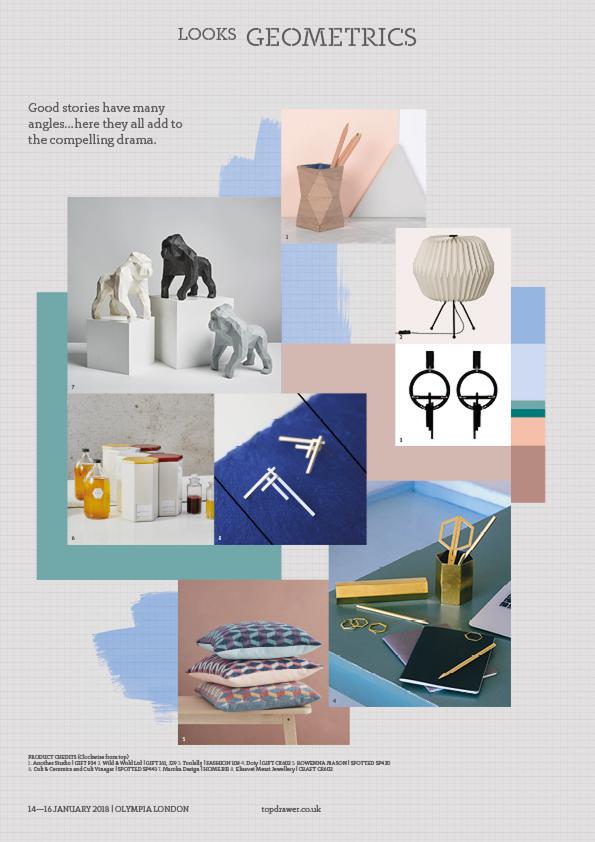 GEOMETRICS
Good stories have many angles…here they all add to the compelling drama.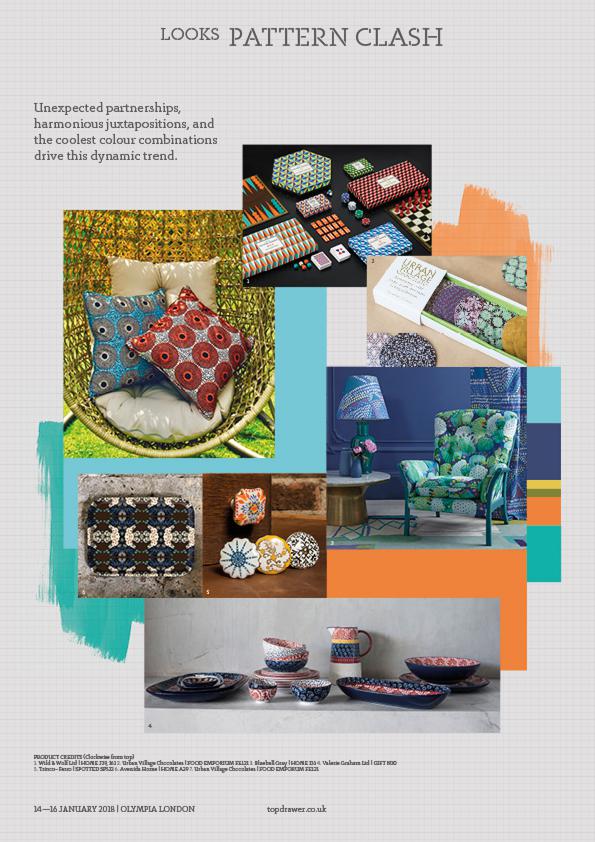 PATTERN CLASH
Unexpected partnerships, harmonious juxtapositions, and the coolest colour combinations drive this dynamic trend.
MORE TRENDS...
To discover the more trends and source the newest design-led products from over 1500 lifestyle brands
PRODUCT CREDITS (Clockwise from top)
EASY LEAVING
1. Shepherd Of Sweden | GIFT I31
2. Tutti & Co | FASHION 135, E47
3. Dassie | GIFT I41 4. Broste Copenhagen | HOME E41
5. Garden Trading | HOME C41
6. Black & Blum | HOME E33X
7. Notable Designs | GIFT M43
8. Stone Marketing | GIFT M53
DARK LUX
1.Emma Aitchison | CRAFT CR721
2.Willie's Cacao | FOOD EMPORIUM FE443
3. Broste Copenhagen | HOME E41
4. Junghans Watches | FASHION 913
5. Selvin London | HOME SS4
6. Denis De Luca | CRAFT CR223
7. Light & Living | HOME H19

WANDERLUST
1. Both Barrels | FASHION 919
2. Wild & Wolf Ltd | HOME J29, I61
3. Il Bussetto | FASHION 823 4. Bundle Beds Ltd | GIFT P32
5. Old English Company | GIFT X37
6. Black & Blum | HOME E33
7. Fellowstead Ltd | WELLBEING S54A
8. I am Nat | SPOTTED SP451
CALIFORNIA DREAMING
1. 1973 Ltd | GIFT U60
2. Doiy | GIFT K43B
3. Ashiana Accessories | FASHION 101
4. Zak Designs | HOME B16
5. Sunnylife | GIFT H41
6. Caroline Gardner | GIFT L49
7. Keeler & Sidaway | SPOTTED SP200
GEOMETRICS
1. Another Studio | GIFT P34
2. Wild & Wold Ltd | GIFT I61, J29
3. Toolally | FASHION 108
4. Doiy | GIFT CR602
5. ROWENNA MASON | SPOTTED SP420
6. Cult & Ceramics and Cult Vinegar | SPOTTED SP443
7. Maroka Design | HOME B31
8. Elisavet Messi Jewellery | CRAFT CR602
PATTERN CLASH
1. Wild & Wolf Ltd | HOME J29, I61
2. Urban Village Chocolates | FOOD EMPORIUM FE121
3. Bluebell Gray | HOME I33
4. Valerie Graham Ltd | GIFT N30
5. Trinco–Ferro | SPOTTED SP522
6. Avenida Home | HOME A29
7. ONUA | SPOTTED SP402