08 Dec 2022
Blue Crow Media Maps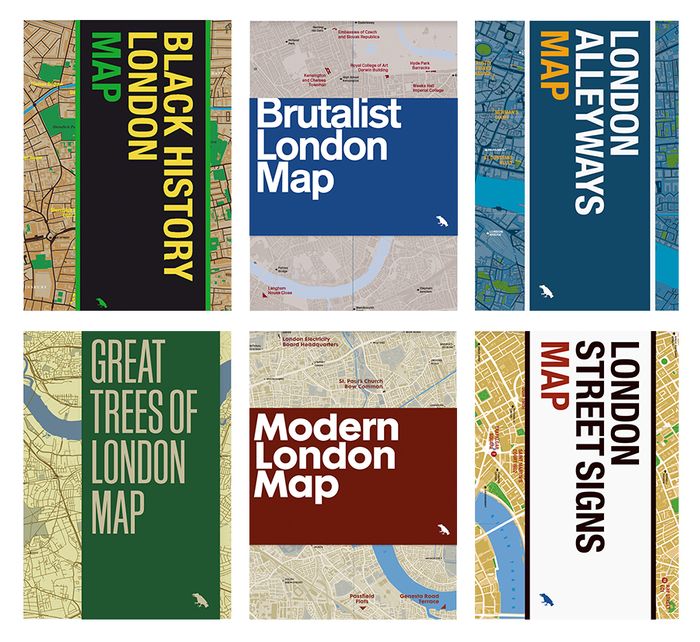 Black History Londond Map - Jody Burton and Avril Nanton identify and reveal London's most significant Black historical landmarks in Blatest map. Featuring fifty locations, descriptions, original photography, and an introduction to the history and impact of Black people in London, from the Roman era to Black Lives Matter.
Brutalist London Map - This two-sided folding map features over fifty leading examples of Brutalist architecture in London, from the Alexandra Road Estate to World's End Housing. Celebrated Brutalist buildings such as the Trellick Tower, the Barbican and the National Theatre are included along with lesser known, yet equally influential buildings. Perfect for a walking tour or framing.
London Alleyways Map - Alleyways have a habit of leading to unexpected places. They act as the city's library: echoing the routes of trade, lost rivers, burial roads, disputed boundaries, tracks of animals and people. They hold the stories of a city that otherwise can no longer be seen. This map introduces the hidden passages of London.
Great Trees of London Map - The map reveals highlights from London s uniquely diverse urban forest, featuring rare species, magnificent English oaks, an ancient 2,000-year old yew and the finest flowering cherries.
Modern London Map - Explore extraordinary examples of Modern architecture built across London between 1930 and 1960. Featuring over fifty buildings, this two-sided guide includes photography, building details and an introduction.
London Street Signs Map - London's street signs reflect centuries of history through their letters, whether carved in stone, enamelled or tiled. These unassuming signs serve as rich visual markers of the city's ongoing evolution. Explore London's most interesting examples with this map, which includes descriptions, an introduction and photography.