20 Jan 2023
Top Drawer closes the doors on a stellar start to the retail buying year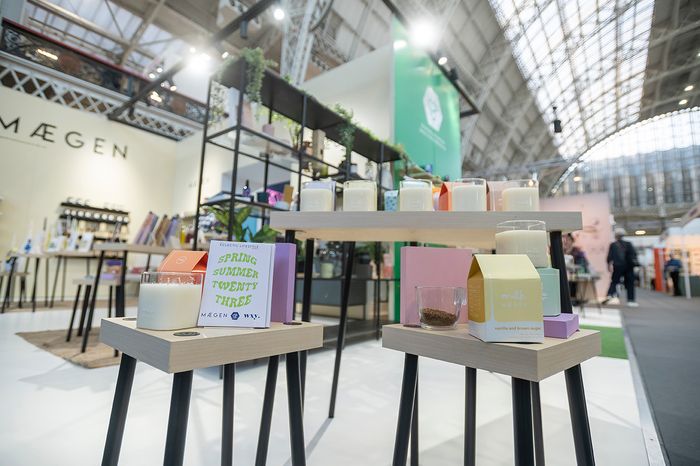 Top Drawer SS23, the first sourcing event of the year for the retail industry, has closed its doors following three days of successful, vibrant trade at Olympia London. The show welcomed both international and UK-based visitors, ranging from department stores and museum shops to independent boutiques, hospitality specialists, and garden centres. Included in the attendee list were Anthropologie, Aria, Avoca, Barnes & Noble, Brown Thomas, Cursive New York, Fenwick, Flying Tiger Copenhagen, H&M, Harrods, Heals, John Lewis, Le Bon Marché, Liberty London, Rockett St George, SCP, Selfridges, Soho House, The Conran Shop, The Design Museum, The Getty Museum, TikTok Shop and Waitrose, to name just a few.
Following a successful campaign to attract visitors from overseas, Top Drawer hosted people from over 40 countries across the 3 days - seeing a 47% increase on 2022 and welcoming them from as far afield as Canada, Japan, Mexico, New Zealand, Saudi Arabia, South Korea, and the United States. This international flavour was further enhanced with the addition of over 30 key international distributors, who visited looking to source new brands to represent in territories as diverse as Australia, Germany, India, Israel, Italy, Lithuania, the Netherlands South Korea and Switzerland amongst others.
Illustrating the strength of the retail industry, this edition of Top Drawer also saw a sharp year-on-year increase in footfall - driven by a new visitor acquisition strategy that saw 58% of them attending for the very first time. There was further success seen in individual target sectors, with a 16% increase in department store buyers, as well as a 4% increase in independent retailers attending the show. These buyers took every opportunity to connect with the show's 500+ brands – 50% of whom were exclusively exhibiting at Top Drawer, and 25% of which were making their show debut. The handpicked, edited nature of the show appealed to many of them and was a key reason given for their attendance, with Fran Harkness from Bam Bristol explaining: "For us it's the best trade show. Great curation, good range and not too massive!"
Of her visit to the show, Le Bon Marché's Nathalie Constanty outlined her reasons for visiting: "Top Drawer is the perfect show for me to discover products across all the sectors I'm sourcing for. I have been coming for years and I love it - especially as it's the first show of the buying season. This time I saw many existing suppliers as well as discovering many amazing new ones."
This favourable balance between existing and new brands on display was a common thread in feedback, with Lauren Jarvis of Mlkwood Store commenting: "On Monday I [visited] the ever inspiring Top Drawer London… It was so fantastic to see some of our makers in person [and] I also met lots of new people so watch this space!"
Bryony Taylor Edwards of Yarnton Home and Garden outlined the thoughts of many: "Fabulous day at Top Drawer London. I loved every second. So many bright and beautiful products and small businesses doing brilliant things."
It wasn't just visitors who were celebrating their time at the event, with exhibitors expressing their delight with the buzz of the show and the quality of leads received.
Joanna Hockett, International Sales Manager for Lifeguard Press enthused: "Top Drawer is easily our favourite trade show - the timing, the location and the buyers here put it a cut above the rest, and this season is no exception!"
Louise Shore of FRASS agreed: "We have had the most unbelievable show [at] Top Drawer London, opening an astounding number of new accounts"
OLOR's Louise Roger expressed similar sentiments: "What a brilliant show, huge thanks to the amazing team... It's been a whirlwind yet again. We have met so many amazing people over the last few days, we're really excited about our new stockists, and so pleased to see some of our current stockists back at the show placing new orders."
Helen Edwards of East End Prints summarised the prevailing mood of exhibitors on the show floor, declaring: "There really isn't another trade event quite like this one!"
In addition to sourcing, Top Drawer also offered inspiration and innovation that both visitors and exhibitors could benefit from; the RetailFest and Ecommerce Insights seminar programme equipped audience members with everything they need to make 2023 their most successful year of trading yet and visitors were treated to an engaging session from retail giant Cath Kidston, along with an impassioned talk about Instagram reels by Rebuildagram's Kirsty Raper and Dahlia Beach's Andie McDowell. There were also a host of other sessions and masterclasses designed to help retailers elevate their business in 2023 - all of which will soon be available to watch back on demand via www.retail-reveal.com, Clarion's digital destination for retail discovery, inspiration and connection.
This season Top Drawer also collaborated with The Better Trends Company, creating an immersive trends display which transported retailers into the minds of their customers and showcased what they will be seeking over the next year and beyond; visitors had the chance to get lost in the bold vibrance of Modern Psychedelic and the simple earthy tones of Rhythmic Form - both of which were brought to life with products available on the show floor. In addition, they were also able to enjoy a sneak peek into the future with Dreamwave which forecasts that designs in 2024 will utilise a range of layered colours and morphing shapes to blur the lines between reality and fantasy, bridging the gap between them.
Top Drawer also celebrated the talent of the Greetings & Stationery sector with the Paper Awards, and a panel of experts from across the retail industry had the tough task of judging the plethora of artistic entries that had been submitted by exhibitors across 4 distinct categories; the winners of each were:
Exciting use of colour - Alphablots

Emotive Design - Elsa Rose Frere

Engaging Print - Heraldblack

Brand new category for 2023 - Innovation In Design - Raspberry Blossom
As the doors shut on Tuesday afternoon, Show Manager David Westbrooke commented: "It's been an amazing 3 days! The feedback we've had already from visitors and exhibitors alike has been universally positive - with particular mention given to the quality on display this season, which is testament to the hard work and dedication of the team here. The show floor has been absolutely abuzz, and it's a real thrill to witness our community coming together again like this. As a former exhibitor, I know just how important Top Drawer is to so many of these businesses, and we're honoured to play such a key role in facilitating these meaningful, commercially beneficial connections."
The next edition of Top Drawer will take place 10-12 September 2023 at Olympia London. More information will be added to topdrawer.co.uk in the lead-up to the show.
Find the show's image gallery here.