08 Apr 2019
The CRAFT movement makes waves in its 10th edition at Top Drawer - Call for contemporary makers to apply now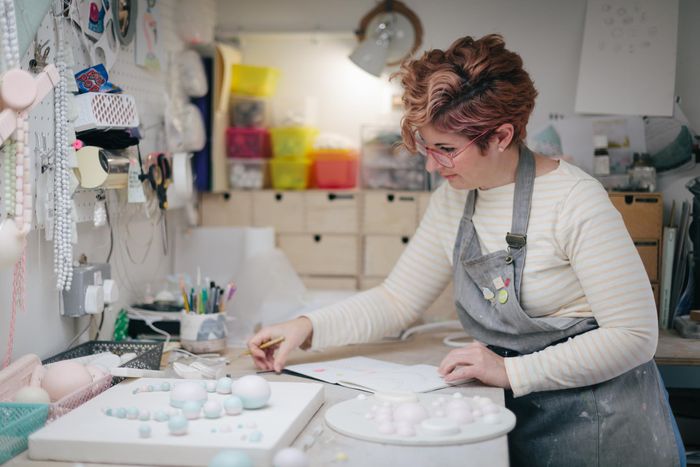 With their work contributing an astounding £3.4bn to the UK economy*, there's no doubt that the time of contemporary makers is now.
Presenting a unique opportunity for work to be seen by retailers in the lead-up to the industry's most fruitful time, Christmas, the 10th edition of CRAFT will be returning to Top Drawer 8-10 September, showcasing an extraordinary selection of pieces from more than 50 contemporary makers.
"The maker's movement is an undeniable force in retail at the moment, seen everywhere from museum to leading stores of the likes of Harrods, Selfridges and Heals. We're proud supporters of makers and their work, and are thrilled to provide them with a commercial platform to connect with professional buyers who are excited about unique contemporary pieces made with heart and honed skill." said Top Drawer Show Director Alejandra Campos.
Rosey Blackmore, Merchandise Director at TATE Enterprises explains the importance of attending Top Drawer stating, "The combination of well selected, high calibre content and a user friendly fair layout that is carefully organised by product category makes Top Drawer an unmissable date in the buying calendar."
Of her time at CRAFT previous exhibitor Rosie Brewer, who specialises in unique wooden kitchenware said, "There is nowhere else I could get that kind of exposure in my field in such a short space of time. CRAFT is perfect for meeting the right kind of buyer who is already there because they appreciate and understand the special uniqueness of handmade work as opposed to mass-produced items. It is a great way of having display opportunity for people to see and handle my work opposed to just an image online."
Echoing similar sentiments Penny of Penny Warren Jewellery said, "Exhibiting at Craft has proved incredibly valuable for sourcing and reaching new outlets and starting new accounts. It always seems busy and the quality of the buyers generally excellent. I like doing this show because it doesn't feel
uber-corporate; the organisers of CRAFT understand designer-makers and curate the show in a friendly personable way that makes it enjoyable to do, but it also brings in vital business by attracting the right kind of buyers for the quality of work on display. I have found new outlets at CRAFT who wouldn't have seen my jewellery anywhere else and they have become regular customers. So for me CRAFT has become an essential part of my business diary."
Applications to exhibit at CRAFT are open now and makers across Ceramics & Glass, Fashion & Textiles, Jewellery and Mixed Media are encouraged to apply before 15th May 2019 via ben.myatt@clarionevents.com or +44 (0)20 7384 7728.
—END—
Follow the latest news and new launches
@TopDrawerLondon #DefineYourStory #TopDrawer #AW18

For more information about Top Drawer and all PR enquiries, please contact:

Jordan Evans
Clarion Events
T: 020 7384 7751 | E: jordan.evans@clarionevents.com
*https://www.craftscouncil.org.uk/what-we-do/research-reports/
About Clarion Events
Clarion has outstanding expertise in retail industry with well-established shows including Top Drawer, Pulse, Home & Gift, Scotland Trade Fair, January Furniture Show, Manchester Furniture Show, Internet Retail Expo, Internet Retail Conference in the UK. Premium Fashion Shows Berlin, and Global Sources, Hong Kong.

Clarion Events organises over 200 exhibitions, conferences and events annually across the globe and employs over 2500 people in 15 different countries. More than 16,000 companies trust us with their custom each year and over 1,000,000 people give their valuable time to visit our events. www.clarionevents.com