19 Dec 2019
Spotted Award Shortlist Announced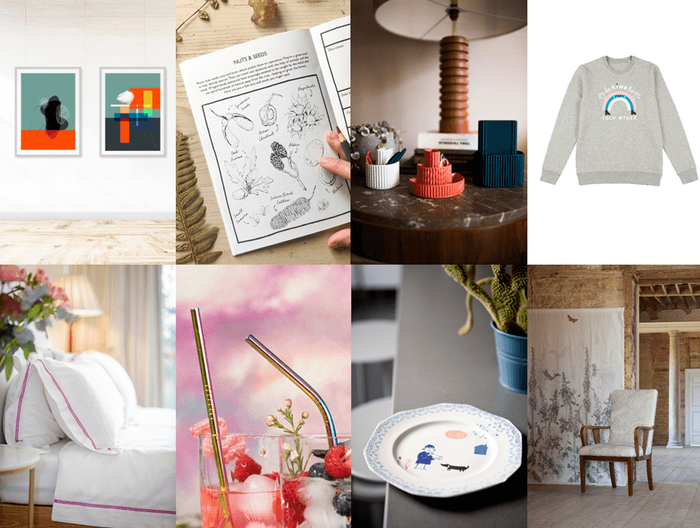 Dedicated to emerging design and new talent, Spotted will once again present visitors to Top Drawer with the very best market-ready brands that buyers will have never seen before.
As the S/S20 edition of the show promises to be one on the most inspiring yet, the Spotted Award returns to recognise commerciality, design and innovation across all product categories seen at the show.
After much deliberation, the Spotted Award's panel of judges, comprising of leading industry professionals from the likes of Tate Enterprises, The Conran Shop, Habitat and Wolf & Badger, has chosen the eight brands who will go forward to the final judging, based on the following criteria: originality and innovation, commercial viability, clarity of brand and communication of message, and quality of the design.
Batch.works
Batch.works aim to make 3D printed products part of people's everyday lives. They believe in making the right product for the right person, in the right place by using the latest technology to make local design and manufacturing globally available. They use 3D printing to produce at a batch scale, working with local makers to create pieces on demand; eliminating supply chain waste. They use recycled and responsibly sourced material to make their products.
Dearest Fannie
Dearest Fannie was founded by two sisters looking to make sustainability fashionable for a young market. They believe that reusable, ethical, cruelty free and sustainable products don't have to be boring and that it's cool to care. Dearest Fannie brings a refreshing approach, injecting colour and eye-catching illustrations into a traditionally organic-looking sector.
lllustrated Stories by Kay van Bellen
Netherlands-based ceramics brand, Illustrated Stories, was founded by British-born artist and illustrator Kay van Bellen in 2019. The brand story emerged from her Dutch heritage and her love of Delft Blue ceramics and the stories that unfold behind each delicately painted image. The pieces in the inaugural collection are made from old, found objects which Van Bellen screen prints and hand decorates to create new narratives.
Katie Putt Illustrations
Katie Putt is an artist and illustrator who works with watercolours, pen and ink. Her collection of nature-inspired wall hangings is a relaxed, modern take on a traditional style, reminiscent of precious childhood picture books.
Luana Asiata
Luana Asiata creates abstract prints and original paintings inspired by nature, created in her little studio in South London. An "avid doodler", Asiata combines her love of graphic shapes with the organic natural forms found in nature to create dynamic abstract landscapes filled with intuitive marks, texture and strong colours.
Rediscovered By
Charlotte Gaunt launched Rediscovered By as a way of pushing the boundaries of screen printing, using cloth (particularly linen) as paper to recreate 'drawings on fabric'. All the linens are sourced from a single mill in Northern Ireland, with the flax grown in the nearby fields. Gaunt also makes wallpaper and will launch a collection of fabrics, lampshades and papers at Spotted in January.
Sukun
Textile brand, Sukun—meaning tranquillity—launched in November 2019. Inspired by countless stays in boutique hotels around the world, founder Fatima Khan embarked on a journey to bring a little bit of that holiday luxury back into our homes. The first range of products is a selection of 300 thread count, 100% pure cotton sateen sheets, sustainably sourced from select textile manufactures in Faisalabad, Pakistan; adhering to strict international quality standards. "Textiles are my passion, Pakistan is my hometown and I am the third generation of a textile family," says Khan.
The Kindness Co-op
The Kindness Co-Op, an online clothing and gift store for children aged 0-14 years started in 2014 as The Wee Store. It was re-launched and re-branded by Lucie Carr and her business partner Charlie in September 2018 in an effort to become more socially responsible, for example sourcing organic clothing that has been locally screen printed with their own designs. The brand makes a donation to the charity YoungMinds for every piece of own brand merchandise sold.
—END—
Supporting images can be downloaded via our press partner, Press Loft at: https://www.pressloft.com/app/press-office/topdrawer/collections/7613
Follow the latest news and new launches
@TopDrawerLondon #LiveDesign #TopDrawerLondon
For more information about Top Drawer and all PR enquiries, please contact: Jordan Evans, Clarion Events T: 020 7384 7751 | E: jordan.evans@clarionevents.com | W: www.topdrawer.co.uk
About Clarion Events
Clarion has outstanding expertise in retail and design industry with well-established shows including Top Drawer, Home & Gift, Design Shanghai, Spirit of Christmas, Scotland Trade Fair, January Furniture Show, Manchester Furniture Show, Internet Retail Expo, Internet Retail Conference in the UK. Premium Fashion Shows Berlin, and Global Sources, Hong Kong.
Clarion Events organises over 200 exhibitions, conferences and events annually across the globe and employs over 2500 people in 15 different countries. More than 16,000 companies trust us with their custom each year and over 1,000,000 people give their valuable time to visit our events.
www.clarionevents.com