Waters + Wild Organic Perfumery
Stand: T69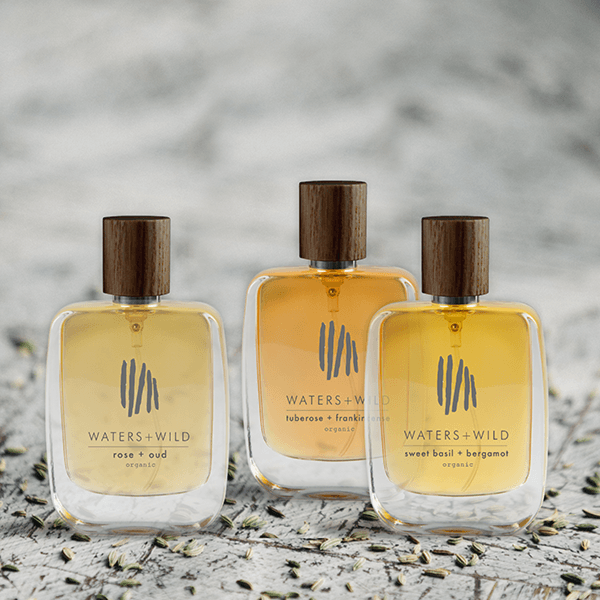 W A T E R S + W I L D
organic perfumery and lifestyle
100% natural, never tested on animals and vegan
w a t e r s + w i l d create perfumes using natures palette certified organic perfumes made in small vintages, hand blended and poured in an ancient stone barn using the age-old traditions of perfume- making with a 21st century twist. The slow perfume movement
w a t e r s + w i l d was born from a passion for all things natural and from the earth. Based in beautiful West Cork, Ireland, on the wild Atlantic coast, inspired by the beauty that surrounds us, we use only the finest ethically sourced, rare absolutes, concretes and resins, raw and organic ingredients locally sourced (seaweed, lavender, rosemary and gorse), and from around the world.
The result is an award winning range of bold and sensual perfumes both timeless and contemporary.
rose + oud
Rich and deep. Rose petals harvested at dawn when their perfume is at its strongest, combined with rare, exotic and woody oud giving it a mysterious sensual depth.

sweet basil + bergamot
sweet basil + bergamot. Fresh, peppery basil, sweet with delicate anise undertones, combines beautifully with the spicy citrus notes of shimmering Calabrian bergamot, warm cedarwood and wild rose. Good enough to eat, and organic
tuberose and frankincense
An exotic blend of heady intoxicating tuberose and deep aromatic frankincense. Classic and timeless.
cedarwood + cognac
Smooth, rounded with a hint of sweetness, woody cedarwood blended with tart rich cognac and hints of full bodied, earthy vetiver.
Address
wilds
The Terrace
Glandore
Cork
P81 D992
Ireland