01 Aug 2018
UWP Luxe Releases First Desktop Collection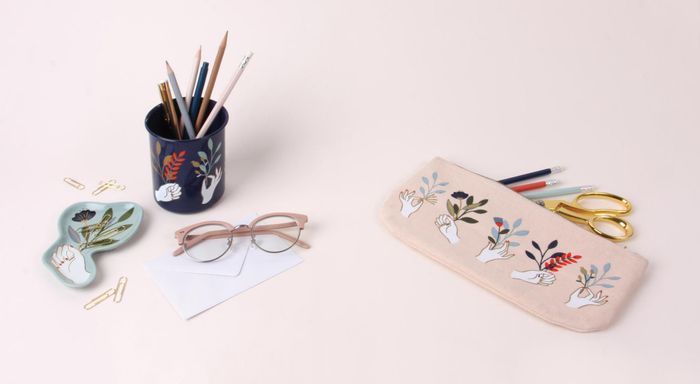 UWP Luxe, Up With Paper's boutique line of stationery products and elegant home goods, is introducing its very first Desktop Collection, stemming from the company's passion for all things hand-painted and carefully crafted. This collection features four art themes that are applied to three formats – fabric pouches, ceramic trinket trays, and enamel pencil cups. The UWP Luxe Desktop Collection is available to pre-order now, and will ship in October 2018. 
The four featured art themes cover a variety of popular trends, color palettes, and patterns. The designs include an abstract composition of brightly colored paint strokes and clustered dots, decorated beetles arranged with bright blooms and foliage, delicate hands holding carefully cut sprigs, and leopards roaming amongst lush tropical flora. Embellishments such as metallic gold ink further enhance the collection. All designs can be seen online on UWP Luxe's website, as well as in the UWP Luxe summer show exhibitions at the Los Angeles Gift & Home Market, Las Vegas International Gift & Home Market, Minneapolis Gift, Home & Accessory Show, NY Now, Toronto Gift Fair, and Seattle Gift Fair.
Originally founded as PopShots Inc. in 1978, Up With Paper has been recognized for design excellence more than 100 times with the Greeting Card Association's highest honor, the LOUIE award, including the "Card of the Year" LOUIE Award in 2005 and 2018. Up With Paper's intricate, innovative Treasures, Panoramics, and Sight 'n Sound Pop-Up Greeting Card lines, Pop-Up Snow Globe Greetings®, Pop-Up Notepads, Notebooks, Boxed Cards, and Trinkets® gift enclosures, as well as the company's UWP Luxe boutique line of trend-driven pop-up greeting cards, laser cut stationery, and elegant home goods, are available in thousands of specialty retail outlets throughout the United States and around the world.