25 May 2018
Up With Paper Is Big Winner at 2018 LOUIE Awards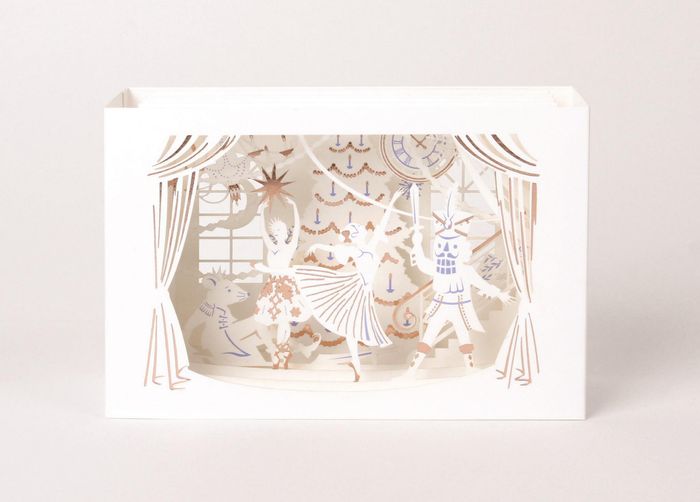 Up With Paper was the biggest winner at this year's LOUIE Awards, which annually honors the best greeting card designs through a juried competition sponsored by the Greeting Card Association (GCA). 
Known informally as the "Oscars" of the greeting card industry, LOUIE Awards are considered the highest honor for greeting card designs.  About 1,000 entries are submitted by hundreds of American and International card publishers, which are then reviewed by a jury of industry experts.  Three finalists are selected for each category, based on cost and sending occasion, and the winners are announced at the Awards bash, held annually during the National Stationery Show in New York.  The category winners are then considered for the night's ultimate prizes—Card of the Year and the Judge's Award for Excellence.
Up With Paper led the way with 15 finalists, and seven cards went on to claim the LOUIE Award in their categories, making Up With Paper the night's biggest winner. The original pop-up greeting card company took home the awards for Children's Card Above $4.00 and Religious Celebrations Above $4.00 for cards from its Panoramics and Treasures lines, respectively. The company's UWP Luxe boutique line of stationery products and elegantly packaged fine soaps, won LOUIE Awards for Birthday (General) Above $4.00, Congratulations/Special Occasion Above $4.00, Everyday Boxed Set, LGBTQ, and Print and Production Excellence.  Two of UWP Luxe's winners, from the Layers and Pure Alchemy lines, were then selected for the Judge's Award for Excellence, and the LOUIE's highest honor, Card of the Year, for its intricate, laser-cut greeting card depicting an elaborate scene from the holiday classic, The Nutcracker.
Monika Brandrup, Up With Paper's Vice President and Creative Director, notes, "It was an extra special honor to be so highly recognized at the LOUIEs this year, the year that Up With Paper celebrates its 40th Anniversary. After all of this time, we are so proud to be still designing cards that are relevant in the industry, especially our newest designs from UWP Luxe, and that we have truly set our place as the original pop-up greeting card company."
At this year's National Stationery Show, Up With Paper celebrated 40 years of delighting greeting card senders and recipients alike since its debut at the 1978 National Stationery Show. The booth showcased a number of Up With Paper's first-ever pop-up greeting cards, featured a timeline of notable events from over the years, and held an anniversary party to honor the company's history and celebrate its future. A number of new products were introduced for the first time at the show, such as Up With Paper's new Christmas Treasures and Panoramics designs with push-button light effects that bring the spirit of the holidays to every card. UWP Luxe also used the show to debut a new petite pop-up greeting line, Dear Alchemy, featuring die-cut, interactive, "small yet still mailable" cards that focus on nostalgia-driven themes with a sprinkle of humor. Follow Up With Paper and UWP Luxe on Instagram to see Stationery Show highlights and LOUIE award winners.
Originally founded as PopShots Inc. in 1978, Up With Paper has been recognized for design excellence more than 100 times with the Greeting Card Association's highest honor, the LOUIE award, including the "Card of the Year" LOUIE Award in 2005 and 2018. Up With Paper's intricate, innovative Treasures, Panoramics, and Sight 'n Sound Pop-Up Greeting Card lines, Pop-Up Snow Globe Greetings®, Pop-Up Notepads, Notebooks, Boxed Cards, and Trinkets® gift enclosures, as well as the company's UWP Luxe boutique line of trend-driven pop-up greeting cards, laser cut stationery, and elegantly packaged fine soaps, are available in thousands of specialty retail outlets throughout the United States and around the world.
Visit the Greeting Card Association's website to see all of the award-winning designs.