18 Nov 2021
SUCSEED LAUNCH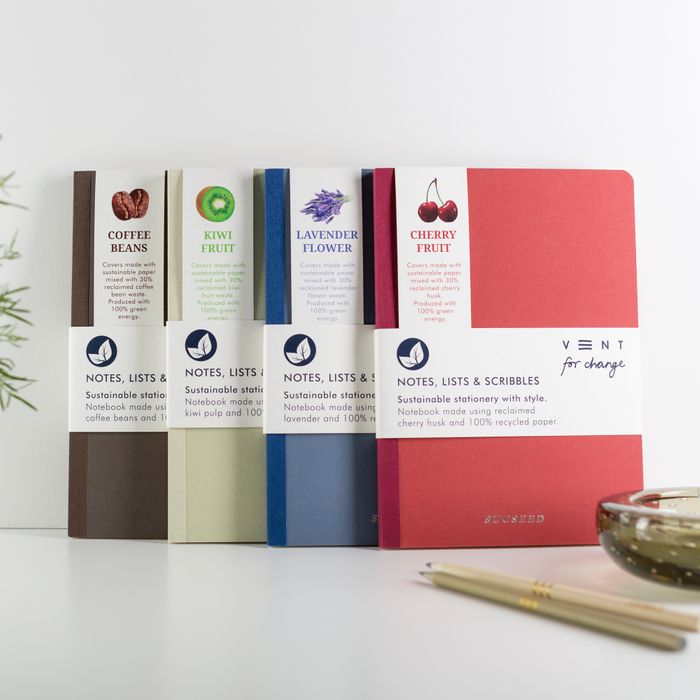 VENT for Change launches NEW SUCSEED range of reclaimed notebooks
VENT for Change, the sustainable stationery brand that protects the planet & supports children's education worldwide launch their new SUCSEED range of reclaimed notebooks.
A beautiful collection of books made using reclaimed coffee beans, lavender, cherry and kiwi husk, plus 100% recycled paper. Supplied as standard with a page marker made from reclaimed corn pulp. Aimed that those who want to make their Notes, Lists and Scribbles in one book the SUCSEED range comes with lined, plain and numbered notes pages throughout.
"We are loving the use of these new reclaimed and recycled materials to deliver a stunning tactile finish that reflects their origins." Commented Evan Lewis, Founder of VENT for Change.
Aimed at a slightly different market from VENT's brightly coloured or more minimalist ranges the SUCSEED collection has already seen strong pre-launch interest and forward orders. Another example of VENT's sustainable style and ethical philosophy.
Email retail@ventforchange.co.uk