12 Jan 2018
ROYAL CROWN DERBY PRESENTS THE ART OF AFTERNOON TEA AT TOP DRAWER 2018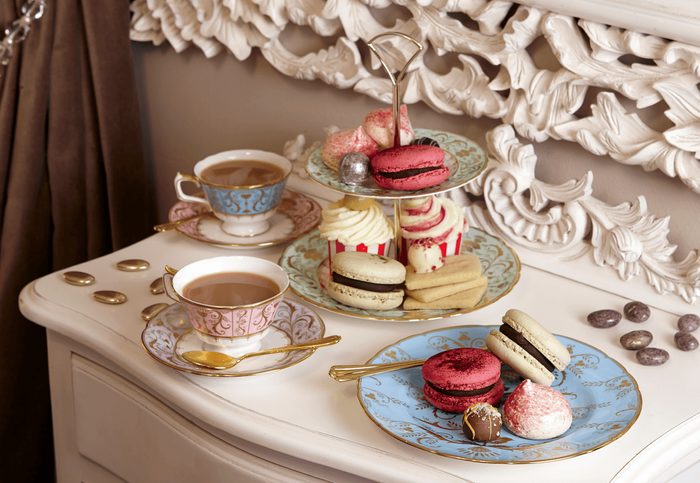 Steeped in history and at the very centrepiece of British culinary tradition, afternoon tea is now an experience enjoyed across the globe in some of the world's most luxurious leisure and hospitality establishments. With this in mind, there is no more fitting way to enjoy an afternoon tea than from Royal Crown Derby's finest collections of English fine bone china, perfected over more than 200 years by its skilled artisans.
Darley Abbey & Darley Abbey Harlequin
Darley Abbey captures the Regency style of restrained simplicity, whilst also presenting indulgence and elegance, for a refined afternoon tea experience. Inspired by the opulence of 18th century design, the collection offers ornamental elements carefully arranged against soft green silk damask by Royal Crown Derby's in-house design team and expertly hand-finished in 22-carat gold.
Complementing Darley Abbey's renowned collection is Darley Abbey Harlequin, which features a new interpretation of the classic archive pattern. Available in pink, lavender and blue, the collection is ideal for a more contemporary, yet no less opulent afternoon tea. Featuring accent design plates, the colours add drama, allowing for a playful mixing and matching.
Gold Aves
Having appeared in Royal Crown Derby's luxury tableware range since 1932, Gold Aves is adorned with dramatic birds of paradise and peacocks with elegant, trailing feathers. Adapted from an embroidery pattern by the painter, Albert Gregory, Gold Aves make a sumptuous yet dramatic statement during any afternoon tea party.
Showcasing design excellence through the lavish hand application of 22-carat gold or alternative platinum, the collection brings outstanding style to the table.
Royal Antionette
Epitomising the quintessentially English pastime of afternoon tea, this pattern has graced home and garden for many years. A popular tableware pattern and royal shape, it is inspired by a pattern first created in the late 1800's. The intricately detailed and colourful floral designs incorporating 22 carat gold are as popular today as they were two centuries ago.
Sales and Marketing Director at Royal Crown Derby, Steve Rowley, said: "With more than 200 years' experience perfecting tableware that will elevate and refine any dining experience, we are to be proud experts in the art of afternoon tea."
"Both our enduring Darley Abbey and Darley Abbey Harlequin ranges have been specially conceived to heighten the pleasure of the traditionally English afternoon tea experience."
"All of our collections have also been expertly hand-crafted with fine English bone china and finished with 22 carat gold, to bring an extra level of refinement to any afternoon tea."
For further information, contact Royal Crown Derby Retail Sales on +44 (0)1332 268 901 or email all enquiries to enquiries@royalcrownderby.co.uk.
ENDS
Notes to the Editors:
Royal Crown Derby is a world-leading manufacturer of exquisite fine bone china tableware and giftware.
Royal Crown Derby supplies the world's finest retailers, luxury hotels and restaurants and global royalty in 50 countries.
All fine bone china products are 100% made in England, using techniques largely unchanged since the businesses establishment in 1750.
Over 130 people are employed at its historic 'Osmaston Works' factory in Derby, England.
Established in 1750, the company became known as "Crown Derby" by King George III in 1775. In 1890, Queen Victoria bestowed the title "Royal" creating the company name of "Royal Crown Derby."
Only the finest materials are used including 22ct gold and platinum applied to The Royal Crown Derby basic formula of bone ash, china stone and china clay, which remains a formula for high quality bone china.  The intrinsic strength of the body means that it is possible to achieve delicate profiles without sacrificing resistance to breakage, unlike other translucent bodies. We specialise in customised decoration, which ranges from simple monogramming to completely unique dinner services.  We are experts in this field as we perform every element of the production process from modelling, design, making and decorating.  We also have a print shop, which allows us to produce bespoke, cost effective decals quickly.