14 Jan 2018
ROYAL CROWN DERBY OFFERS CONTEMPORARY EVERYDAY LUXURY WITH SKETCH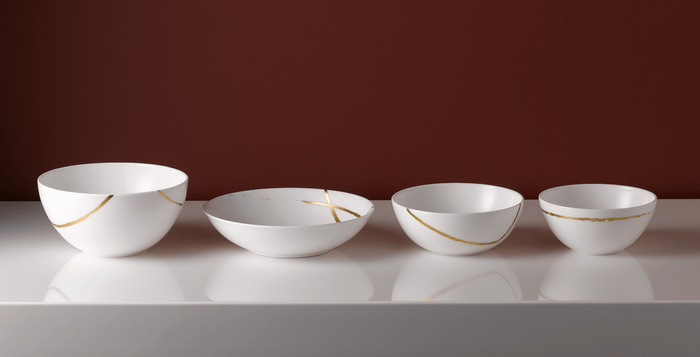 Luxury tableware specialist, Royal Crown Derby, will launch its latest contemporary tableware offering, Sketch, at Top Drawer 2018.
Designed by the brand's skilled craftspeople to combine a unique 22-carat gold pattern reminiscent of an artist's brushstroke with the purity and strength of fine bone china, the collection is available in two contrasting colourways – Chalk and Charcoal.
The stunning new collection, whose design boasts a delicate and natural hand drawn appearance, presents an exquisite modern aesthetic that exudes luxury yet demonstrates strength in everyday use.
Sketch Chalk
The Sketch Chalk collection perfectly showcases the translucent beauty of the white fine bone china, which is embellished with opulent 22-carat gold. Each brushstroke demonstrates the technical aptitude and design excellence, which ensures the uniqueness of every single piece in the range.
This stunning and contemporary collection meet consumers' aspirations for the very best luxury casual tableware, which is both attainable and functional, as well as being high quality and highly desirable.
Sketch Charcoal
Providing a dramatic contrast to Sketch Chalk, the textured Sketch Charcoal range sees the same delicate 22-carat gold brushstroke design applied to brushed glaze on fine bone china – an innovative technique unseen before on such translucent material.
Sketch Charcoal provides discerning customers the option of mixing and matching the two colour ways to create an elegant, monochromatic table setting, perfect for any occasion.
Royal Crown Derby's Sales & Marketing Director, Steve Rowley, said: "The Sketch collection exemplifies the innovation and design excellence of our skilled craftspeople.
"The innovative brushed glaze technique of Sketch Charcoal, which is unseen before on fine bone china, elevates the design to create a stunning contrast to Sketch Chalk. Whether used to create a tablescape in one colour way or elegantly mixed and matched, the new Sketch collection will provide a modern look to any dining experience."
Both the Chalk and Charcoal ranges include Royal Crown Derby's newest tableware shape – the 'urban' shaped (34cl/12oz) mug and set of cups and saucers. The collection is also offered on the contemporary coupe shape, helping to provide a modern look for the contemporary dining experience.
Prices range from £22 - £145. For further information contact Royal Crown Derby Retail sales on +44 (0)1332 268 901 or email all enquiries to enquiries@royalcrownderby.co.uk
-ENDS-
Notes to the Editors:
Royal Crown Derby is a world-leading manufacturer of exquisite fine bone china tableware and giftware.
Royal Crown Derby supplies the world's finest retailers, luxury hotels and restaurants and global royalty in 50 countries.
All fine bone china products are 100% made in England, using techniques largely unchanged since the businesses establishment in 1750.
Over 130 people are employed at its historic 'Osmaston Works' factory in Derby, England.
Established in 1750, the company became known as "Crown Derby" by King George III in 1775. In 1890, Queen Victoria bestowed the title "Royal" creating the company name of "Royal Crown Derby."
Only the finest materials are used including 22ct gold and platinum applied to The Royal Crown Derby basic formula of bone ash, china stone and china clay, which remains a formula for high quality bone china.  The intrinsic strength of the body means that it is possible to achieve delicate profiles without sacrificing resistance to breakage, unlike other translucent bodies. We specialise in customised decoration, which ranges from simple monogramming to completely unique dinner services.  We are experts in this field as we perform every element of the production process from modelling, design, making and decorating.  We also have a print shop, which allows us to produce bespoke, cost effective decals quickly.