12 Jan 2018
ROYAL CROWN DERBY GIFTWARE AT TOP DRAWER 2018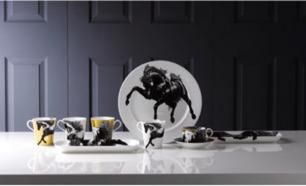 Royal Crown Derby, English fine bone china perfectionist, will showcase a selection of its stunning giftware pieces at Top Drawer 2018. From the striking equine-inspired Equus collection, to the beautifully hand-crafted, ever-popular Old Imari Solid Gold Band range.
Equus
The striking equine-inspired contemporary collection features unrestrained original brush and ink artwork, making a profound statement in modern minimalist surroundings. Equus can be either table or wall art and is available in two different finishes, a high gloss black horse presented on white bone china and a black horse displayed on an elegant gold antique finish.  Equus can be used visually as wall-art or table-art, equally decadent for city or country dwellers. 
Steampunk
The steampunk collection, reflecting the rich tapestry of Derby's engineering history and is inspired by Steampunk and its post-apocalyptic world of steam-powered machinery, which has infiltrated the worlds fashion, culture, art and film.  Each monochrome piece offers a playful mix and features an interlocking cog and wheel motif reminiscent of the futuristic industrial forms cleverly re-imagined to portray elegance and precision, and pays homage to Royal Crown Derby's 19th century artisans.
Old Imari Solid Gold Band
The Old Imari Solid Gold Band Butterfly is one of the best-selling items in the Old Imari Solid Gold Band giftware collection. Set against a backdrop of cobalt blue and Derby red, the subtle combination of intricate florals and geometric designs ensures this piece is not only beautiful, but thought provoking.
The Old Imari Solid Gold Band Robin is the newest piece in the collection, using intricate floral inspired motifs to illustrate the requisite feather detailing in striking shades of red and blue, made by the famous 19th century pattern and heavily embellished in 22 carat gold. The robin symbolises hope, joy and happiness in many cultures making the ornament a perfect gift for the avid collector and discerning customer alike.
William Morris Inspired Collection
Inspired by the pattern work of William Morris, the Periwinkle Owl features delicate swirl patterns overlaid with various leaves and a delicate mixture of colours in green, blue and pink on an iris blue background highlighted with 22 carat gold.
The Manor Peacock uses beautiful shades of tonal blues with touches of orange sweeping along the body and tail feathers, whilst geometric shapes depict the peacock's plumage and tail feathers on this stunning fine bone china piece.
Also inspired by the iconic designer, William Morris, the Strawberry Thief Thrush is decorated in a combination of muted blue tones with a flurry of green and damson florals edged in 22 carat gold.
The Parchment Owl features a delicate swirl pattern, overlaid with various leaves such as the Acanthus and Tulip flowers, in symmetrical repeats. With a neutral base colour, highlighted with a 22 carat gold and a multitude of muted colours that feature in William Morris' original patterns, the beautiful collection will make for a stunning gift in any modern collector's home.
-ENDS-
Notes to the Editors:
Royal Crown Derby is a world-leading manufacturer of exquisite fine bone china tableware and giftware.
Royal Crown Derby supplies the world's finest retailers, luxury hotels and restaurants and global royalty in 50 countries.
All fine bone china products are 100% made in England, using techniques largely unchanged since the businesses establishment in 1750.
Over 130 people are employed at its historic 'Osmaston Works' factory in Derby, England.
Established in 1750, the company became known as "Crown Derby" by King George III in 1775. In 1890, Queen Victoria bestowed the title "Royal" creating the company name of "Royal Crown Derby."
Only the finest materials are used including 22ct gold and platinum applied to The Royal Crown Derby basic formula of bone ash, china stone and china clay, which remains a formula for high quality bone china.  The intrinsic strength of the body means that it is possible to achieve delicate profiles without sacrificing resistance to breakage, unlike other translucent bodies. We specialise in customised decoration, which ranges from simple monogramming to completely unique dinner services.  We are experts in this field as we perform every element of the production process from modelling, design, making and decorating.  We also have a print shop, which allows us to produce bespoke, cost effective decals quickly.