12 Nov 2018
Pampered Pooch trending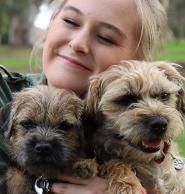 PRESS RELEASE --- JUNE 2018
______________________________________________________________________________
VIOLET COLEMAN,
GEORGE PAWS OWNER
THEY say the apple doesn't fall from the tree.
For 15-year-old Violet Coleman, the idiom certainly rings true.
The daughter of award-winning Adelaide entrepreneur Annette is using her free time to follow in her footsteps by launching Georgie Paws, a luxury dog accessories business which is growing into a global brand.
It's quite a commitment for the year 10 student, who juggles Georgie Paws responsibilities with homework and sport. It means finding time to design, liaising with manufacturers, marketing and sales duties.
"I now know what mum has meant in the past when she's said she was super busy," Violet says.
"It's a case of being super organised to get everything done. But then I've grown up watching mum juggle everything – she has inspired me."
Violet's enterprise began on a mother-daughter road trip in July 2016 when she was just 13 years old.
"I just felt I wanted to start my own business and along a really long road, I just told her and my first idea was to design dog coats," Violet says.
"But she asked me to think of something that was smaller, cheaper to post and that most dogs would need. She said the products should be high end but still aspirational.  Mum explained about managing returns and manufacturing faults.  That then made sense that I could only use reliable craftspeople with the best materials I could afford.  (We still haven't had a faulty collar returned!)."
The result was a luxury range of leather dog collars and leads and quirky dog inspired gifts for people and pooches. Violet wanted to spoil dogs, just as she does her own border terrier George.
She didn't waste any time. Three months after the road trip, Violet was at her first retail event with the inaugural samples of the dog collar range.
Just 2 years later, Violet's hard work is paying dividends. The seed planted on that road trip has bloomed into a national business: the range of woven buffalo leather dog collars and accessories have now been stocked in over 160 stores across Australia, New Zealand and the USA.
Violet has agents in the USA, Australia and New Zealand to service those markets, attending Trade Shows and in store visits.
However, there's an added bonus. The launch of Georgie Paws has made the mother-and-daughter team even closer. They now travel to trade shows together and daily discuss initiatives to continue to expand and improve Georgie Paws.  Annette has now joined the Georgie Paws team as Operations Manager, whilst Violet has sidestepped to Creative Director allowing her more time for school.
"It's fabulous how we can chart our own journeys while helping each other in business,'' Annette says.
Annette has been in business for the past three decades. Her entrepreneurial path began with national fashion labels chetWynd and Gate, which were sold to more than 120 stores across Australia and internationally. She also collected a swag of design and business awards along the way. Next came the Silver Queen Jewellery, with an ever-changing range that portrays Annette's quirkiness and unique design flair.
"Georgie Paws is also providing a future for Violet, who has always been my right-hand when I've set up Trade Booths, markets and other events in past years.  We are a 2 person team since her father died when Violet was just a baby, so whatever either of us does, impacts on the other," Annette says.
"It has been such an eye-opener working with a younger person and their perspective on the world.  The family of craftsmen are very special to Violet and she will not budge moving to a factory.  In her words – "What would the family eat if we took all that work away from them?  It's pretty hard to get a job in Pakistan."  Violets' view on waste and recycling influenced the packaging, which needs to be able to be re-purposed, and the sustainability of the raw materials needs to be considered.  I had no idea about the advantages of using Buffalo Leather, but Violet researched it all and discovered it resists cracking, is stronger and religious neutral.  The religious aspect and embracing everyone's beliefs was very important to her."
George Paws has given Violet a new way to express her designs.
"I like the design aspect as I can see my ideas become a reality," she says.
And the Georgie Paws range is growing. It now includes powder-coated steel mugs, note and gift cards --- and a new trend of matching belts for people.
It has been a big year for Violet so far – pitching to the Sharks on Shark Tank, a Telstra Business Awards nomination and reaching the second round and on a personal note, a school scholarship on the student exchange to South Africa.  Growth for Georgie Paws is doubling every 6 months.
Philanthropy also has a focus, with Violet designing dog collars suitable for clubs and schools using custom designs as fundraisers in made-to-order colours.  She supports numerous dog-related charities around Australia with donations and products.
However, Violet's attention has broadened from George (her border terrier dog), to Flora, the new puppy – a balance of love that she didn't expect.  Nevertheless, Flora now has her own brand, offering collars and leads for small dogs and puppies.
TO FIND OUT MORE: Go to the Georgie Paws website - https://www.georgiepaws.com or email ask@georgiepaws.com
DID YOU KNOW:
The RSPCA says Australia has one of the world's highest rates of pet ownership in the word. It estimates there are about 4.2 million pet dogs – that's 19 dogs for every 100 people.
VIOLET'S TIPS FOR FITTING A DOG COLLAR:
The dog collar should not be too loose or too tight. A good guide is to ensure it can move around the dog's neck and allow at least two finger's space between the collar and the dog's neck. The Georgie Paws website has a sizing guide for the collars.