03 Sep 2018
Oasis Home Fragrance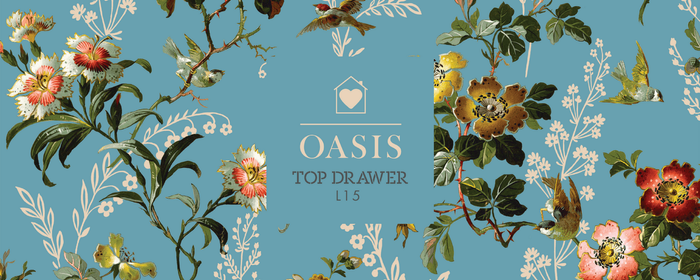 Oasis launch fragranced products and bring happiness into your home
Fashion brand Oasis launches first licensed home fragrance & stationery gifting range with print, colour and happiness in their brand flagship stores, online and in other retail outlets this autumn.
The launch collections include scented candles, reed diffusers and room sprays, all based around a stunning collection of fragrances developed by Margaret Strug, Chief Perfumier at Bahoma, as well as a fun range of stationery and gifting lines. The packaging for these products features many of Oasis' instantly recognisable signature prints.
Hash Ladha, COO of Oasis said, "Our entry into the home products category is going from strength to strength and we are very happy to be launching this collection of home fragrance and gifting products. We believe these products showcase the spirit of our brand are very confident that these products will appeal not only to our existing customers, but also to a new and wider group."
Developed under licence by brand licensing specialists Golden Goose, Phillippa Green, Account Director said, "These home fragrance and stationery products add to a strong and growing portfolio and are a fine example of our strategic approach to developing a sustainable licensing programme for Oasis".
Licensee, Bahoma London is one the UK's leading home fragrance and luxury cosmetic design and manufacturers. James Bruce, Managing Director at Bahoma London said, "We are honoured to be working with Oasis on this project. Oasis is the perfect addition to our growing portfolio of collections and I have every confidence that this exceptional range of products will be very well received at the upcoming Top Drawer exhibition." Ends
Golden Goose is a European brand licensing consultancy established in 2002 to help corporate brands develop best-fit licensing opportunities. Based in London the company balances a strategic approach with a professional execution, offering a range of services from brand strategy development through to full service licensing representation.  Other clients represented by Golden Goose are Men's Heath, Women's Health, Runner's World, St Pancras International and The Original Stormtrooper.
Oasis is an established British women's high street fashion retailer with nearly 300 stores in the UK and ROI, as well as more than 200 concessions within Debenhams, House of Fraser, John Lewis, Outfit, Beales and other independents.  They trade in 96 locations across 27 countries in Europe, Scandinavia, the Far East, Middle East, Mediterranean and South America.
Bahoma London is a UK brand founded in 2007. It creates beautiful perfumes and collections of body and home scented products. Their body perfumes, eau de toilettes, scented candles and fragranced room diffusers all share the same philosophy of fragrance, a fiercely dynamic independent credo and a refusal to be influenced by the mundane, it is this which makes Bahoma unique.