03 Feb 2022
Niwaki Chiltern Street, W1 is Open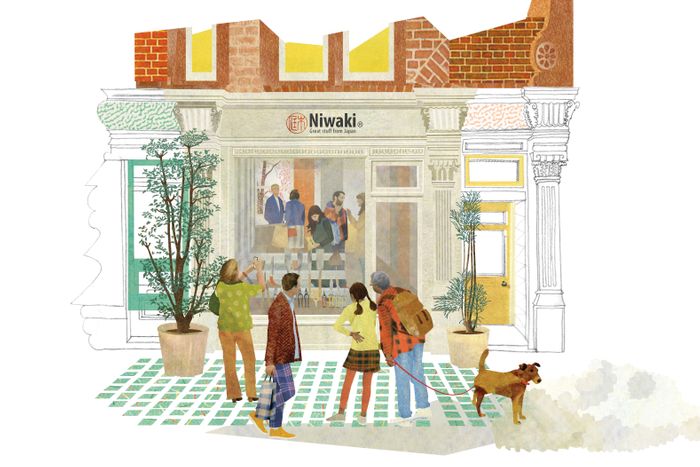 On a clear, bright September morning, Niwaki Chiltern Street officially opened its doors to gardening aficionados, seekers of considered tools and accessories, denim freaks, and anyone else drawn in by the sheer elegance of its Jones Neville-crafted interior.
Chiltern Street, a short walk from Baker Street tube, has established itself as a solid bulwark against the chain-store homogenisation of many of London's once-distinct high streets, and would be worth the trip even if Niwaki hadn't taken up residence.
Besides the eponymous Chiltern Firehouse Hotel and Restaurant (a marvel of 19th Century municipal architecture, with it's OTT neo-gothic fire lookout tower), you could browse the extraordinary selection of hard-to-find magazines in the renowned Shreeji newsagents (no.6), grab a coffee and a cake from the Monocle Cafe (no.18), plan your winter wardrobe at one of many independent, boutique clothing stores (Trunk (no.8) and John Simons (no.46) are personal favourites), treat yourself to a new bassoon at Howarth of London (no.31) or simply pick up some home essentials at the well-stocked ironmongers, Webster (no.53). Nose around the corner and you'll find Labour and Wait on Dorset Street, Daunt Books on Marylebone High Street, fine photography at the Atlas Gallery … if you can't find it in Marylebone, you probably don't need it.
Battling against the inclement winds of COVID restrictions, Niwaki has forged ahead to breath new life into the building, ably assisted by Simon and Jack at Jones Neville. We've been working with Jones Neville for many years, in the course of which they have helped us to create aesthetically appropriate exhibition stands, display units and office furniture that should be both evocative and familiar to anyone who has spent time in Japan. In fitting out the shop with quarter-sawn Douglas fir and earthy-hued felt, Jones Neville continue to help us communicate the provenance and quiet sophistication of our products. Not just that, but it looks, feels and, if you get close enough, smells really, really nice.
Of course, the best bit is that finally our clever, discerning customers (no need to blush – it's true) will be able to see and feel that which hitherto they have only read about online (and in the steady stream of "Best Buy" gardening magazine features). We make a lot of noise about the provenance and quality of our tools, and when you hold them in your own hands you'll see what we've been talking about. The self-evident quality of Japanese craftsmanship combined with simple, functional, elegant design are the features that set our products apart from the crowd, and at Chiltern Street, we can show you the finer points of their construction, use and maintenance.
The shop will be open Tuesday to Saturday, from 10:30 to 18:00, so please do drop in for a chat with the team, try a pair of Tabi work boots, agonise over which secateurs you most desire, marvel at the sharpness of our knives, fiddle with a Kenzan, fondle the double-lined pockets of the Niwaki Apron, and generally luxuriate in the reflected glow of some really great stuff from Japan.