07 Aug 2018
My Billet Doux – the cushion that brings back the art of the love note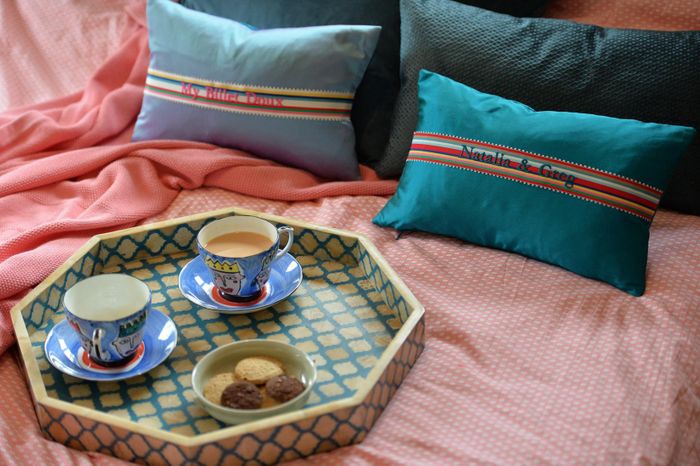 My Billet Doux (pronounced bee-yay-doo and literally translated as 'sweet note') is a luxurious handcrafted silk cushion embellished with vintage or antique ribbons. A hidden pocket on the back of the cushion houses a notebook and pen. The product was launched in June 2017 and is available to purchase from www.mybilletdoux.com. Prices range from £185 to £320.
The idea?
Write a letter or note to someone and leave it tucked in the cushion to be discovered. Or keep a diary of thoughts, hidden from view. In years to come, you can relive the moment, revive old memories and pass them on to future generations. It captures the romance of letter writing, while creating a written heritage and having a beautiful keepsake in your home.
Product details
· Each cushion uses luxurious Indian silk douppion, a medium weight silk with a slightly textured effect and subtle sheen that changes colour depending on the angle.
· The cushions come in a variety of colours and some have contrasting colours on the back and front.
· A discreet pocket is sewn in to the back of each cushion, which is where the notebook and pen are stored and an affectionate message can be hidden
· Every cushion is decorated with a vintage or antique ribbon, some dating as far back as the 1800s. They come from archives of ribbon manufacturers around the world, many no longer in existence. Some were used in haute couture collections and come in a variety of colours and styles – from art deco, eighties geometric or figurative styles to suit any home.
· Finishing touches such as tassels or vintage charms or a hand calligraphed note can be added and bought separately. Many of the vintage charms are one of a kind and come with a quote that relates to it.
· The cushion comes in a luxury gift box along with a notebook and pen. Additional notebooks and pens can be bought separately. Free Uk shipping for the cushion
· Dimensions: 39cm by 25cm
· Notebook cover options: Storks, Leaves,Shooting stars and Flowers
· Pen colour options: Gold, silver, rose gold.
They are ideal for:
· Newly weds and wedding gifts
· Anniversaries (1st wedding anniversary is paper, 4th and 12th are silk)
· Valentines or simply to say I love you
· Christmas gift with real meaning
· Mothers or Father's Day
· The birth of a baby (a diary from mother to child) or a child's special birthday to pass notes of love between parent and child
· A new home, get well soon or thank you
· A cushion/secret diary for your bedroom
About the company
My Billet Doux was founded by Natalia Willmott, an art & antiques seller and an interior designer. She is based in York, but hails from Paris. She is also the founder of www.nataliawillmott.co.uk - an online collection of unique interior finds for unique people.
Notes for editors
For any additional information, samples or images, please contact:
Natalia Willmott
My Billet Doux founder
Tel: 07949240470 Email: contact@mybilletdoux.com
Website: mybilletdoux.com