Multi award-winning brand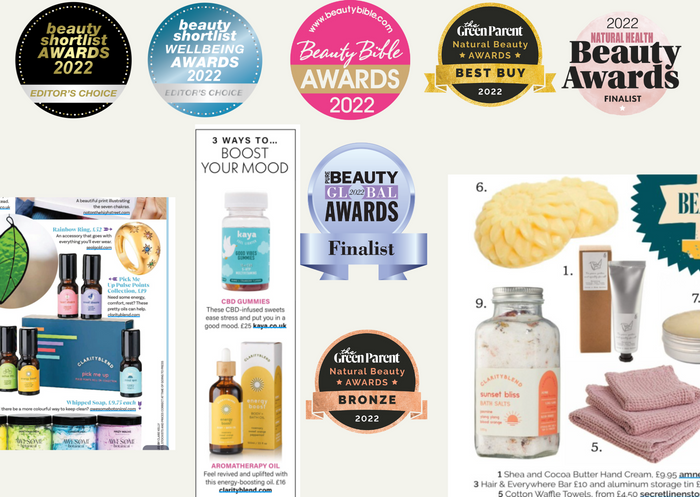 Clarity Blend was featured in a number of national press and some of our favourite magazines, including Planet Mindful, Green Parent, Spirit & Destiny, Om Yoga, Natural Product News, the Homeworker Magazine, Enki Magazine & more.
In 2022, we were thrilled and proud to have received multiple prestigious and industry-leading awards for our unique blends and aromatherapy products. Mind Spa™ Body Oil was the absolute winner with 5 industry awards, whilst our Active Life Body Oil won Gold in Sports Bodycare in the Beauty Bible Awards.
Mind Spa™ Body Oil
BEST BODY & BATH – Best Buy – Green Parent Natural Beauty Awards 2022
BEST BODY OIL – Finalist - Natural Health Beauty Awards 2022
BEST BODY OIL – Bronze Winner – Beauty Bible Awards 2022
BEST BODY OIL –Beauty Steal - Beauty Bible Awards 2022
EDITOR'S CHOICE - Beauty Shortlist Wellbeing Awards 2022
Active Life Body Oil
BEST SPORTS BODYCARE – Gold Winner – Beauty Bible Awards 2022
COMMENDED - Beauty Shortlist Awards 2022
Flower Power Body oil
COMMENDED - Beauty Shortlist Awards 2022
Sweet Dreams Body oil
BEST in SLEEP – Finalist - Natural Health Beauty Awards 2022
Mind Spa pure blend
BEST in AROMATHERAPY – Finalist - Natural Health Beauty Awards 2022
EDITOR'S CHOICE - Beauty Shortlist Wellbeing Awards 2022
Sweet Dreams Roll-on
EDITOR'S CHOICE - Beauty Shortlist Wellbeing Awards 2022