28 Aug 2018
Mr Trotter's Home Fragrance Launch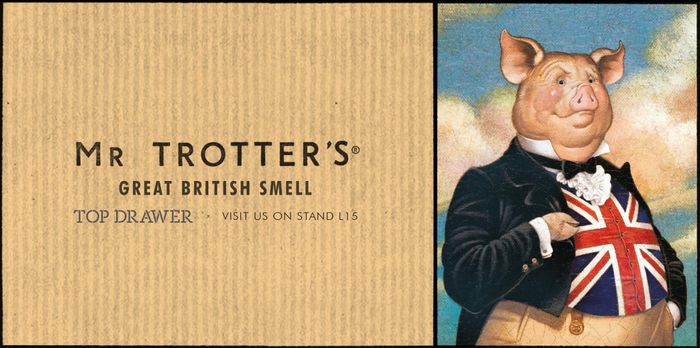 Mr Trotter's Fragranced Candles
Pigs are known to have the best noses to help them hunt out the very finest of things.
The Great British snack pioneer, Mr Trotter, is partnering with fragrance specialist Bahoma, to produce an iconic collection of fragranced candles.  The range includes three characteristically British aromas which celebrate distinctively British drinks – India Pale Ale (IPA), Whisky and Gin.  All three fragrances perfectly complement Mr Trotter's pork crackling as undeniably imbued with Britishness. 
Rupert Ponsonby, Director at Mr Trotter, said "We sought out Bahoma because we wanted to create a Home Fragrance experience which adds to our existing roster of fun products with a touch of eccentricity.
Together, with Bahoma, we've worked hard to create scents which perfectly encapsulate the brand and we've turned out some real winners."
Mr Trotter's Fragranced Candle Collection has been developed under licence with London based home fragrance and gift manufacturer, Bahoma Ltd.  The initial home fragrance range includes boxed candles and tinned candles with expansion of the range due in spring 2019.
James Bruce, CEO at Bahoma said "We are hugely proud to be working with Rupert and the rest of the team at Mr Trotter on this project.  We are creating a really fun set of products with some wonderfully Great British smells.
We have every confidence the range will be highly successful at the upcoming Top Drawer exhibition."
Mr Trotter's Home Fragrance products will be available for retail sale from Autumn 2018.
For more information please contact:
Nicola Christopher
Sales & Brand Development Manager
nicola@bahoma.com
020 7836 9960 / 07951 772737