21 Aug 2018
Make Some Noise…NOISY NUTS LAUNCH IN THE UK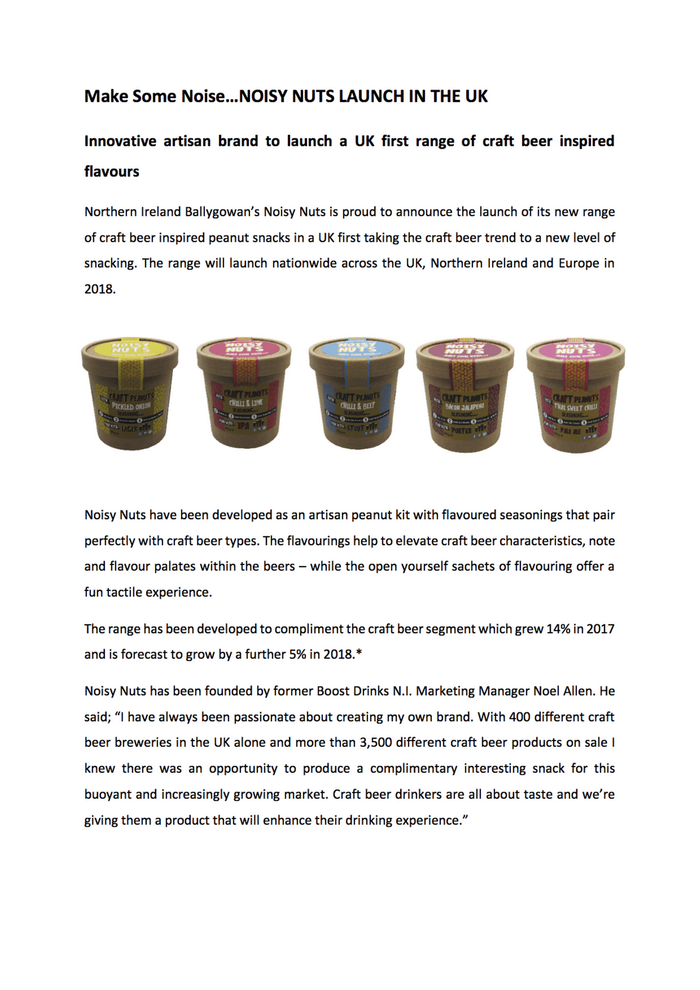 Innovative artisan brand to launch a UK first range of craft beer inspired flavours
Northern Ireland Ballygowan's Noisy Nuts is proud to announce the launch of its new range of craft beer inspired peanut snacks in a UK first taking the craft beer trend to a new level of snacking. The range will launch nationwide across the UK, Northern Ireland and Europe in 2018. 
Noisy Nuts have been developed as an artisan peanut kit with flavoured seasonings that pair perfectly with craft beer types. The flavourings help to elevate craft beer characteristics, note and flavour palates within the beers – while the open yourself sachets of flavouring offer a fun tactile experience.
The range has been developed to compliment the craft beer segment which grew 14% in 2017 and is forecast to grow by a further 5% in 2018.*
Noisy Nuts has been founded by former Boost Drinks N.I. Marketing Manager Noel Allen. He said; "I have always been passionate about creating my own brand. With 400 different craft beer breweries in the UK alone and more than 3,500 different craft beer products on sale I knew there was an opportunity to produce a complimentary interesting snack for this buoyant and increasingly growing market. Craft beer drinkers are all about taste and we're giving them a product that will enhance their drinking experience."
The product itself has been designed to offer the choice in how to season the peanuts. Consumers can pour the whole packaging of seasoning in and shake the pot giving a strong flavour or season as you go to fit with your beer drinking taste.
Noisy Nuts are available in the following four variants:
Noisy Nuts, Chilli and Lime, pairs with IPA, 85g, RRP £3.00
Noisy Nuts, Chill and Beef, pairs with Stout, 85g, £3.00
Noisy nuts, Thai Sweet Chilli, pairs with Pale Ale, 85g, £3.00
Noisy Nuts, Pickled Onion, pairs with Lager, 85g, £3.00 
Noisy Bacon Jalapeno, pairs with Porter, 85g, £3.00
For further information please contact Vicky Hague @ Green Row on 0794 000 9138 or email vicky@greenrow.co.uk
Notes to editors
Our founder Noisy Noel had decided it was time to move on from his long serving role at a very successful energy drink brand. He was doing research for two interviews one with a craft beer distribution company which he had a lot of love and passion for craft beer himself and the other with a peanut brand manufacturer.
Sitting on a Friday night tasting the craft beer range while sampling the range of peanuts he realised that the peanuts where giving the beer a funny taste.
After looking for pairing snacks and surprised that he couldn't find any that pair with craft beer. He decided to launch his own.
Visit https://noisysnacks.com/
*Eebria trends report 2018