29 Nov 2018
Jade Fisher Ltd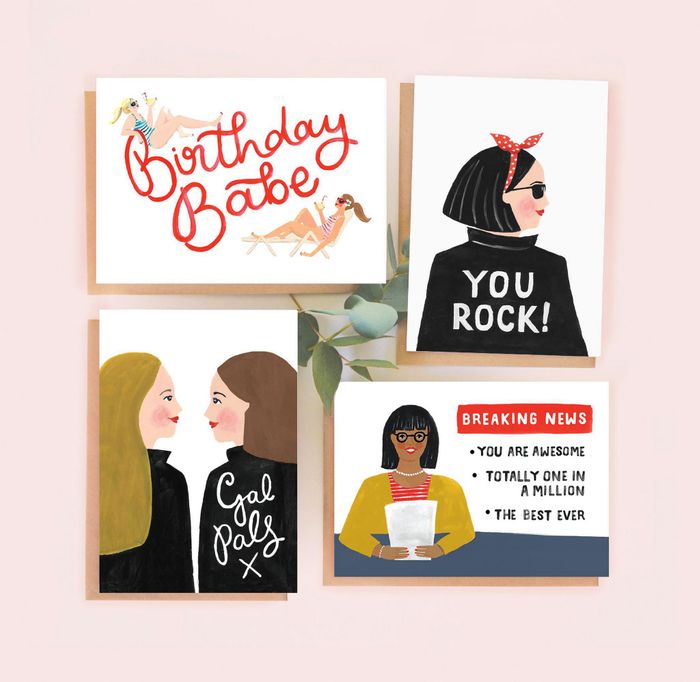 With an illustration degree, memories of Californian road trips and a true love of American folk art, the founder and illustrator of the brand, Jade, began her career with commissions and exhibitions of her folk paintings, which developed into the decorative, joyful style that now adorns our paper products.
Jade launched the greeting card company in 2015, teaming up shortly afterwards with childhood best friend, Lauren.  Now based in their studio just outside Cardiff, Wales, Jade takes inspiration for new designs from outdoor adventures with her family, friends, and the much loved office dogs.
We pride ourselves on always originally hand painting new ideas and artwork, with very minimal digital work to finish.  Our designs are always grown from a heartfelt concept or sentiment that we feel passionate about; be it nature, emotional support, or playful humour.
We had a lot of fun creating the 'Anthology' calendar earlier this year, taking inspiration from notable women whose stories we admire and whose wise words we love.  Our hope with this was to spread some good advice and make people smile, whilst also sharing snippets of stories that are worth knowing.  Our customers have also enjoyed our 'Women of the World' calendar, which we released again for 2019, exploring and celebrating women from all cultures.  
Following the success of these, we are excited to be expanding further with brand new mini desktop calendars, notepads and wrapping paper, along with more of our unique greeting cards.
The past year has been a great success for the growing company, culminated by Jade winning the Young Entrepreneur of the Year at the Wales StartUp Awards 2018.  This was a huge achievement for Jade, giving recognition to the hard work over the years, who was also featured as one of the Business Insiders' Wales 2018 Rising Stars.
As we are inspired by nature, we want to protect it.  Our hand-painted designs are printed on 100% recycled papers, paired with a recycled envelope and a recyclable cellophane sleeve.  We always use FSC certified papers.  For more information, please get in touch with us at mail@jadefisher.com