01 Mar 2018
Introducing Autumn/Winter 2018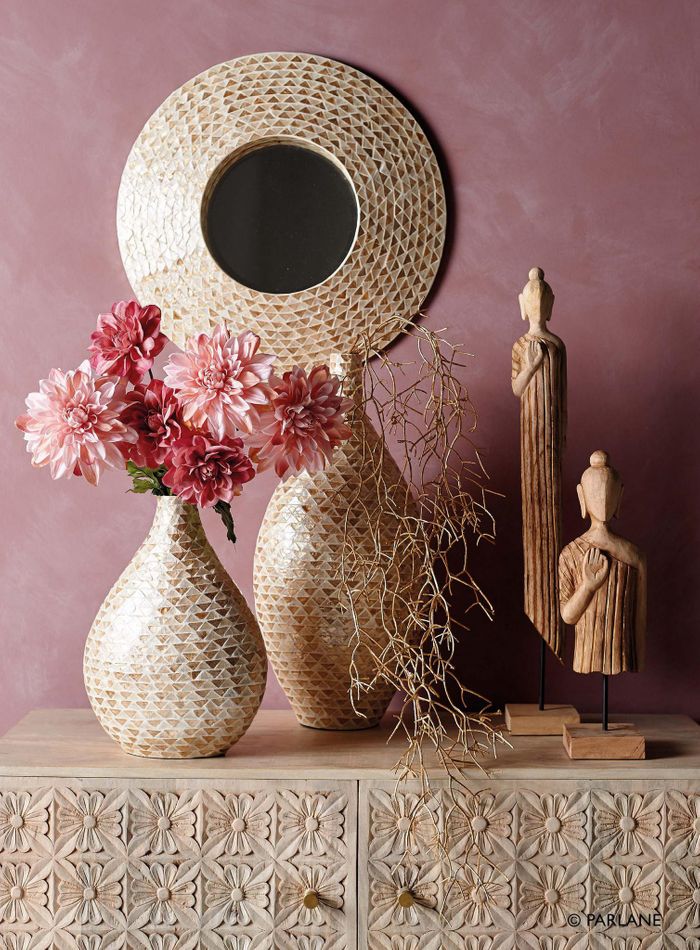 Living
The key elements of our Autumn/Winter story are natural materials. Agate, mother of pearl and capiz shell elegantly cover furniture, mirrors, vases and lighting.
There is a trace of Art Deco influence to be found in our furniture, wall art and glamorous lacquered metallic accessories.
Luxurious velvet makes an interior fashion statement on cushions in gentle shades of plum, blush and grey.
Christmas
Our Woodland Christmas look is expressed through an abundance of the natural textures of silver birch, wicker and cork, set against a backdrop of soft green, white and grey.
Tree trim takes the form of natural feathers or hand-painted recycled paper decorations. A more glamorous, colourful look is provided by vintage style glass baubles in metallic gold, a soft shade of blush and a rich damson hue.
Faux flower in striking metallics supports the overall look.
Flora
We have a generous Flora Collection of faux flower stems, potted plants and foliage in some of the finest quality found on the market. All our flowers are crafted by hand and every flower petal is screen-printed or hand-painted before being applied to the stem.
Dahlias are the main focus this season, providing a splash of colour in warming tones of deep red, coral and apricot. Dahlias, roses and chrysanthemums also feature in a more delicate soft blush.
Large hydrangea stems also make a dramatic appearance in dark green and claret.
---
For images or product loans, please contact Helen Hazell on helenh@parlane.co.uk
Follow us on social media   #Parlane
Twitter - @ParlaneInt
Facebook / Instagram - @parlaneinternational
www.parlane.co.uk       01451 812700