14 Jan 2018
INNOVATIVE TECHNIQUE CREATES ROYAL CROWN DERBY'S STUDIO GLAZE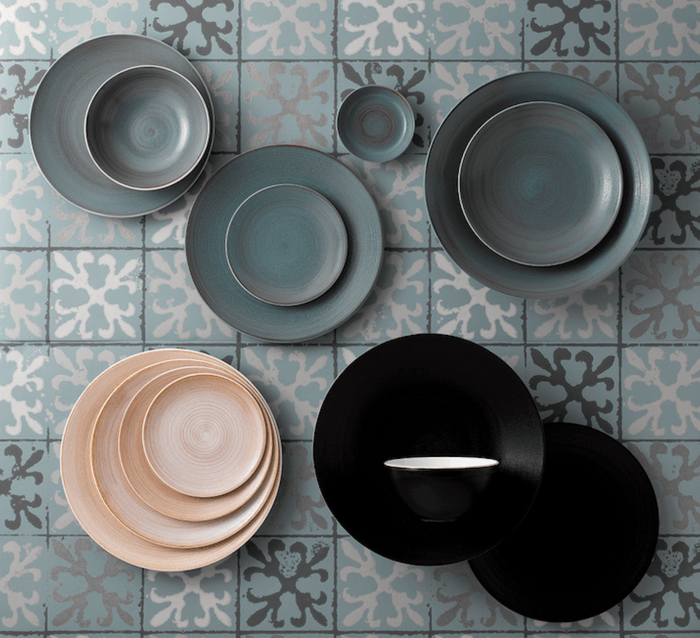 Quintessentially British brand, Royal Crown Derby will reveal an innovative new glaze technique at Top Drawer in London, when it launches its newest collection to the UK retail market.
The innovative Studio Glaze collection, from the renowned British manufacturer, extends the technicalities of producing on fine bone china and uses a reactive glaze application that has never before been seen on such a pure, translucent material.
The Studio Glaze collection features a hand-applied brushed glaze that creates subtle differences in each piece. Reactive pigments in combination with the richly coloured glazes create a textured interplay of materials to deliver a tactile and silky sheen on the surface of each piece.
Offered in three dramatic colourways; Almost Midnight, Ocean Whisper and Classic Vanilla, the stylish and contemporary new collection has been created to meet consumers' aspirations for the very best luxury casual tableware, which is attainable and functional, as well as being high quality and highly desirable.
Applied to Royal Crown Derby's modern coupe shapes, the Studio Glaze range also includes the new 'urban' shaped (34cl/12oz) mug and a set of cups and saucers, available in three sizes for espresso (8.5cl/3oz), tea cup (23cl/8oz) and breakfast cup (34cl/12oz), as well as two new size coupe bowls (11.5cm and 13cm).
The Studio Glaze collection, along with Royal Crown Derby's other industry-leading launch, Art Glaze, is offered at an affordable price point, to allow a wider audience to be able to invest in the artisanship and history of the brand. The new collections will allow even more discerning customer's to own a useable piece of heritage in the home, which has the strength to withstand everyday use.
Royal Crown Derby's Sales & Marketing Director, Steve Rowley, said: "Studio Glaze is an incredibly exciting innovation that produces a striking and contemporary finish. The technical accomplishment in this collection is exceptional, delivering on both style and substance.
"Studio Glaze is perfect for retail customers who wish to purchase a tableware collection that is steeped in heritage and history and exudes luxury, yet also stands up to everyday use"
Prices range from £12 - £75. For further information contact Royal Crown Derby Retail sales on +44 (0)1332 268 901 or email all enquiries to enquiries@royalcrownderby.co.uk.
Notes to the Editors:
-ENDS-
Prices are RRP
Royal Crown Derby is a world-leading manufacturer of exquisite fine bone china tableware and giftware
Royal Crown Derby supplies the world's finest retailers, luxury hotels and restaurants and global royalty in 50 countries.
All fine bone china products are 100% made in England, using techniques largely unchanged since the businesses establishment in 1750.
Over 130 people are employed at its historic 'Osmaston Works' factory in Derby, England.
Established in 1750, the company became known as "Crown Derby" by King George III in 1775. In 1890, Queen Victoria bestowed the title "Royal" creating the company name of "Royal Crown Derby."
Only the finest materials are used including 22ct gold and platinum applied to The Royal Crown Derby basic formula of bone ash, china stone and china clay, which remains a formula for high quality bone china.  The intrinsic strength of the body means that it is possible to achieve delicate profiles without sacrificing resistance to breakage, unlike other translucent bodies. We specialise in customised decoration, which ranges from simple monogramming to completely unique dinner services.  We are experts in this field as we perform every element of the production process from modelling, design, making and decorating.  We also have a print shop, which allows us to produce bespoke, cost effective decals quickly.