11 Feb 2022
Gift Tubes are the New Gift Boxes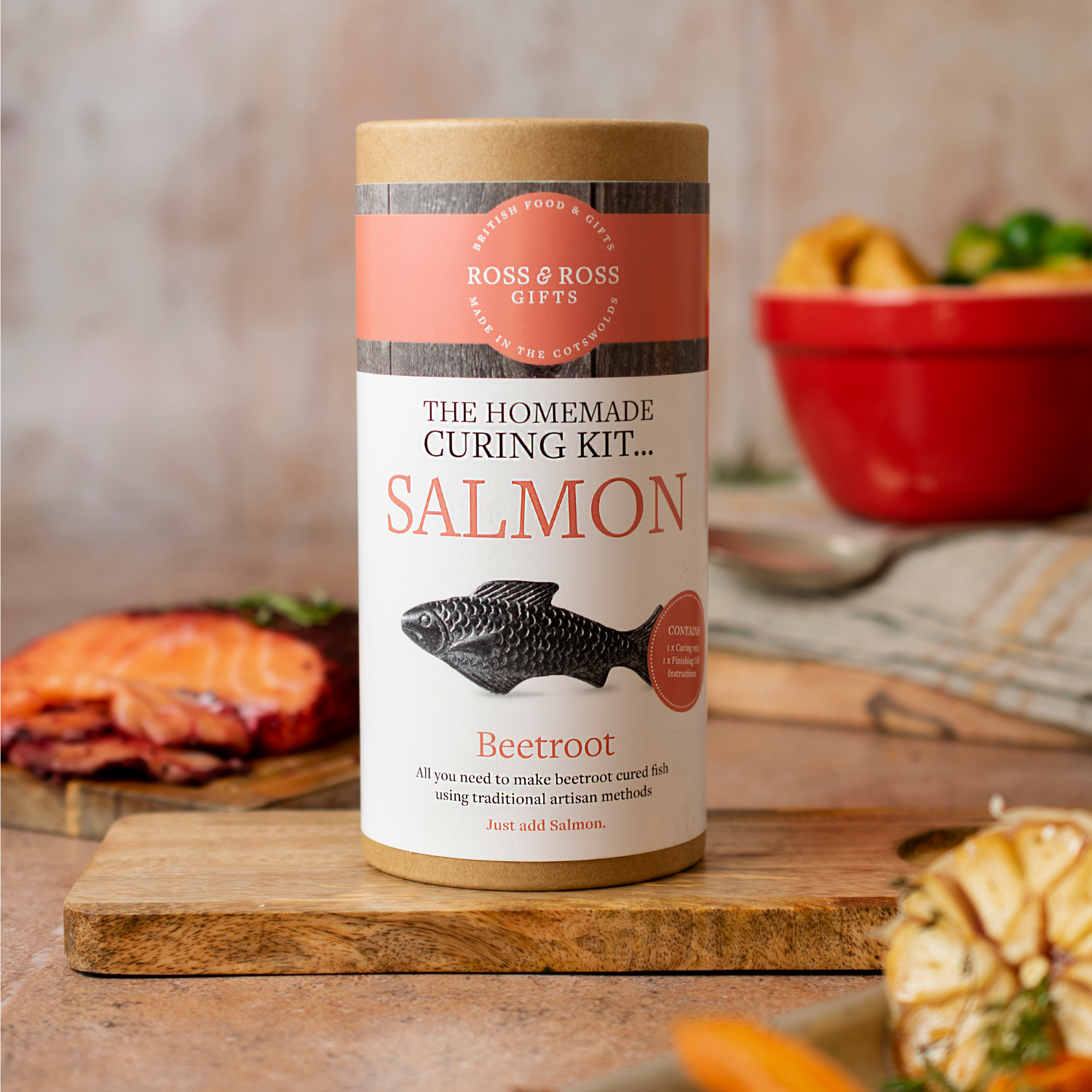 Ross & Ross Gifts Unveil their NEW Foodie Gifts for Trade
The range includes a wonderful selection of Homemade Bacon & Salmon Curing Tubes, two charming Christmas Roast and Condiment Tubes, a zingy Lemon & Dill Oil, an innovative Salt & Vinegar Salt, and a delicious Ham Curing Tube to assist with all your cooking and gifting needs.
Ross & Ross have produced these gifts for any foodie who loves proper British food and wants to try something new. The kits are intended to provide an experience as well as being a great gift. With the unpredictable COVID situation leading to lockdowns and isolation periods, these products help to make wonderful new experiences whilst staying at home.
Homemade Bacon & Salmon Curing Tubes
Fantastic-looking, eco-friendly Homemade Bacon & Salmon Curing Tubes which encourage creative cooking at home. All bacon-curing tubes contain the selected curing mix, muslin for 1.5kg of bacon, a butcher's hook, and an instruction booklet. And all salmon-curing tubes contain the chosen curing mix, Lemon & Dill finishing oil, and an instruction booklet. Just add the bacon or salmon! These make great hands-on gifts for keen foodies.
Luxury Christmas Condiments Tube & Christmas Roast Seasoning Tube
These gorgeous Christmas tubes look absolutely stunning underneath the tree - with their timeless Nutcracker decor. Ross & Ross have sourced all the ingredients locally, which are packaged in glass-jars within these charming eco-friendly tubes. The Luxury Christmas Condiments Tube contains a Truffle Mayonnaise, Roast Ham Glaze and Smoked Apple Chutney. The Christmas Roast Seasonings Tube contains a Roast Turkey Rub, Pigs in Blankets Dust and Brussels Sprout Dust. These are the perfect gift or self-gifting idea for the whole festive season.
Lemon & Dill Oil
Made with the finest cold-pressed Cotswold rapeseed oil, this vibrant bottle of Lemon & Dill Oil is the perfect finish to a delicious fish dish. Ross & Ross recommend drizzling this zippy oil onto salmon to give it an added citrusy depth, or dressing your plate to show-off your cooking prowess. This small-but-mighty glass bottle is a cupboard essential.
Salt & Vinegar Salt
The ingenious Salt & Vinegar Salt was designed to add that moreish zingy taste to your crispy chips, without creating a soggy mush. Using sea salt made by Halen Mon, create a more refined finish to a British classic chip-shop taste. Ross & Ross were proudly awarded one-star for this clever little glass jar at the Great Taste Awards 2021!
The Homemade Curing Tube… Ham
The fabulously-festive Homemade Curing Tube… Ham contains a delicious, salty curing mixture to draw out the moisture in your ham via osmosis. Then use the included glass-jar of Roast Ham Glaze to balance the meat with a delightful sweetness to create the most mouth-watering roast ham. Easy-to-follow instructions are included.
About Ross & Ross Gifts
Ross & Ross Gifts are a small fine food company based in and around the Cotswolds and specialise in producing food gifts and products. They launched in 2011 and are mainly known for their bacon and salmon Homemade Curing Kits. They rebranded in 2019 and now produce a range of BBQ, Roast Dinner & Veggie seasonings all intended to enhance the flavours in your food. They also produce a range of curing kits and hampers which all include products sourced from within the UK.
Ross Bearman – Founder & Director
Marketing / Press Contact
Chloe Isaac
marketing@rossandrossgifts.co.uk