14 Jan 2018
Cornish Pots Inspired by the sea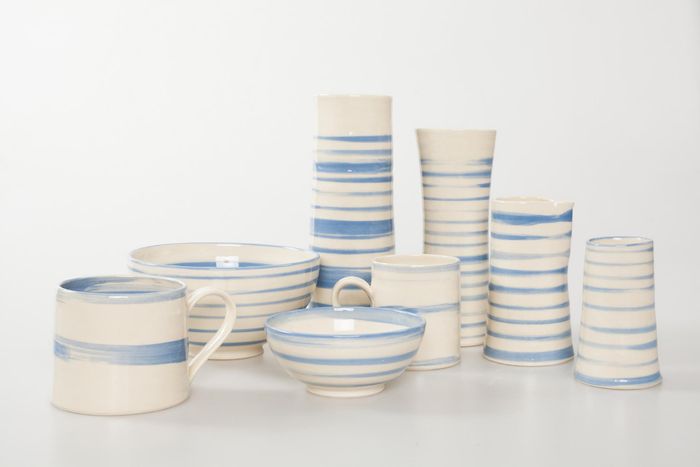 Inspired by the rugged coastlines of Cornwall these beautiful handmade ceramics have been created by award-winning potter Rebecca Harvey.                    
Each piece is unique after being individually thrown and decorated on the potter's wheel using traditional pottery techniques.
Every turn of the clay and twist of the brush is influenced by the natural beauty found in Cornwall's hedgerow's, blue skies and white-crested waves.
The ceramic tableware is then fired in the artist's kiln in her Cornish studio before being taken to galleries or exhibitions.
Many hours have been spent lovingly making the pieces in Penwith surrounded by the sights and sounds of the sea and countryside.
Rebecca has been making the established style od Cornish Pots, the blue 'Cornish Stripe' for 5 years.
Cornish Pots will be showcasing two eye catching new designs alongside the popular Cornish Stripe for the first time at Top Drawer.
She says
"I am excited to be showcasing the new eye catching styles, Shoreline and Linyow, for the first time at Top Drawer, a great platform to launch these new designs."
"Creating ceramics inspired by the Cornish scenery has been truly delightful. Each pot, vase or dish is completely unique - just like each wave that crashes onto the beaches around the county's coastlines."    
"I have designed and made many ceramic collections since 1996 but these blue and white striped pots have been some of my favourites because they reflect my love of Cornwall."
"Every pot is differen't just like every surf-topped ocean wave is differen't, giving buyers the chance to take home a little Cornish magic."
Bibliography
Rebecca Harvey has been a potter for many years and is known for her ceramics and porcelain work, which has been showcased across the world.
She graduated in 1997 with a first class degree in Art and 3D Design specialising in Ceramics at Cardiff  Institute of Higher Education.
She completed her MA in Ceramics and Glass at the Royal College of Art, London, in 2007.
Her work has been exhibited in galleries all over the globe including Europe, Japan and America. It has also been displayed in top London venues for the Emmanuel Cooper Legacy, Contemporary Ceramics and the Crafts Council Showcase at the V&A.
Prestigious publications have featured her work including the 2004 BBC Homes and Antiques, Talent Around Britain Issue, March and Ceramic Review.
Her work can be found in both Public and Private Collections including the Fitzwilliam Museum, Cambridge.
Awards for her work include :
2006 Lady Charlotte Fraser, Royal College of Art             2005 Heals Archive                                                              2005  Queen Elizabeth Scolarship Trust                           2002 Selected Maker, Crafts Council                                       1997 International Giftware Finalist                                   1996 Crafts Council 'Setting up Grant'                              
For more information please do not hesitate to contact Rebecca Harvey by emailing cornishpots@gmail.com or calling 07967320717