07 Sep 2018
Cornish design, ethical production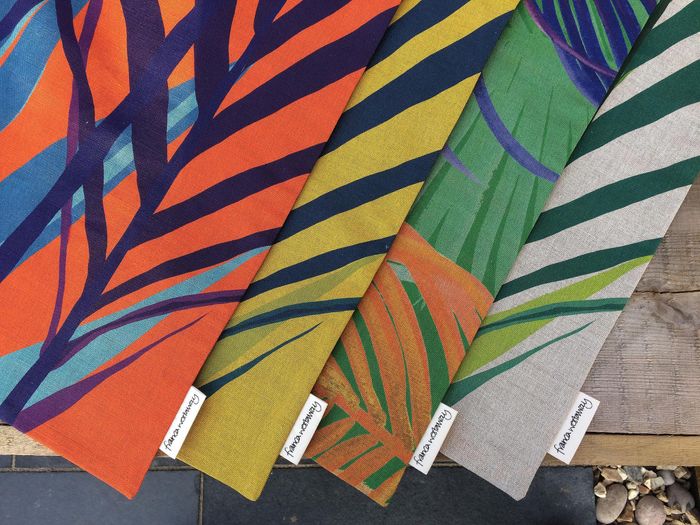 Franca's background in Fashion and Textiles, work in the fashion industry and extensive experience as a teacher, visiting artist, workshop facilitator and community artist, together with a love of decorative detail, colour and fabrics have combined to find a natural outlet in surface pattern design and her own range of fabrics and textile products. With a central focus on ethical and environmental issues in sourcing, production, manufacture, supply and consumption as well as business practice, Franca is driven by the desire work with these considerations at the fore. Building productive and creative working relationships with like-minded customers and businesses is where she is most inspired and excited. She lives with her husband and children on the beautiful North coast of Cornwall in the South West of England, drawing inspiration from the glory of the natural surroundings and her garden. A passion for plants and flowers as well as diverse influences from the built environment, abstract art and mid 20th Century design can be seen in her bold aesthetic and use of colour and line.
Beautiful, eye-catching design combines with a focus on natural fibre fabrics and ethical production and business practice. British linens, organic and unbleached cottons, bamboo fabrics and handmade, beautifully finished home textile items. Franca Westaway produces her own seasonal ranges of interiors fabrics and the 'ethical works' range of textile products to order, as well as an extensive portfolio and custom design work for private and industry clients. Her work is a celebration of the beauty of the natural world through line and colour. Surface pattern design and illustration from her extensive portfolio or custom produced to client brief is available to private and industry clients for license or sale. A range of recent and archive work can be seen at www.francawestaway.com (portfolio password available upon request). Clients include; Nomads Clothing - Fair Trade Fashion, Pacsun (LA), Torrid (LA), Topson Downs (LA).
Pictures
1.'Ethical Works' range of cushions and cushion covers. These in British Natural cotton linen, Designs are 'Mark' in 3 colourways and 'Tropic Multi'
2.'Ethical Works' range of cushions and cushion covers. In British Natural cotton linen, designs are 'Mark', 'Plantlife' and 'Cow Parsley' from the Botanicals collection.
3. Chair upholstered in Organic cotton Half Panama, design is Peace Candy Dark.