18 Jul 2018
Collins Opens a New Chapter in 2019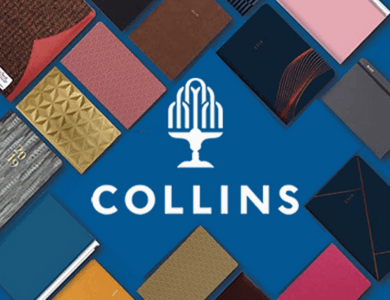 Collins, the leading provider of diaries and notebooks, celebrates an important milestone in their illustrious history with an exciting new range of products for 2019.
Since William Collins set up his first printing press in Glasgow in 1819, Collins has evolved into one of the most respected stationery brands in the UK and across the globe.
Celebrations for this special landmark began with an exclusive trade event at Fortnum & Mason in London, where invited guests learned about the history of the Collins brand followed by the stylish rebranding and launch of exciting and fashionable new products for 2019. Celebrations will continue at this year's Top Drawer event, where the Collins team will be there to showcase more of the new products. You will find Collins at stand U19.
These new products include the Savile Row range, made from a stylish combination of leather and Harris Tweed fabrics, proudly linking back to Collins' Scottish roots. And there's Framework – a highly functional notebook with resealable bag cover to store all those essentials when on the move.
"It's a fantastic time to be involved with Collins," explains Managing Director Shahrazz Hayat.
"Not only are we celebrating the heritage of the brand for this important milestone, but we are also looking to the future by continuing to innovate and create exciting, high quality new products for today's world."
"Rested assured we will still be producing those much loved, high quality black leather diaries that have made the Collins brand such an essential name in most offices. But these new products present an opportunity for loyal customers to express themselves in an understated and fashionable way."
Collins' new product range was recognised earlier this year by Business Info Magazine with the 2019 Range being given an Editor's Choice Award.
"This is a fantastic achievement for us," added Shahrazz, "and really rewarding that our hard work creating exciting new products is being recognised."
To check out the new 2019 range and shop on the Collins website, go to www.collinsdebden.co.uk/2019design