09 Jan 2018
Beauty and Body Balanced in Harmony with Holy Lama Naturals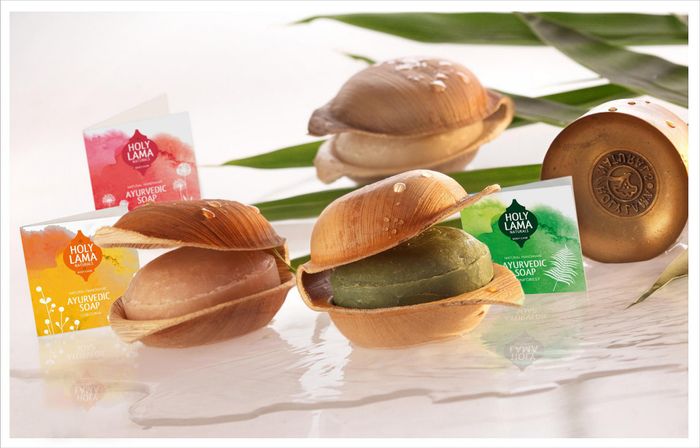 Holy Lama Naturals will be show casing their natural body care range, made using the ancient principles of Ayurveda at Top Drawer, London on stand FE153.  All the products are vegan-friendly and free from both SLS and paraben.  Extra virgin coconut oil is the base of all the products, and the delicious fragrances across the range are distilled from a combination of superior essential oils known to help balance mind, body and soul.
Particularly popular is the luxurious, handmade soap range including the Yogi soap and Ayurvedic Curcuma (turmeric) soap, Kewra soap (coconut oil) and Rainforest soap (Vetivert), favourites for their long-lasting fragrance and for harnessing individual ayurvedic ingredients with their different benefits.
All the soaps are made with extra virgin coconut oil and a unique blend of essential oils that will awaken the senses.  Each soap is beautifully presented in a tactile, handmade shell made from the leaf of areca palm tree. These leaves are shed by the tree regularly, rather than picked, and are moulded to form a sustainable and eco-friendly packaging.  Own a handful of luxury for just £4 from www.holylama.co.uk.
Alternatively, gift packs of all the soaps are available for £14 as well as other beautifully packaged 'boon' packs.  All the packs are ideal for corporate gifting or for inclusion in a hamper to make the perfect gift for anyone keen to use purely natural products on their skin.
Choose from:
Face Boon Gift Set which comprises four of Holy Lama Natural's popular face care products:

30ml cleaning lotion
30ml face wash
20g face scrub
20g face cream
Packed in a stylish sustainable case made with dried palm leaves, whatever the day throws at you, wipe it away and allow your skin to breathe and become revitalised with this pack of goodies for just £10
Massage Oil Boon Gift Set contains four luxurious massage oils for £12.00 –

Bliss – the scent of rosemary, clarysage and lemon for a truly heavenly experience
Enhance – jasmine, ylang ylang and lemon to keep thoughts calm and stable
Ever Fresh – petitgrain oil, orange oil and patchouli oil to help keep you mentally sharp and alert
Relaxation – rosemary, basil and eucalyptus to restore vitality to body, mind and spirit
This gift is pure indulgence but coming packaged in a handmade, sustainable travel case made from fallen dried coconut palm leaves, it has a positive eco-friendly message to convey too.
Body Boon is a body and skincare gift set sold for £10.00 in the company's iconic palm leaf packaging.  It contains four of Holy Lama Naturals' most popular products for a little bit of pampering:

30ml Shower Gel
30ml Body Lotion
20g Yogi Soap
10g Lip Balm      
Travel Boon retails for £10.00 and is the perfect survival kit for any trip.  It has all you need for the best start to the day be it for business or pleasure:

30 ml Shower Gel
30ml Shampoo
30ml Hair Conditioner
30ml Body Lotion
All Holy Lama Naturals products are ethically sourced, largely from local farms, and ethically produced; the products are handmade in the factory in Kerala which is a women's enterprise employing mainly disadvantaged women who have been marginalised due to personal circumstances.  In a traditionally male dominated society, employment in the factory gives these women much needed self-confidence and independence, making a true difference to their lives.
The full Holy Lama Naturals range is available online from www.holylama.co.uk but to find out more including news on other stockists, come and visit Stand FE153 at Top Drawer, London.
-ends-
 For further information about this press release, samples and hi-res images, contact:
Sophie Peel at Currant Communications on sophie.peel@currantcommunications.co.uk
or 020 3638 0323/07552 451264
The Full Holy Lama Natural's Body Care Range:
| | |
| --- | --- |
| Soaps | Massage Oils |
| Rain Forest Soap (vetivert soap)        Yogi Soap (Neem & Tulsi soap) | Ever-fresh with Petitgrain, Apelsin, Patchouli |
| Curcuma Soap (Turmeric soap)          Kewra Soap (oriental flower) | Revitalizing with Bergamot, Apelsin, Lemongrass |
| Face products | Bliss with Rosemary, Citron |
| Face Cream                                               Cleansing Lotion | Enhance with Jasmin, Ylang Ylang |
| Face Wash                                                Rose Water - toner | Extra virgin coconut oil |
| Lipbalm                                                     Under Eye Cream | Relaxation with Lavender, Eucalyptus, Peppermint |
| Face Serum                                               Face Pack | Bath oils - nishant |
| Face Boon (gift pack) | Bath oils - chaitanya |
| Body products | Massage Boon (gift pack) |
| Shower Gel                                               Body Lotion |   |
| Body Cream                                              Body Scrub |   |
| Aloe Vera Gel                                           Holy Balm (all-purpose balm) |   |
| Foot cream                                               Hand cream |   |
| Body Boon                                                Natural Deodorant |   |
| Travel Boon |   |
| Hair products |   |
| Shampoo                                                Hair Oil |   |