01 Jan 2018
Beach Art Glass reveal new Beach Babe jewellery range designed by Julie Fountain as company builds on 2017 success.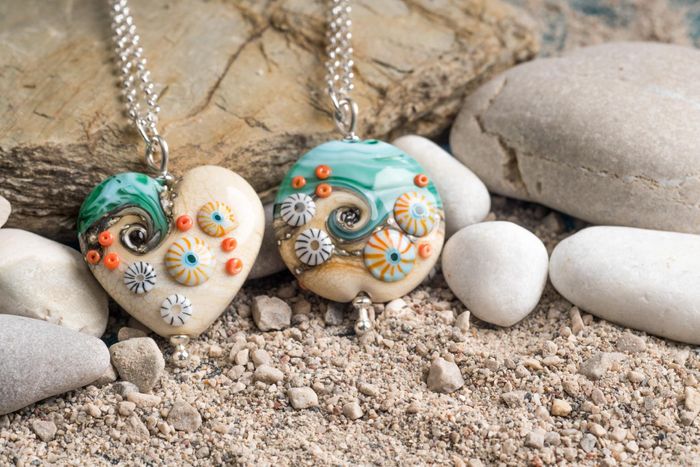 The award-winning glass designer Julie Fountain of Beach Art Glass is launching a new and very affordable 'Beach Babe' range of stunning jewellery at Top Drawer in January 2018. The company's fast growth in both domestic and export markets make this an exciting time for the family business.
Like the rest of the Beach Art Glass jewellery, the Beach Babe jewellery is unique - each Venetian glass bead is individually hand crafted using a technique called lampwork or flamework. Julie Fountain loves working on each individual piece "Every handmade glass bead is a miniature work of art so every customer acquires a unique necklace, bracelet or earrings" she says "Our customers and trade buyers simply fall in love with these stunning, and very collectable, creations".  Lampwork beads are created one at a time by melting and shaping rods of Italian glass in a flame, and slowly kiln-cooled for durability. The jewellery is then finished off with sterling silver and the bracelets and pendants carry a British hallmark. The entire range is inspired by the sea and comes in 4 beautiful colourways- Sand & Sea is the original design, accented with a touch of bright coral, the glossy Deep Blue Sea and the softer, more subtle colours of palest blue Sea Spray and lavender Sea Mist.  Beach Babe completes the set, with finer sized pendants in 3 shapes across all 4 colourways.
The entire range comes beautifully presented in branded gift boxes or pouches which customers love and which enhance the appeal of these striking miniature works of art.
Retailers are supported with informative point of sale material and the professional staff are on hand at the end of the phone for all other queries. All the products can be bought in carefully selected best seller 'bundles' to help retailers display the jewellery quickly, maximise sales with the minimum of effort and benefit from larger trade discounts.
Beach Art Glass designer Julie Fountain will be meeting new and existing retailers Top Drawer in Olympia, London. The show is a wonderful opportunity to meet the designer, see and feel the jewellery and, of course, place orders for 2018.