07 Aug 2018
Award winning Kin Toffee Vodka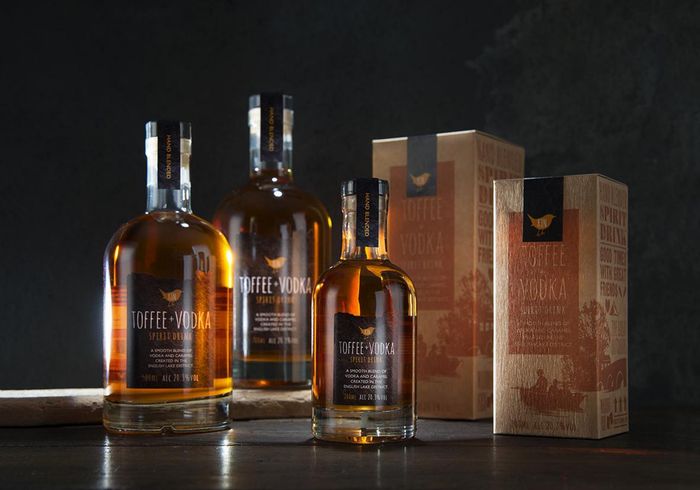 Kin Toffee + Vodka Spirit
created in the English Lake District
Kin Toffee Vodka is a delicious premium drink created in the heart of the English Lake District. Kin is a rich, blend of caramel, vanilla and toffee flavours which are hosted by a neutral grain vodka, in order for the toffee to be the leading flavour. It has an abv of 20.3% which mean that it is a beautiful drink in its own right, not necessarily needing to be mixed.
The inspiration to develop this drink came from years skiing in the French Alps, where versions of Toffee Vodka are very popular.
Our brand aims to encapsulate the personal, enveloping warmth and welcome, the premium quality with a touch of fun and a representation of our heritage – our base in the Lakes and our inspiration in the Alps.
The name 'Kin' alludes to who you should drink it with – friends and family, the black label is the lakeland slate and the bird is a wren – the surname of the creator, Judith Wren.
Kin is presented in a range of bottles, gift boxed options are available, together with a developing range of gift packs which this A/W will feature the Toffee Vodka teamed with bespoke glassware, an artisanal hot chocolate drink (also from Cumbria), rock ice cubes and hand made chocolate truffles.
The gift range is to be launched at Top Drawer at Olympia this September.
Awards:
Awards
2015     Cumbria Life Awards – Innovative Product top 3 finalist
2016     Harrogate International Gift Fair – Outstanding product - WINNER
2016     Cumbria Life Awards – Producer of the Year – WINNER
2016     Forward Ladies – National Women in Business Awards – REGIONAL WINNER (North West, Ireland, Wales & Isle of Man)
2017     Cumbria Family Business Awards – 'One to Watch'
2017     Booths Supermarkets – LOCAL SUPPLIER OF THE YEAR
2017     Guild Of Fine Food – GREAT TASTE AWARD
2018     Cumbria Life Awards – Top 3 Finalist 'Best Drink'
2018     Rural Business Awards – NORTH – Drink Producer Finalist
2018     Forward Ladies – National Women in Business Awards – SME Growth Finalist (North West, Ireland, Wales   & Isle of Man)