09 Jan 2020
Allsorts - Spring / Summer 2020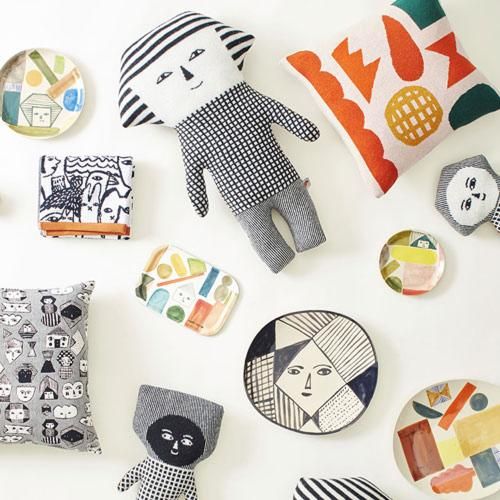 Donna Wilson's Spring/Summer 2020 collection, Allsorts, is a visual feast of cushions, creatures, tableware and towels. Donna mixes monochrome pattern with bold brushstrokes of colour in a fresh take on her familiar style.
This small-but-perfectly-formed collection features woven cotton cushions, throws and robes, hand-painted stoneware ceramics produced by skilled craftswomen in Portugal, and two brand new towel designs. They're accompanied by a selection of Donna's signature creatures and cushions knitted in Scotland from softest lambswool, and colourful melamine tea trays made in a small factory in Belgium.
Donna Wilson on Allsorts:
This collection is an amalgamation of a bold, blocky graphics with splodges of painterly colour. I've added a pinch of humour with my playful motifs – including little faces – and the result feels like a fresh expression for a new year. My focus for 2020 will be upon designing and making quality products that will be loved and treasured for years to come.
Donna will be launching her SS20 collection to the trade at Top Drawer London from 12-14 January 2020, and all products will be available to purchase online from mid-February 2020.
www.donnawilson.com
About Donna Wilson
Donna Wilson is a Scottish textile and product designer who established her studio in 2003 after a sell-out show at the Royal College of Art.
Her colourful, distinctive designs, inspired by a love of nature and a passion for craft and making, have won her a string of awards including the prestigious Designer of the Year at Elle Decoration's British Design Awards. With a career spanning over seventeen years, Donna has collaborated with renowned retailers and brands including Hermes, LeSportsac, Penguin Random House, Mamas & Papas and John Lewis.
Despite her success, Donna Wilson has maintained a niche appeal and has a devoted following of design enthusiasts, collectors, and the young at heart. As a forerunner of the contemporary craft movement, she has always remained true to her principles, us­ing traditional techniques and locally based suppliers wherever possible.
Donna Wilson's studio is based in East London where she and her talented team knit, sew and send out products to stockists and customers worldwide.
www.donnawilson.com