Chocolarder Ltd
Stand: FEK06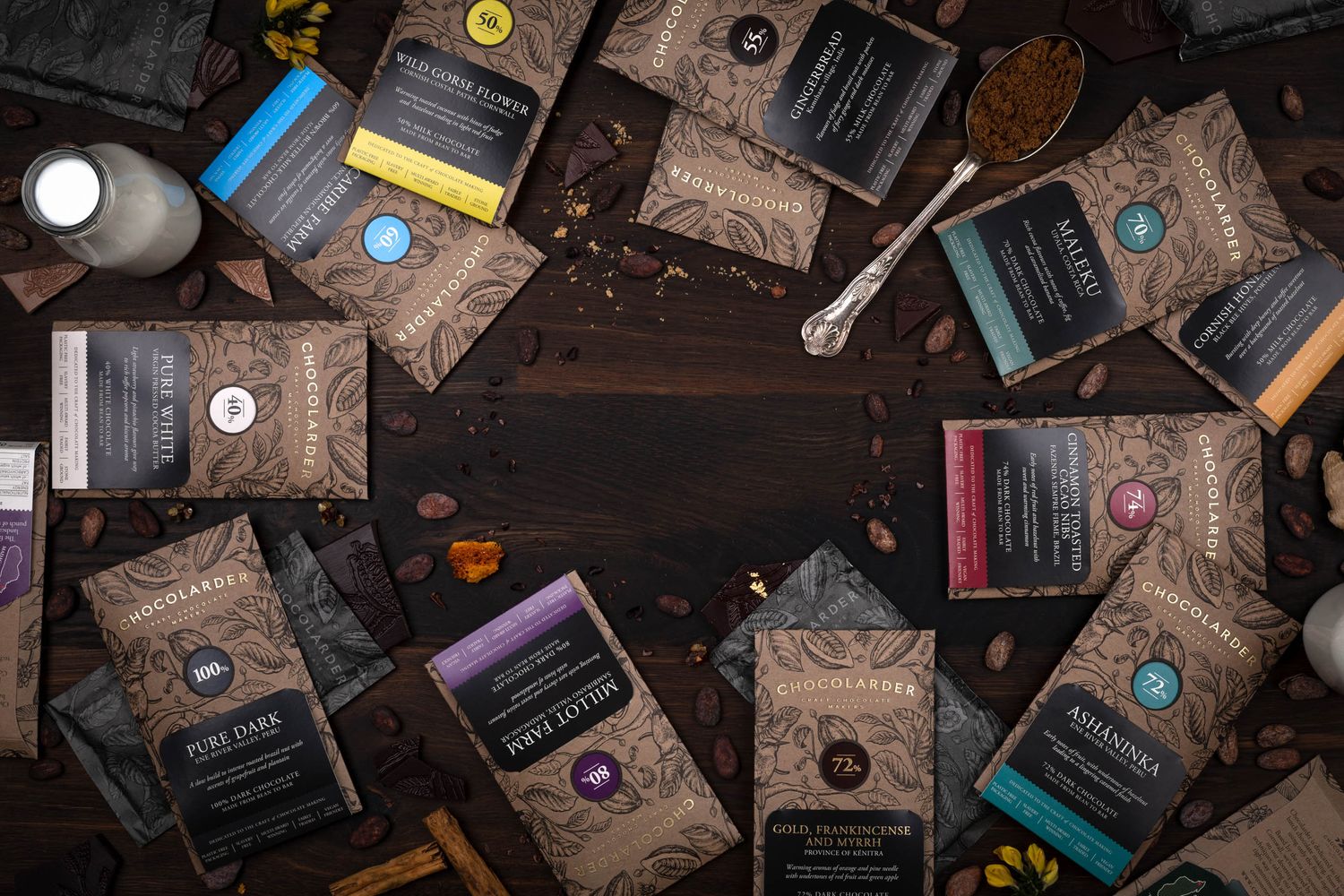 Our bean to bar chocolate presented in plastic-free, recyclable packaging that is not only good for the planet but also strikingly different. Take the guilt out of your egg this Easter—no plastic, jus ...

In our "grown-up" version, a single estate 40% blonde chocolate shell is finished with a dusting of nibbed brown sugar, with a melt-in-your-mouth 55% milk chocolate cookie pavé filling.

Our drinking chocolate is made from a house blend of two single estates—Kuapa Kokoo ("good cocoa farmer" in Twi) in Ghana and Seram Island in Indonesia. The Kuapa Kokoo beans are from a great cooperat ...

A firm favourite for lovers of rich and gooey salted caramel, wrapped in our incredible dark chocolate. Made right here in our factory with only the best Cornish sea salt and fresh Cornish cream, our ...

The indigenous Asháninka people maintain their independence by cultivating and harvesting Peruvian rainforest cacao, which they sell to support and protect their land and communities. Partnering with ...

The fruity Peruvian rainforest cacao cultivated by the indigenous Ashaninka people is the perfect bean for showcasing in its purest form. Nothing else is added, leaving only natural flavours and sweet ...

True bean-to-bar craft white chocolate is currently a rarity, so we decided to produce a grown-up version treated with the same care as all of our chocolate. We fashioned a press to laboriously extrac ...

Picked by hand in late spring from the prickly hedgerows that line the rugged Cornish coastal path, these small yellow flowers are a right pain in the fingers to harvest! However, once steeped in coco ...

Master beekeeper Matt Pitt cares for his colonies of Cornish black bees by using sustainable methods that are stress and chemical free for the good health of his fuzzy compatriots. He supplies us with ...

The beans used for the nibs in this bar are a native variant from the Akesson owned Fazenda Sempre Firme plantation in Bahia, eastern Brazil.  

Established in 1904, Millot Farm sprawls across 15 km² in the Sambirano Valley, northern  Madagascar. It produces spices, essential oils and this incredible aromatic cacao. The farm is a big draw to t ...

Frankincense and myrrh resins from Moroccan trees provide the potent but rounded aromatic flavours of orange and pine in this unique and seasonal chocolate.

For more than 50 years Adriano de Jesus Rodriguez and Gualberto Acebey Torrejon have generously shared their expertise to build a community dedicated cacao farmers in the Duarte province, Dominican Re ...

The fiery flavour of the ginger, baked into this traditional recipe gingerbread cuts through our fudgy Oko Caribe farm milk chocolate with its warming hum.  

Öko Caribe cocoa beans, from a community of dedicated cacao farmers in the Duarte province of Dominican Republic, bring a nutty array of flavours from the cacao base. With the addition of sweet honeyc ...

Pressed in house using cacao from the ene river valley Peru, this white chocolate represents one of the few bean to bar white chocolates made in the UK. Its subtle flavour allowing for the delicate fl ...

African chocolate has a dark history. That is why projects in the Virunga National Park, the oldest in Africa, are so important. In 2016 the Femmes de Virunga project was launched, the first ever fema ...

These beans from Kuapa Kokoo have been roasted to a mellow flavour of toffee and sweet honey. Balancing this rich and creamy flavour brought us up to the highest cocoa milk chocolate we have made, and ...

Just three ingredients, cocoa beans, unrefined sugar and toasted gluten free whole oats. This bar is both vegan-friendly and gluten free.

We've worked with our local beach café here in Falmouth to create something delicious from waste. The cacao beans for the dark chocolate were grown under the canopy of Sierra Leone's Gola Rainforest N ...

A bar with an incredible story, made to showcase the irresistible flavour of these Costa Rican cocoa beans. In the early 1980s, Costa Rica's cacao was devastated by the fungus "Monilia," which spread ...

We extracted the natural fats from Ghanaian cocoa and combined them with the rich flavours of toasted milk to create a superb blonde chocolate bar.