16 Feb 2021
Ten Questions with: Crafts Council UK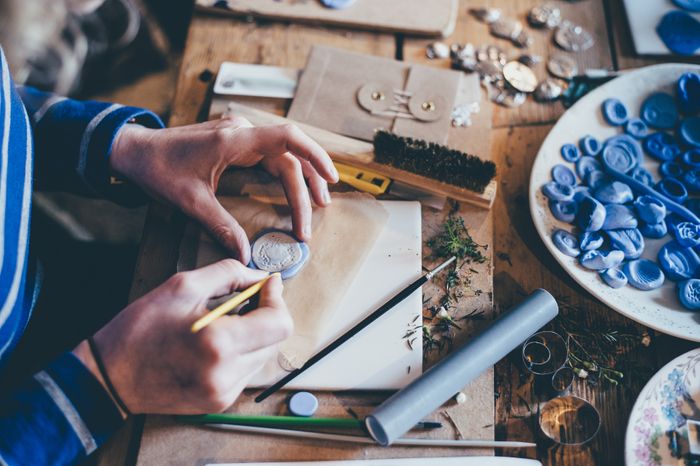 There's been a tangible boom in craft in recent years, why do you think that is?
The Market for Craft report shows how our passion for craft has never been greater. The first report to identify and gauge appetite for British craft for over a decade, the study finds that 73% of UK adults bought craft in 2019 – snapping up almost 25m handcrafted objects. In a significant shift, almost a third of today's buyers are aged under 35, making this demographic the biggest buyer of craft today.
The report also demonstrates that the UK craft market is maturing, driven by a number of wider trends that are likely to accelerate as a result of the pandemic. The rise of e-commerce, the favouring of investment purchases over throwaway objects and an interest in sustainability and supporting local small business all underline the consumer appeal of craft. This is the case both for individual consumers and for brands and sectors of influence such as retail and property.
Whereas a decade ago the approach to selling craft was to elevate it to that of art, now the approach of sales models is based on a confidence in craft's value amongst a new age of intermediaries. This approach now takes the needs of both buyers and makers into account.
Even in these challenging times, what makes craft a viable career path for makers?
These days portfolio careers are commonplace – more than half of makers generate income derived from a variety of sources, from formal teaching, to delivering workshops, to jobs completely unrelated to craft.
It's also a market that creates employment opportunities for those who can otherwise be locked out. A quarter of the makers surveyed for The Market for Craft reported having a disability, which means that craft is enabling people to be both creatively fulfilled and economically active.

What support does Crafts Council UK offer to new talent and emerging names?
Crafts Council has a broad remit and from this can support new talent in many ways, through our talent business support programmes and our Directory, profiling and connecting our makers to industry experts and buyers.
2020 saw the initiative #artistsupportpledge instigated by Matthew Burrows, and here we took the opportunity to purchase new emerging names for the Crafts Council Collection.
The most recent issue of our Crafts Magazine features new talent Anya Paintsil and, more broadly, runs regular New Talent features. Our first exhibition in our new Gallery at 44a Pentonville Road, titled Future Edit supported 40 recent graduates and Last chance to view
Collect, our International Fair for Contemporary Craft & Design is a great place to source emerging names.

How can buyers best discover new and lesser-exposed makers?
The proliferation of face-to-face craft selling channels – particularly craft fairs and markets –helps people to discover new makers. Online platforms have fuelled growth: in December 2018, Etsy reported that there were 220,000 active sellers in the UK with a further 9,000 makers on Folksy. 10.3m of us are now buying craft online.
Just as platforms like Etsy and Folksy have brought craft to a new online audience, so too the rise in craft fairs and markets has enabled more people to buy craft face-to-face and many of these were not in existence a decade ago.
What advice do you have for craftspeople navigating this challenging period?
We recommend three things:

Be kind to yourself: no matter what your circumstance, we are all facing challenges, and our stress bucket (developed from an idea by Brabban and Turkington,2002) has a tendency to get full and the pressure builds up too much. When this happens, find your release taps. This could be as simple as making yourself a cup of cocoa or treating yourself to a bunch of daffodils to bring much needed colour to your day.

Connect up: the key to success (however you measure success) is good communication to build strong relationships. Your contacts are your biggest advocates – your VIPs – so think about ways to connect with them. Hear from Angus and Lorna Ross on how they make the most of his mailing list.
Be proactive: this can be as small as starting to organise your mailing list into categories; work on your website SEO, plan a newsletter… whatever keeps you and your business moving forward. If you struggle to structure your time, try Time Blocking, it really works.
Why should designers invest in slow design versus fast trends?
Being more responsible with the way we consume, the materials we use and the way things are manufactured and shipped is nothing new. As designers, you have the power to lead this change. British ceramicists Lisa Hammond, Linda Bloomfield and Granby Workshop are all addressing the issues in ceramic manufacture, from source material to waste, in large scale ceramic industry. Designing for our time with quality craftsmanship, sustainable materials and manufacture processes can transform society, to having a strong appreciation for design and moving away from the concept of fast fashion.

What support or initiatives does Crafts Council UK have in place for struggling craftspeople?
Since we established Crafts Council in 1971, our commitment remains to support craft businesses, we will do this through our online Directory, free online business resources, webinars, 1:1 advice sessions and vital partnerships both home and aboard.
2021 sees a focus on Brexit toolkits and marketing seminar series in this new digital era post Covid, plus a new programme, Crafting Business, for prioritising the developing skills of aspiring craft entrepreneurs.
Sign up to our newsletter for updates or email makerdev@craftscouncil.org.uk.

What are some of the key movements or 'trends' currently in craft?
Craft experiences represent a growing market opportunity – with 20% of British consumers indicating that they would pay to attend a craft workshop. An increasing emphasis on wellbeing and digital detoxing are driving this: as attested by audience figures in the millions for TV programmes on making, such as The Great British Sewing Bee and The Great Pottery Throw Down.
Crafts Council is exploring options for further research into the experience economy, with many more of us turning to arts and craft participation during the pandemic – the second most popular activity to boost happiness.

What can buyers, retailers and designers do to support the crafts industry?
New models of selling craft have embraced market-focused principles used by the commercial retail sector such as the power of brand and the science of merchandising to position, present and sell craft in a way that makes it easier for people to understand, engage with and purchase.
The maker-focused approach means that new intermediaries are recognising that makers are often constrained from making a success of their business because they are makers rather than natural entrepreneurs. So, the new intermediaries can fill in the gaps: providing a strong brand; marketing; photography; advice on creating collections, the colour to match the zeitgeist and pricing to maximise sales; access to trade buyers and commissioners and sometimes studio space, covering raw materials costs or enabling diversification through facilitating craft classes and courses.

What are some of the exciting developments with Crafts Council UK this year?

Crafting Business is a professional practice training programme for emerging craft businesses. This programme aims to share expertise and knowledge to support the business development of newcomers to the industry in nine European countries, including the UK. Crafting Business focuses on building business skills, generating revenue and supporting marketing and promotion in craft micro-enterprises and small and medium-sized enterprises (SMEs).
Those interested in learning more can join us on the 22nd and 23rd February 2021, 10am-12.50pm (GMT/Ireland/UK/Portugal) to find out more about the Crafting Business programme and to hear from the participants and tutors involved about their experiences.
Please follow this link for the agenda and how to register.
This year is also our 50th Anniversary, sign up to our newsletter to stay in touch with all our forthcoming celebratory events!