04 Aug 2020
Meet Arlene McIntyre, Creative Director of Ventura Design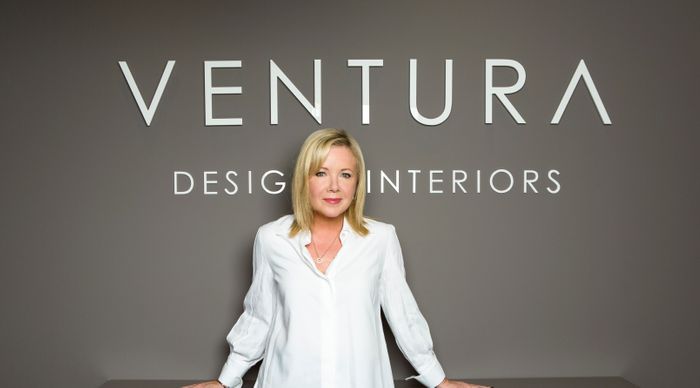 Can you give an introduction to who you are and who/what your brand is and how long your brand has been around for? What makes you unique?
Our design would be best described as classic contemporary. We created Ventura back in 2005 and our look is very timeless and comfortable, but at the same time is always luxurious and sophisticated. We aim to create rooms that are multifunctional and can work whatever fashion and trends come and go over the years. We pride ourselves on quality, and this is why our bespoke making service is so important to our overall finish. As a team at Ventura of both big dreamers and lateral thinkers we always deliver a very individual and original service to each client. What separates Ventura from other design firms is that we have a totally holistic view of the industry and we understand what it like to buy, sell, design and handle a project from conception to completion.
How did you start your brand?
My first experience within the interiors world was working in a home interiors shop as a sales assistant and I had the experience of going to a lot of trade shows and then moved on to becoming an agent for interior brands in London, France, Italy and Canada. I had always had a passion for design, and started my interior design business literally from a shed in my garden in Dublin. Word of mouth recommendations led to design projects in Ireland and further afield and when I met my partner Juergen (whose background is in construction) it seemed an ideal opportunity to blend our complimentary skills together to launch Ventura. Creating the brand and designing and making our own bespoke range of furniture means we have complete control over supply and can always meet our customer's deadlines. The business has grown from two showrooms in Dublin, a flagship showroom at the Design Centre in London, and a new one in development in Quinta Portugal selling our bespoke furnishings.
What's been the biggest highlight so far in your journey?
Our clients come from all walks of life and a major highlight is always the opportunities to work and learn about how others live in their private spaces and homes. I also am a big fan of collaborating with talent from other creative industries and last year I had the opportunity to work with Irish fashion legend Paul Costelloe to create his very first furniture collection which was hugely satisfying and rewarding as he brought his fashion sensibility to designing a bespoke range for Ventura. I have also worked with influencers such as Vogue Williams and Millie Macintosh who have given Ventura a perfect platform to showcase the brand to a new audience. Right now, the new online shop we are working on which currently sells all our wonderful home accessories will expand to include our entire home collection of bespoke furnishings this summer ….so watch this space! We don't like to stand still at Ventura.
What do you love most about what you do?
There have been a few but I think being able to stand back and see the business grow and expand will always be a highlight and opening the London showroom a year ago which had been an ambition for a long time was very satisfying. Right now I also love hosting my new podcast venture "Shut the Front "where I talk to a wide range of people about their connections to homes and living space.
Knowing what you do now, what advice would you give to yourself when you were first starting out?
To always try and learn from other people's experiences but to follow your own gut, carve out your own path and do it your own way. Someone once said to me that unless you walked a mile in someone else's moccasins you'd never truly know what their own journey has been like.
We are obviously in very unprecedented times at the moment. What are you doing to stay positive and keep the brand looking ahead?
We have taken the opportunity to create our first online shop during the Lockdown. It's something we just didn't have time to do before but have used this time as the perfect opportunity to build and launch it. So far it is early days but it has been very successful and we are now wondering why it took us so long to do it! We have also been able to continue working successfully with our clients all over the world creating CGI imagery, project plans and mood boards, and talking through projects on that will kick off once lockdown restrictions are lifted.
One of the most useful initiatives we have developed through our understanding of fabrics and textiles in just the last few weeks is to create a new company called Bare Essentials selling PPE after we did extensive research on how we could bring PPE into Ireland and sell it online. We received our first deliveries from China and are now selling in the UK too and will soon be launching our own bespoke Irish made masks in beautiful neutral fabrics and a children's range is also in development. So the pandemic has seen Ventura's as busy as ever albeit online rather than in our showrooms.