26 Jul 2019
How to get SPOTTED: Advice from Rebecca J Mills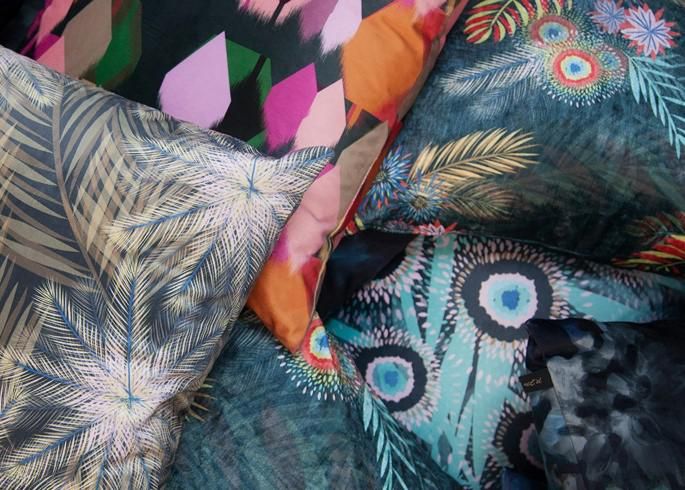 Having spent her career working as a Buyer and Product Developer within the worlds of fashion and interiors, Rebecca Mills has always had a passion for pattern and design.
In May 2018, she took a leap of faith and launched her own brand, where she applied her unique contemporary prints to home décor and accessories. Following her debut in Spotted at Top Drawer S/S19, we caught up with her to learn more about why she chose the show as the perfect place to launch her brand and find out what she's been up to since…
For those who aren't familiar with Rebecca J Mills, can you tell us about your products?
I'm inspired by my sense of the world, from photographing beautiful botanicals to listening to different music genres and following fashion trends.
I love to create dramatically contrasting collections, placing florals next to animal prints and geometrics, which are all brought together through colour and texture.
90% of my collection is made in the UK using quality materials. I want my products to have a real luxe feel and for people to feel they have found something special.
You made your debut at Spotted within Top Drawer. Why did you decide that it was the perfect place for you to launch?
I'd been going to Top Drawer for years when I was working as Buyer. I became aware of the Spotted area and the support it gives to new businesses and I really liked the feel of it.
I spoke to a couple of people that had exhibited previously and they all said the experience was well worth it. I knew that the footfall of retail buyers is high and that it's a great way to capture an audience all in one place.
Can you tell us a little bit about your experience exhibiting at Top Drawer and the people you got to meet there?
I had 3 brilliant days exhibiting at Top Drawer. I met a lot of Retail Buyers, from all over the UK and some from Europe and the US. I also received a lot of interest from Interior Designers, who were looking on behalf of their clients.
Lastly, I had some interest from the Press and I've now had coverage in a number of magazines - I came away with nearly 100 contacts!
What have you been up to since Top Drawer? Any key retailers picking up stock or design commissions?
The follow up after Top Drawer was a much bigger job than I had anticipated, working through nearly 100 contacts. I picked up a handful of retailers at the show and I've continued to grow my wholesale business since, all with small independent shops.
In March I was asked by Jess Taverner at Good Homes magazine if I could make two lampshades for the Queen's Bedroom room set at a prominent consumer homeware show. It was a proud moment going to see them with my family; all the room sets were gorgeous.
What are you working on currently?
I've just finished designing my second print collection, which is quite a contrast to my last collection, a lot lighter and brighter. I've been busy developing my accessories range adding new product types, such as scarves and different types of bags.
I'm now working on the Home Décor side and I'm looking to add more embellishment and texture into this collection.
What's next for Rebecca J Mills? What should people keep their eyes out for from you in the next 12 months?
In September I'll be launching my second collection on the Home décor side and I'm just working on how and where to launch.
I'm continuing to work to grow my business with more small independent retailers and I'll be looking at how to make my business more sustainable- starting with packaging.
I'm also looking to do 1 or 2 small collaborations, so lot's going on!
What advice would you give to new brands who are considering or planning to exhibit at Top Drawer for the first time?
Go for it! It's such a great experience. You meet so many interesting people- from the people on the stands around you to all the visitors to your stand.
You need to be super organized and plan out your stand beforehand- so you know exactly what it will look like and what you need in order to achieve your vision.
Get some marketing material printed, so you can hand this out to visitors- I had postcards and a small catalogue, which was well worth the money.
Finally, get some good sleep in the few days leading up to the show and most importantly enjoy it!