16 Jun 2020
Groomed and Zoomed - why "face fashion" has become the new virtual runway during the lockdown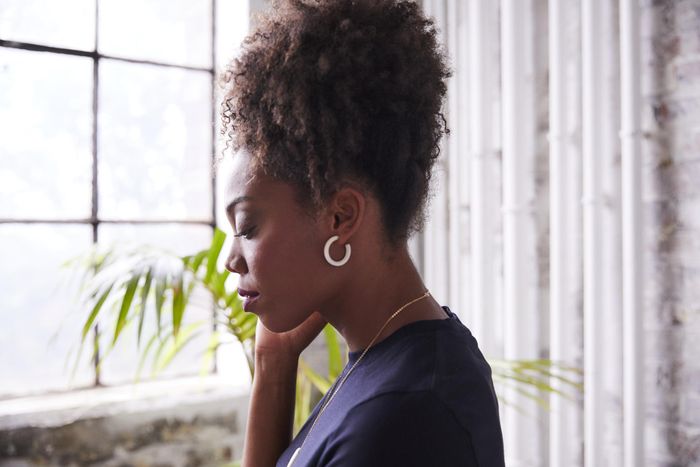 Despite the isolation of the great Covid-19 lockdown, our style survival instincts have seemingly gone into overdrive. "Dressing to impress" is inherently hard-wired into human social behaviour, and the void left by cancelled runway shows and scant street style has rapidly being filled by "face fashion" and a real desire for "greater self-expression," says Hannah Craggs, Senior Youth Strategist at WGSN.
As Zoom's daily active users jumped to over 200 million in March, alongside TikTok, YouTube, Live.me and ShareChat all seeing significant spikes, in turn, digital parties and bedroom raves simultaneously erupted. The rise in social media parties and Zoom catch-ups during lockdown has inspired "face fashion" - an exuberant and expressive screen style where bold makeup, hair colour and fashion accessories have come to the fore.
"We are tracking the element of joy through creative embellishment," says Craggs about the "dressing for the neck up" trend. "These platforms also offer a risk-free environment to play with a sense of identity and play with signature style."
Further, fuelled by valid safety concerns and desire for social distancing, Craggs forecasts that savvy brands "will invest in tech that enables consumers to test earrings, lipsticks, eyeshadows and hair dye with more authentic on-screen representation."
Rather than the Covid-19 lockdown repressing our fashion instincts, consumers are increasingly upscaling their style for maximum small screen impact.
Hyper-adaptable consumers have rapidly embraced online festivals, cloud clubbing and live streaming with the 'dressed-up-with-nowhere-to-go' trend Inside their "safety bubble," they are looking to express themselves at a more "up close and personal level".
Beauty brands and its influencers, in particular, have benefited during the lockdown lead by such social media sensations as James Charles, Manny Gutierrez, Cole Carrigan and Jordi. Their high impact styles have brought fresh attention to not just makeup trends, but also headbands, nose piercings, earrings, hair clips, necklaces and of course, face masks. Dubbed the "new designer handbag" the Lyst Index reported in April that searches for face masks products increased 496% during the last quarter.
This focus on dressing the face, rather than the body, will spill over into retail sales says Craggs, "In terms of jewellery such as statement earrings and neckpieces, think about items that focus on charms and healing semi-precious stones, which make for a glamorous addition to stay home style."
While beauty brands such as Nails Inc have enjoyed a 300% increase in both the UK and US markets and Knight & Wilson has seen a 160% rise in pink hair dye sales, so too has the interest in facial and hair accessories shifted.
How will retailers shift their buying strategy to reflect this consumer behaviour?
"For certain, there will be shifts within buying strategy as consumers behaviours radically alter," confirms Craggs. "Print, colour and comfort will be under particularly intense scrutiny, as brands look to appeal to consumers with heightened expectations and smaller budgets. Successful retailers will be those who truly keep a laser focus on end-use."
Although the lockdown is lifting, the shifts it caused in our lifestyle choices will have seismic, long term affects.
"Positive messaging around honesty, solidarity and community" will also be central to future purchasing decisions says Craggs. Face fashion will expand from the purely ornamental to include accessories, masks and makeup that make a political statement. "Expect slogans that promote positivity to strike a chord with positive slogans and d-i-y aesthetics, focusing on a newfound sense of community spirit."