07 Oct 2020
BEHIND THE BRAND Wrapuccino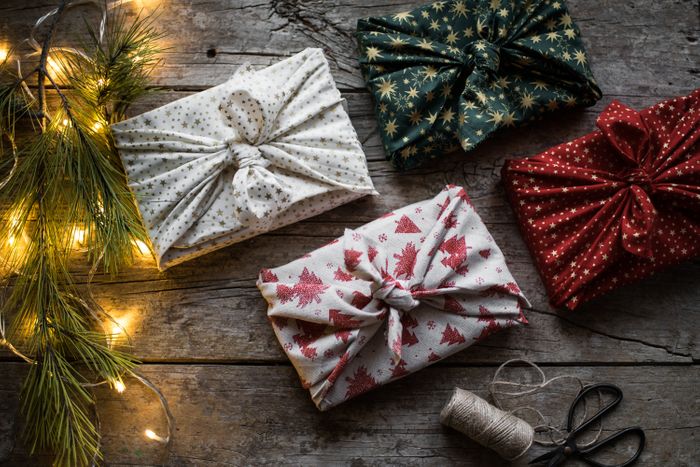 Reinvigorating the world of wrapping just in time for the busy festive period, we took a few minutes to get to know how sustainable new brand Wrapuccino came to life, plus learn a bit more about what's next…
For those not familiar with your brand, what is Wrapuccino?
In short, we offer unique multi-use and multi-purpose fabric gift wraps. With Wrapuccino, we show the world that sustainable gift-wrapping is not only possible but also that it doesn't have to be grey and boring. Quite the contrary; though the fabrics are beautiful on their own, every time you wrap a gift you create a little piece of art that's one-of-a-kind, without the need for any ribbons or tape.
Handing a gift wrapped in fabric is extra special, you show you care on so many levels: about the person, the environment, but also about beauty, style and presentation. Effectively, you're giving the lucky recipient two gifts. Each fabric is carefully handmade and finished by our talented artisans, which guarantees you will re-use it (or repurpose it) time and time again. You see, our wraps are for life, not just for Christmas! Each wrap comes with a recycled name tag with this information so that the recipient can feel extra special. We love creating the warm buzz inside.
We're also the only reusable gift wrap that helps save the Oceans, as part of our profits goes to a UK-based charity protecting marine life.
What inspired the start of your brand?
On the 2nd day of Christmas my mum said to me: "If someone did this 30 years ago they'd be laughed at, at best called crazy." Our family all looked up at the pile of rubbish that formed in the corner of the room. Colourful wrinkled and torn up papers, disentangled ribbons and bits of sticky tape were taking up quite a big part of the room. "Nobody would buy a piece of paper, only to throw it away minutes later. Paper, as well as everything else, was reused and respected." She had a point, paper wrap was a huge waste, but was it that bad?
We decided to investigate and the reality was worse than I could've imagined: every year in the UK alone we throw away enough paper to go around the Equator nine times! Not only that, lots of wrapping paper is in fact covered with layers of plastic, thus making it unrecyclable. Glitter was another shocking culprit - containing microplastics that get flushed into our waters and seas, and consumed by marine life, that is in turn eaten by us. In fact, the latest studies show that we eat 1 credit card a week worth of plastic.
Something needed to be done but was there an alternative?
The surprising answer came from Japan. Since the 7th century, they have been using the art of Furoshiki - the art of wrapping in fabric - to wrap gifts and carry goods. This beautiful ancient tradition is still thriving to these days with the younger generations especially appreciating its sustainability value. One wrap could be gifted for generations to come. We put a twist on this ancient tradition, modernised it with contemporary and Christmassy designs, and this is how Wrapuccino was born.
What's been the biggest highlight so far?
It's hard to choose one out of the many, they keep on coming! Firstly, the fantastic feedback we've had from our customers and the massive interest in Furoshiki - it went beyond our wildest expectations! Although it's a new concept in the UK, we've had thousands of people from around the Globe joining our how to wrap in fabric workshops. We've also been thrilled to be finalists of the prestigious Stationary Awards, will have two pop-up shops at John Lewis over the Christmas period and have partnered with two exciting brands. We're also in discussion about producing them for some of the UK's most respected brands, but can't say anything at this stage. It's crazy how many things can happen in just 1 year!
What's your design process like? how do you bring each new product to life?
Every line of wraps we make is unique and custom-made. We don't do mass production to avoid unnecessary waste and that's also what makes each gift much more one-of-a-kind. ¨Less is more¨ is definitely what we go by. We select the finest fabrics from Europe that are then taken care of by our talented artisans who make the magic happen by hand. All the edges are finished with double-fold hems to prevent fraying and then packed by us in the UK with our no-plastic, fully recyclable packaging. We also aim to include a handwritten note with every big order to show our sincere gratitude for all these who are in it with us to make a difference.
Where do you turn for product inspiration?
Turning to nature for inspiration might sound like a cliché, but, as an example, have you ever looked at a magpie's tail up close? Though a very common (and a bit underappreciated) bird, its feathers have hundreds different shades of blue and green, which is truly remarkable. The same can be said of every leaf, not to mention obvious examples like flowers or birds of paradise. We want to show the beauty and colourfulness of nature, though as humans we're also aware of our limitations and can never achieve even a close enough effect. We're also aware of the more 'earthy' side of our natural environment, so we also cater for the lovers of a more rustic style.
With Christmas designs, we want to make sure that every person feels extra special, so the fabrics are much richer, with golds and silvers bringing about the festive feeling. We also run regular consultations with our client base to see what they love best and also make custom designs - after all, we want to give you what you want to give to others.
What is it you love most about what you do?
We're in this uniquely lucky position, that our work combines creativity with caring about the environment and creating a movement that will bring positive change to the World. Every bit of the process, from meeting and talking to our customers, to getting hands on with the production, is there to make people feel special, happy and loved when they receive their lovingly wrapped gift. Plus, for us, it's Christmas literally every day of the year. What's not to love?
What's next for the brand?
There are some big wheels in motion: we started a collaboration with Ananas Anam (Piñatex), who developed an innovative natural textile made from waste pineapple leaf fibre. It's a completely revolutionary, vegan and eco-friendly alternative to leather and to plastic leather-like materials. We'll soon be offering Wrapuccino-branded leather-look pineapple handbag straps that go together with our fabric wraps. Now pineapple and fabric wraps is a fancy duo, would you have ever thought you could use last-years gift wrap, combine it with pineapple and use it as a lush handbag?
We're also planning on extending our collaboration with Plastic Oceans UK to help even further with keeping our oceans rich in life. At the moment part of our earnings go towards their amazing charity but we want to get communities involved in more hand-on projects on saving our marine life. We believe it is no longer enough to avoid causing damage to the natural world. We need to actively reverse it. Little by little we hope that together we can save our planet, one gift at a time.

To learn more about Wrapuccino, be sure to register for or sign into Top Drawer On Demand.