10 Sep 2020
BEHIND THE BRAND: Sarah Jane Hemsley Upholstery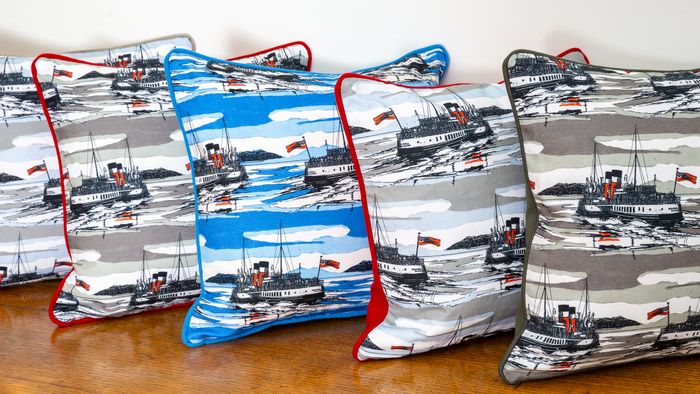 Hey Sarah, great to meet you! Can you tell us a little bit about your new Bulloch Collection?
Initially for textiles, each digitally printed design is based on a land or seascape of the Isle of Bute - which sits just off the west coast of Scotland. The range of handcrafted products include cushions, drum lampshades, fabric by the metre, tableware and reupholstered vintage chairs. The Collection has a distinctly mid-century feel with the artwork taken from original screen printed ink drawings by Lyn Bulloch.
So how did the collection come about?
Although I now live and work in South West London, as a traditional upholsterer, I grew up on the Isle of Bute. Lyn Bulloch was my school art teacher, and family friend. Lyn attended Glasgow School of Art in the late 1950's/early 1960's where he developed his distinctly mid-century style. He applied this over his lifetime to depict the scenery of the island he loved. I share that love for the island's beautiful scenery and coupled with my passion for everything mid-century I always found Lyn's work inspirational and irresistible.
Can you tell us more about your inspiration?
My light bulb moment came when reupholstering a customer's armchair in a bold contemporary but mid-century style print. It immediately put me in mind of Lyn's work and started me down the "ooh, what if…" path. Using photocopies of a couple of Lyn's screen printed Christmas cards we had at home I began creating layouts on the living room floor. I approached the Bulloch family for permission to use the work, they were delighted and so the design process began!
As I'm not a textile designer to trade I worked closely with a digital printer to realise the fabric designs I had in my head. It was steep learning curve as I had the vision but not the technical ability or language.
Luckily I had a complementary business in upholstery. This helped me understand the practicalities required of the fabric and allowed me to use my customer base for feedback and to help promote sales. However, I did and do sometimes find myself torn between what to focus on, upholstery or print design.
What makes this collection so unique?
The Bulloch Collection textile designs feature scaled repeats of the original ink sketches washed with vibrant colour in various layouts. I've used both the original colours and introduced new colourways. The resulting textiles are evocative of vintage prints whilst being fresh and instantly appealing. The collection comes in three different designs: Waverley, Sleeping Warrior and Dunagoil & Shore Road.
Can you tell us about the materials used?
The base cloth is a heavy weight organic panama 100% cotton chosen for its relatively smooth texture and suitability for a range of interior soft furnishings as well as, of course, upholstery. Keeping the island connection, I've used Bute Fabric's contemporary wools on the cushion reverse and piping, and in many of the bespoke reupholstered pieces. All Bulloch Collection products have been created and produced in the UK.
What do you love the most about what you do?
I never tire of looking at the designs and love the fact I've been able to rework such wonderful pieces of original art. It's important to me the designs, although rooted in a story very personal, have such wide appeal. I feel they capture a bygone retro look yet sit well in a range of interior settings particularly modernist, coastal and Nordic inspired interiors, looking good with natural textures such as wood, fleece and stone.
So what's next for the brand?
I'm excited to be working on a new design, 'Burnt Islands', to add to the range. Also in development are new products; table napkins, tea towels and rolls of matt coated wallpaper. I'm hoping Top Drawer On Demand will give me the opportunity to share my designs with a whole range of inspiring and creative businesses and individuals.
Although my new website and online shop launched 2 days before lockdown (not brilliant timing!) I'm still fired up with new ideas for the designs, be it printing on outdoor textiles for garden furniture & deckchairs or restoring iconic British designed furniture, like Ercol, to be complemented by Bulloch Collection upholstery.
To find out more and see the rest of the range make sure you view their virtual showroom at Top Drawer On Demand.