17 Apr 2020
BEHIND THE BRAND Sam Jayne Design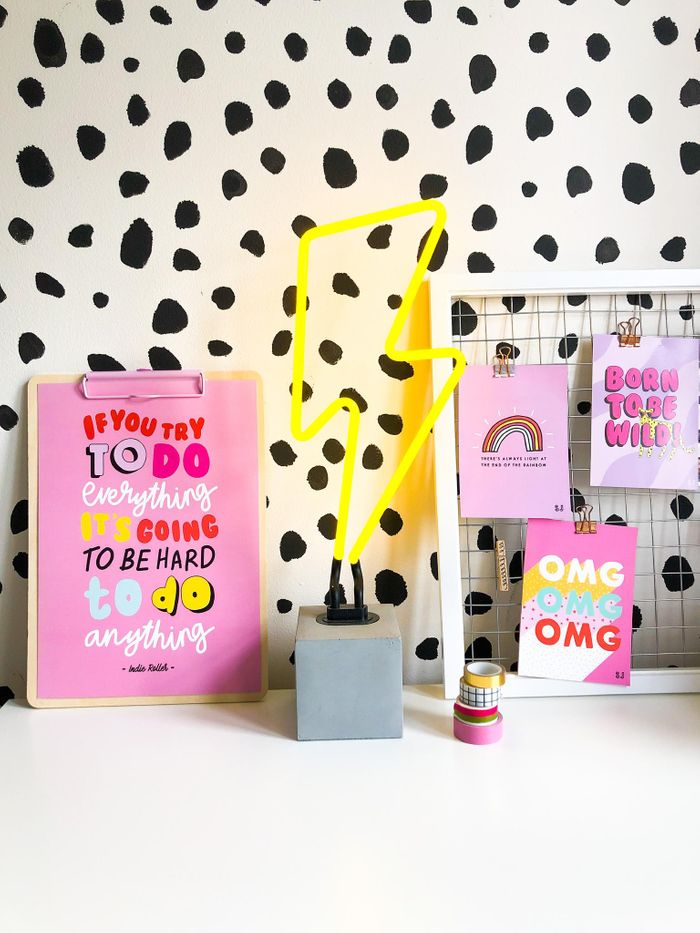 Doodler, illustrator and all round creative, Sam, will be making her Top Drawer debut this year with Sam Jayne Design. We caught up with her to find out what inspires her, how she's staying positive during lockdown and much more…
Hi Sam, tell us all about your brand?
Sam Jayne Design is a fun creative design studio offering contemporary eye-catching design for other creative businesses who want to stand out from the crowd. We specialise in pattern design, Illustration, typography and stationery! With a background in surface pattern, I found my passion lies in illustration and pattern design and have worked for clients such as Punky Pins, Primark, Birchbox, Mylk Plus, Quadrille Publishing and Quirky Crate. My work can be found on packaging, greetings cards, clothing, giftware and stationery.
Sam Jayne Design is all about having fun, being creative, loving colour and positivity! My illustration style, combined with the use of pattern and the colour pink, makes the brand recognisable.
I started the business back in February 2019 and since then it has grown to over 12k followers on Instagram!
What was the inspiration behind starting your own brand?
With seven years of experience in the design industry and having previously worked at a well-known greetings card company for 5 of those years, I decided to take the plunge and set up on my own. At the beginning, my main focus was posting a design a day to Instagram and gradually it grew and grew to what it is today. My inspiration mainly comes from current events happening in the world, combined with uplifting and positive words.
What's been the biggest highlight in you brand journey so far?
The biggest highlight so far would have to be the successful Kickstarter campaign where we raised over £5k to produce a 2020 planner. The planner was crammed full of artwork from 14 girls who lived all over the world! I loved the idea of supporting other artists and each month having a different personality. The planner was a huge success and I hope to do it again one day.
What do you love most about what you do?
I love being able to be creative not just for myself but for others too. When someone says to me that I have brought their dream to life with my design work that makes me so happy! My passion is colour and pattern and seeing this on product for clients is a dream come true.
Looking back, is there any advice you'd give to yourself at the beginning of your brand journey?
Advice I would give myself when first starting would be to have more confidence with costing work. I feel this is always a tricky subject for a lot of people, but says knowing the worth that you bring to a business is so important and it's often more than just your time you need to charge for. It's also your experience!
You'll be making your Top Drawer debut in September, what are you excited about and what can visitors expect from you?
I have never taken part in Top Drawer however I have visited the show a number of times. I love the show because it's so inspirational and exciting! It's always been an ambition of mine to have a stand there and now I'm finally taking the plunge. People can expect to see a colourful and eye-catching stand filled with quirky card collections, awesome art prints, super stationery and glorious giftware! I'm so excited to see it all pulled together.
We are obviously in very unprecedented times at the moment. What are you doing to stay positive and keep the brand looking ahead?
My main focus at this time is to keep posting inspirational artwork about positivity/being kind and uplifting our followers! I plan to continue working on new card collections, sourcing new products and looking to the exciting future of Sam Jayne Design.
What are your positivity recommendations during this time?
1. Limit news exposure
2. Spend time on self-care… have a bath, read your favourite book, pop a face mask on, light some candles, listen to your favourite music
3. @emilycoxhead - positive and always makes me smile!!