20 Dec 2021
BEHIND THE BRAND | Ruby Kite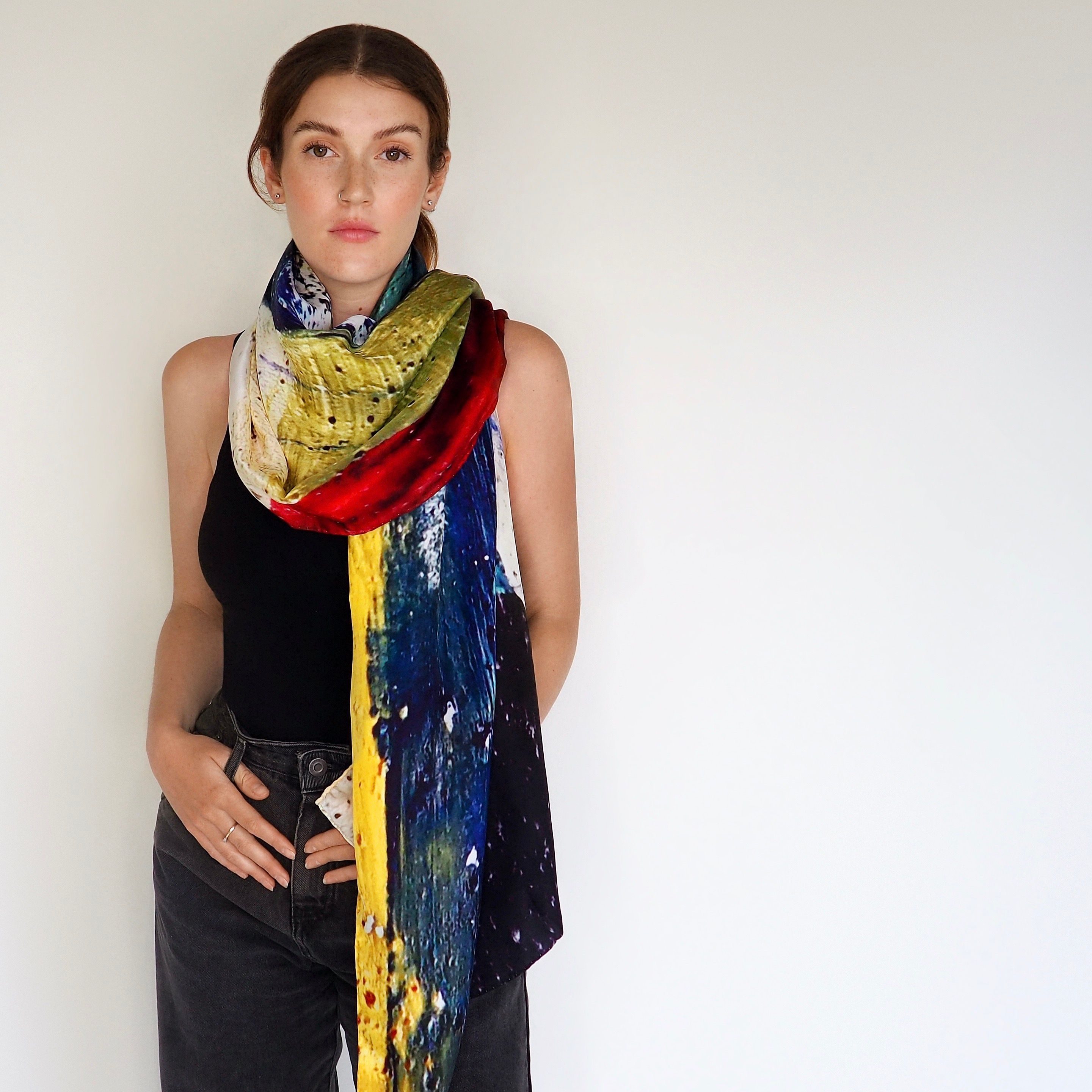 Can you give an introduction to who you are and who/what your brand is and how long your brand has been around for?
Hello, I'm Tamara, Rubykite's printmaker designer. I create contemporary mixed media paintings and printmaking on plaster; exploring unique textures that translate beautifully on to our silk and cashmere scarves and accessories. Each colour story is printed in more sustainable small batches on natural fabrics, curated by my partner Joy, to create wearable art that enhances the original artwork by creating a distinctive 3-d effect with a signature chalky palette.
Each piece has a strong emphasis on texture. I love exploring the tactile qualities that the plaster creates with intricate textures that become hugely abstracted when scaled large over our scarves - from small pocket silks to large silk squares, measuring upwards of 130cm square.
Ideas are inspired by nature and start with mark-making with the landscape around our studio near The River Thames an especially strong influence. The colours and textures change through each season and are inspirational in so many ways.
Since launching in November 2019, our aim is to create affordable, timeless pieces that prioritise longevity over fast fashion; original art scarves printed as limited editions that stand-out in a world of mass production.
How did you start your brand?
Joy and I have known each other for many years, as our children have grown up together. Our career paths crossed a couple of years ago, when Joy visited one of my art exhibitions. She suggested making some of my more contemporary paintings and printmaking into scarves - it really was a turning point in both our lives. When she shared the samples, I was beyond excited! They really were beautiful. And so RubyKite was created.
We're now just over a year old which means we're incredibly excited about the possibilities for RubyKIte. Making our products as sustainable as possible is really important to us. We're already minimising waste; printing in small batches and replacing our gift boxes with silk pouches made from off-cuts from our "Tree" design, as well as printing with dyes that are AZO free. But there's still so much more we can do.
Our aim is to create treasured, timeless pieces that prioritise longevity over fast fashion; original art scarves that stand-out in a world of mass production.
What's been your biggest highlight whilst creating your brand? Why is it you love what you do?
Creating our brand has taken a lot of hard work. It's required real dedication, a heap of integrity and most importantly a huge helping of creative belief fuelled by an imagination filled with 'what if's". And although there are ups and downs, the one big upside is our 25-year friendship and the close family bonds that have grown since our children were really little.
Those "little" girls are now all grown-up and are the absolute stars of our RubyKite show. They model all our scarves and make our photo-shoots so much fun - a real family affair, where we get together, try on all the art scarves, and take some pictures! The icing on the cake is their professionalism and of course, the fact they showcase our scarves so beautifully.
Joy and I are fortunate to really love what we do and who we work with, but more than anything, we are thankful for having a brand built around family values.
Knowing what you do now, what advice would you give to yourself when you were first starting out?
To remain positive. Challenges have come in all shapes and sizes (especially over the past year), but the one thing that helps overcome them, is the ability to remain positive. Positivity feeds creativity, it frees the mind to think, to imagine, to dream. Without it, everything seems less attainable.
Can you tell us about your new collections/ranges that you'll be launching at Top Drawer?
We are really excited to be launching 2 new colour stories at Top Drawer, Meadows which is a collection of wildflower prints on silk and a range of accessories from our Runners design printed on peace silk, which means "non-violent silk breeding and harvesting". It allows the completion of the metamorphosis of the silkworm to the butterfly.
Any personal favourites from your new collection?
I tend to have several favourites, but right now I'm loving our new Meadow collection.
Over the Summer I've been capturing the colours and textures of the fields that surround my studio. They are filled with a tangle of wildflowers and grasses with pops of colour that change throughout the day. We chose 4 of my original paintings on plaster to print onto silk. The mark-making and texture from each little piece is greatly magnified to create wonderfully abstract detail on a large scale.
It's been great fun mixing and matching different coloured borders to frame each design, with vibrant hand-rolled edges that really zing! There are 4 designs, Daisy, Sherbets, Poppy and Pinks, all beautifully printed in England.
Tamara Williams & Joy Leese
https://www.rubykite.co.uk/
@rubykitedesign