23 Sep 2020
BEHIND THE BRAND Rebecca J Mills Designs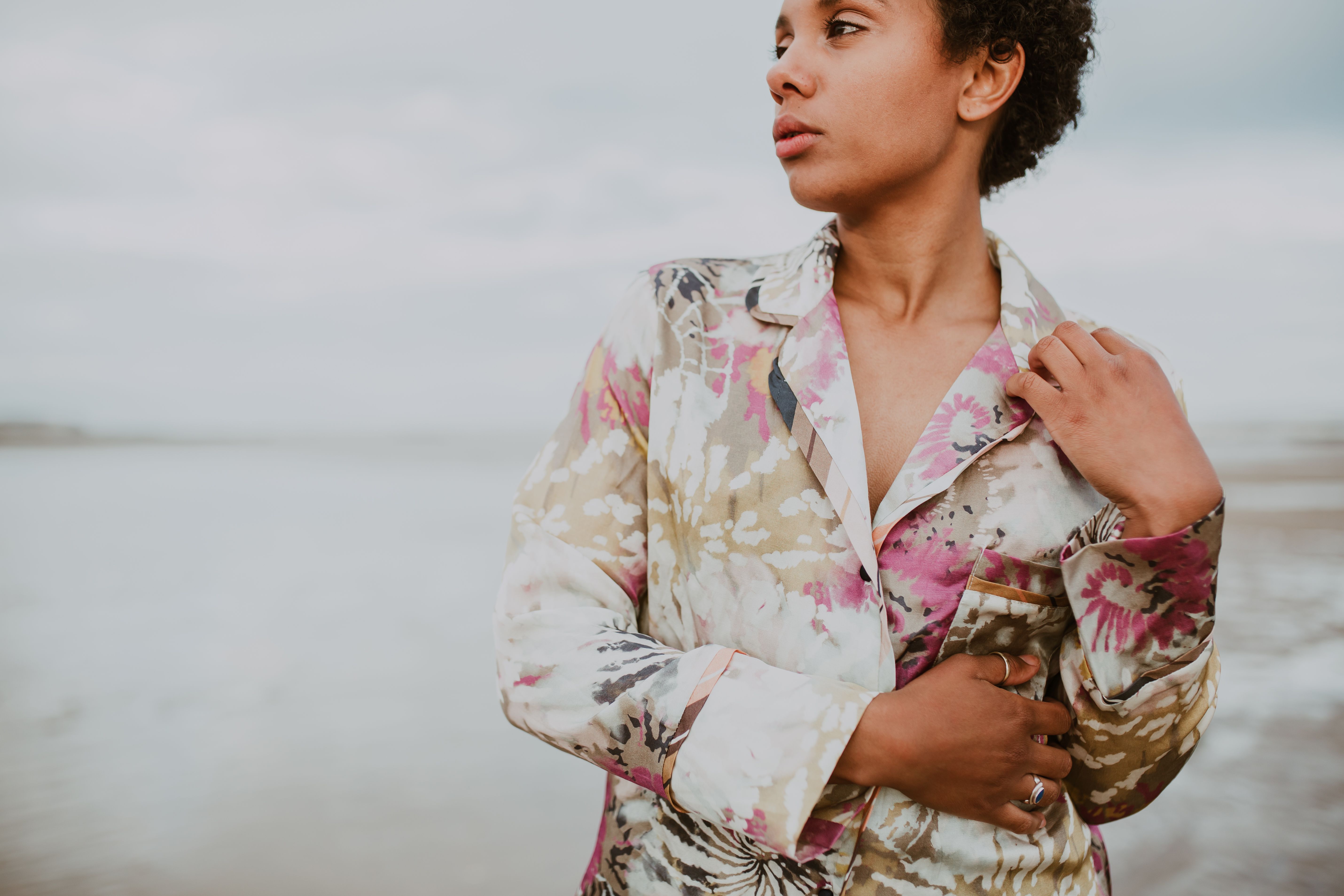 Having made her debut as part of Spotted in 2019, Rebecca J Mills Designs has moved from strength to strength, applying her captivating designs to a growing range of products across the lifestyle spectrum. Launching her fashion collection with Top Drawer On Demand this month, we wanted to learn more about what it takes to build a successful brand and how she brings her new products to life…
Hi Rebecca, thanks so much for taking the time to speak with us. For those not yet familiar with Rebecca J Mills Designs, what sets the brand apart and makes it special?
Rebecca J Mills Designs was started from the combination of my passion and experience in contemporary print and product development; my aim has always been to bring the two together and create a lifestyle brand with Home, Gift and Fashion collections that have a luxe and tactile feel; ultimately adding a splash of beauty to someone's world.
In building my lifestyle brand, I feel it's become so much more and my business now has several dimensions. I realised quite early on that I wanted to build a brand that had longevity for my customers. I want to create collections that build on each other and clash and coordinate across each other, so ultimately my customers can add to, rather than replace their products. I want to take my customers on a journey of colour and texture and although newness is important, I want them to feel that what they have is timeless and special. I think this is so important for the world we live in today.
Sustainability is of increasing importance to all brands in today's landscape, how do you incorporate this into what you do?
As a small business that's grown quickly, I realise I have a responsibility to ensure my business is sustainable in every way possible. I really enjoy thinking about how to create collections that aim for zero waste, by using offcuts for other products; ensuring that my production is predominately in the UK and as local as possible to reduce my carbon footprint, and researching packaging to ensure that when I've used up my current stock, I move to much more eco-friendly options.
Another dimension that is important to me, is the sense of community and building a network with other makers and creators; I'm surrounded by very talented people who I absolutely love working with. As my business evolves and my network grows, I'd like to give something back. It took me some years to reach the point where I had the confidence to set up my own business, I'd love to be able to help young people build their confidence and knowledge to fulfil their visions at a much earlier stage in life.
What's been the biggest brand highlight so far?
I'm lucky enough to say there have been quite a few big highlights since I started my business in 2018, but I have to say the biggest has been opening the shop I share with @cassandrakingflowersandstyling and @patternmistress.
It's always been a dream of mine to have a shop. We originally opened it as a Pop Up shop last October for the Xmas period, but it went so well we decided to keep it on. We shut during lockdown and reopened in mid-July and so far it's been good. We've been supported by so many lovely customers; it's been amazing to see. Lots of creators and makers also pop by and we'd love to be able to open up the space to them too, but with the restrictions, it's challenging at the moment, so we might just have to hold that thought for a while.
One of my favourite customers was the Assistant Costume Designer from one of my favourite Netflix shows. He was walking home from work and just popped in and asked what we were all about and suggested that he could possibly use some items in the series—watch this space!
You've recently added fashion and leisure products to your range, what inspired that decision?
The activewear came first. I originally developed the leggings as a bit of fun to wear on my stand at Top Drawer when I exhibited in the Spotted area in January 2019; I didn't end up wearing them on the stand, but I started wearing them when I went for a run and they started to draw some attention and the collection grew from there. It then felt quite natural to add in the sports bras, vests, T-shirts, shorts and swimwear. The children's range came from my daughters' asking if they could have the leggings in their sizes, which is great as they're like walking adverts for me now.
The idea for a loungewear collection came up when I was in a meeting with the two lovely ladies I share my shop with @cassandrakingflowersandstyling and @patternmistress. We were all chatting and they both said how my prints would translate really well to Loungewear. I'd always wanted to expand my range into fashion, but I just hadn't had the chance to really focus on it. The very talented @patternmistress has been instrumental in guiding me through.

I love learning new things and being on a steep learning curve and this collection has certainly taken me there.
What's the design process like? How do you bring each new product to life?
I don't actually have a set design process or way of working, I'm a little more random; sometimes I'll design a print and then think about what product it would look good on and then source the materials to bring it to life; on other occasions, the product idea comes first and then I apply a print. My background before setting up my own business was in Buying/ Product Development and Licensing.
Print design and product development are two areas I'm passionate about and come very naturally to me. I really like to think about the print and product together and incorporate little coordinating or clashing touches to the product through trims, tassels, pom poms etc. so that the product is not just about the flat print and it becomes beautiful in its own right. I loved creating my Loungewear collection for this reason, we really had to think about the shapes for comfort and beauty.
Where do you turn for product inspiration?
Again much like my design process, my inspiration is a little random. I don't look in one place; it comes from everywhere. I could be watching a film and just happen to like the colours in a particular scene, so I start screenshotting the TV! Or I could be listening to music and a feeling comes over me and I have the urge to create something that reflects this.
Of course, nature is always inspiring and it's endless in what it has to offer. For inspiration for products, I often look to fashion trends first; I also read about cultural trends and where we're moving to, this often inspires me as to what products there might be a need for.
I'm also lucky enough to be surrounded by a network of very talented makers and creators who are forever coming up with amazing ideas. My Vegan stationery range came from @upholsterydiaries.
What's next for the brand?
That's a great question and one I think about a lot. I work closely with @mystory_marketing who help me with many areas of my business; they always have their fingers on the pulse and know what's happening in the industry, and we've discussed the possibility of doing a collaboration in some shape or form. This is something I would love to do and I'd need to find the right fit, but I'm open and excited about whatever this may be.