28 Sep 2020
BEHIND THE BRAND Concrete & Wax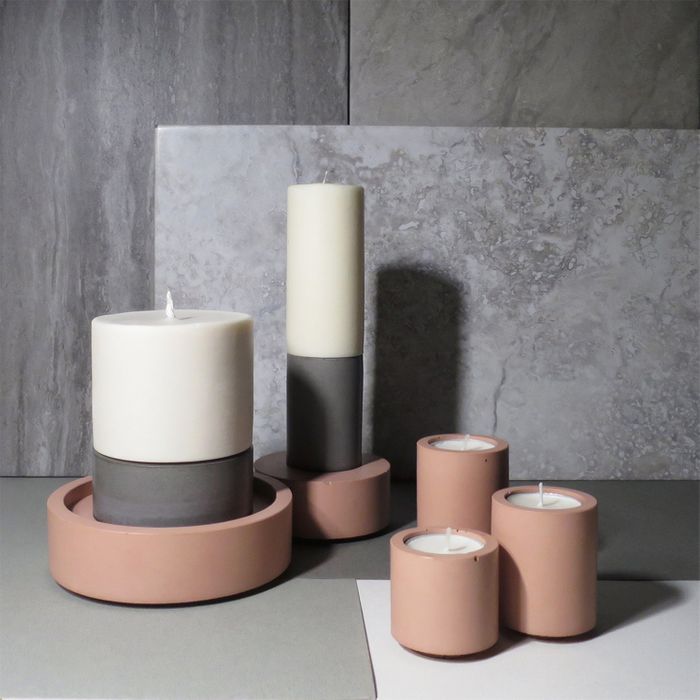 Bringing something truly different to a crowded market is no easy feat, but CONCRETE & WAX has done just that with their unique range of modular, stackable candles—which allow for ultimate impact and customisation. Take a few minutes to get to know this incredible Top Drawer exhibitor, as we go behind the brand with its founders, Alex and Laura.
For those not familiar with your brand, who are you and what sets you apart?
We are married design duo Alex Sommer and Laura Keller, the founders of CONCRETE & WAX – a collection of concrete candle holders and homeware accessories and fragranced natural wax candles. All pieces are hand poured in our Suffolk workshop.
What makes our products different, aside from our striking packaging and branding, is the fact that all the candles and holders have been designed so that they are modular and stackable. This allows customers the chance to create unique candleware arrangements to suit their own style and it also gives them the opportunity to alter that style to suit their mood by simply switching around the way they stack the pieces. All of our candles are designed specifically to fit in our holders, but the holders are designed to also burn any standard tealight, to allow the concrete the longest life possible.
What inspired the start of your brand?

We've run our own creative consultancy 2Som Studio since 2004, designing collections and giving trend forecasts to the global denim, casual and sportswear industries – endlessly travelling and having a hectically wonderful life. When our daughter was born in 2013, we knew we wanted to do something different, something that was more grounded. We batted around a few ideas over the years but never both felt equally passionate about one in particular until Alex starting tinkering with concrete creations in the garage in early 2018. We got talking about combining concrete with wax as we felt the two materials would work beautifully together. From there we started designing the collection, the branding, the packaging etc and then spent almost an entire year in development trying to source everything as locally as possible and make the products the best they can be. There's no denying we had to learn a lot of new skills along the way, but we knew this is what we wanted to do. Alex became Mr Concrete and Laura became Mrs Wax!
What's been the biggest brand highlight so far?

Definitely getting our first stockist, Uniform Research in Ipswich. Seeing our product in a very cool store and our brand name on a decal in the store window might seem like small fry to some, but to us, it was a truly magical moment.
What's your design process like?

Brainstorming first and foremost. We don't always agree, and when we don't, either one of us works harder to convince the other of the product's importance, or we drop the idea. We have to be in harmony for anything to move forward - that's the way we work best.
It's also so important for us to consider what product fits with our modular concept and will offer something special and different to the customer.
Take for example, our new Black Collection. We wanted to offer vegan candles, as our pillar candles are not because they have been developed using soy with a sprinkling of beeswax to give extra strength. We decided to introduce container candles in a beautiful rapeseed and coconut wax blend, but knew there was no way we should bring yet another container candle to market, so we developed a multi-purpose concrete lid that can be independently used to burn tealights, our pillar candles and also as a base to stack our holders on to as well. The concrete lid on our diffuser is multi-functional in the same way too. We always strive to design with longevity in mind.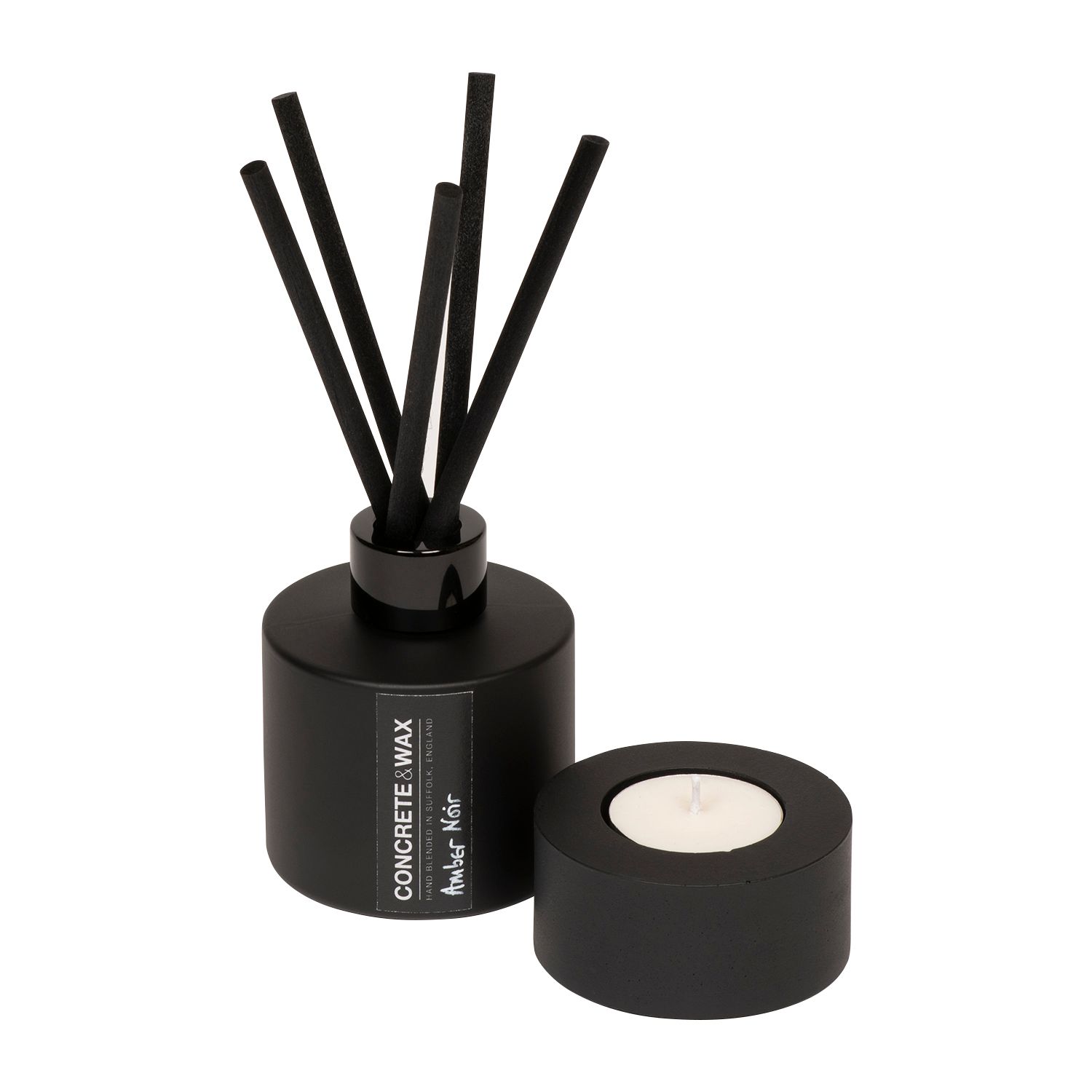 How do you bring each new product to life?

We always design on paper first, creating technical drawings of the pieces. Then, for concrete we ask a local engineer to hand turn our prototypes out of a solid block of aluminium. The candle prototypes are made by a local carpenter out of layered plywood. These two different materials for the protos transfer their texture into the moulds we hand-pour from them and onward into the final pieces. The result is concrete with a smooth luxurious touch and candles with a tactile horizontal texture.
Where do you turn for product inspiration?

At the beginning we turned to our garment design past. Alex's love of designing sportswear with clever technical details and hidden attributes was the inspiration for the modular, stackable concept. But, unlike fashion, which so many consider as throw-away (although we always tried to inspire longer life), our main driving force was to deliver products that can live a long, happy and practical life, which is why no concrete holder is designed to only fit our candles, they all fit any standard off-the-shelf tealights too.
The camouflage concrete we created is definitely inspired by our raw denim-loving roots. It's hard to find someone who loves thrift store-hunting raw denim who doesn't love camouflage too!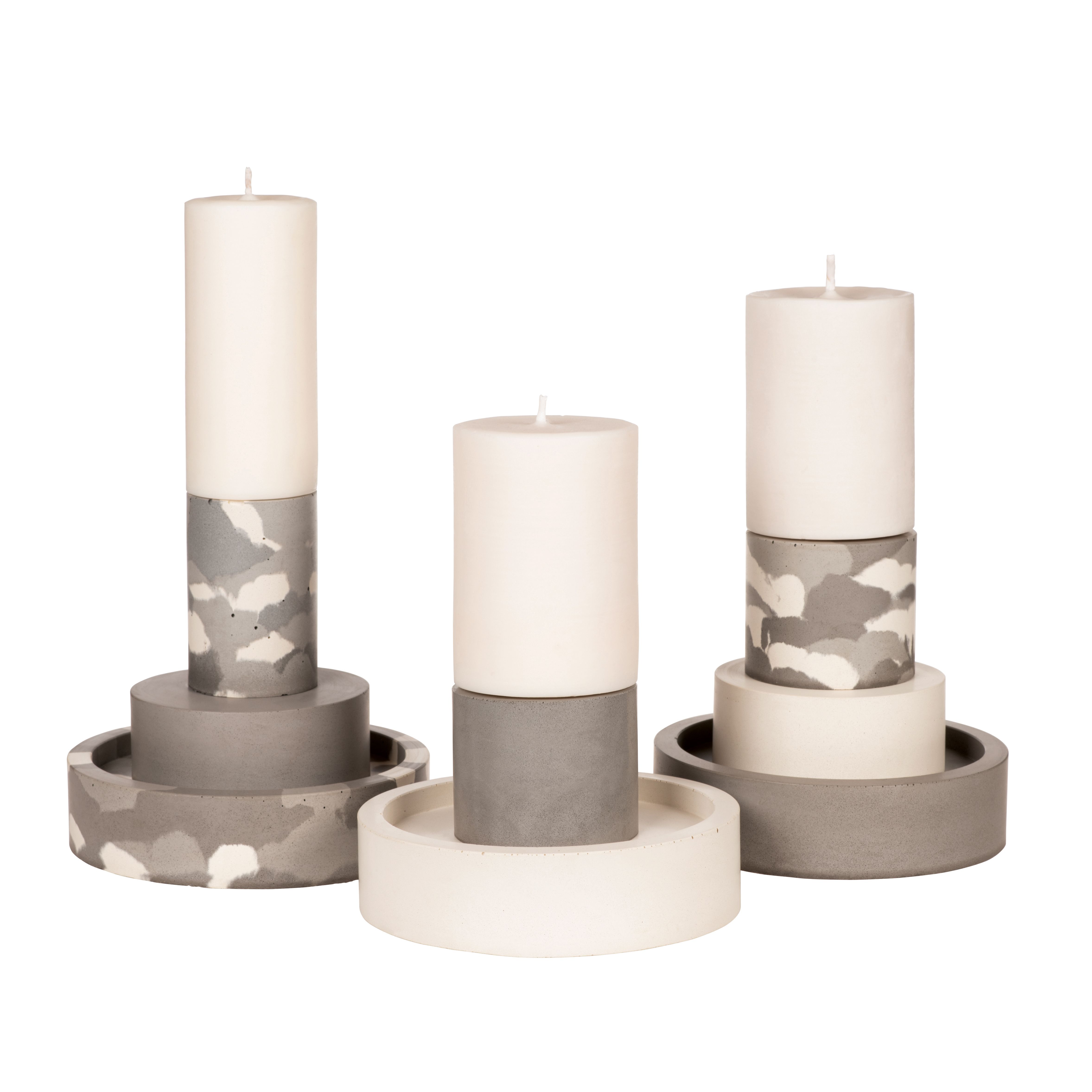 New wax fragrances are inspired entirely by what we like. So much time is spent in the testing and development phase, it absolutely has to be a fragrance we enjoy because there can be 20 candles at a time test burning and so the fragrance hit can be pretty intense!
We also listen to what our customers ask. Many requested coasters and so we added them into the mix. But it was our daughter's request during lockdown, to pour concrete like Daddy (rather than do maths), that inspired the splatter concrete creations we now make. The result of her off-piste home schooling was messy, but very inspiring, so they are now a firm fixture (and favourite) in our collection. Although Alex makes them nowadays, not our daughter!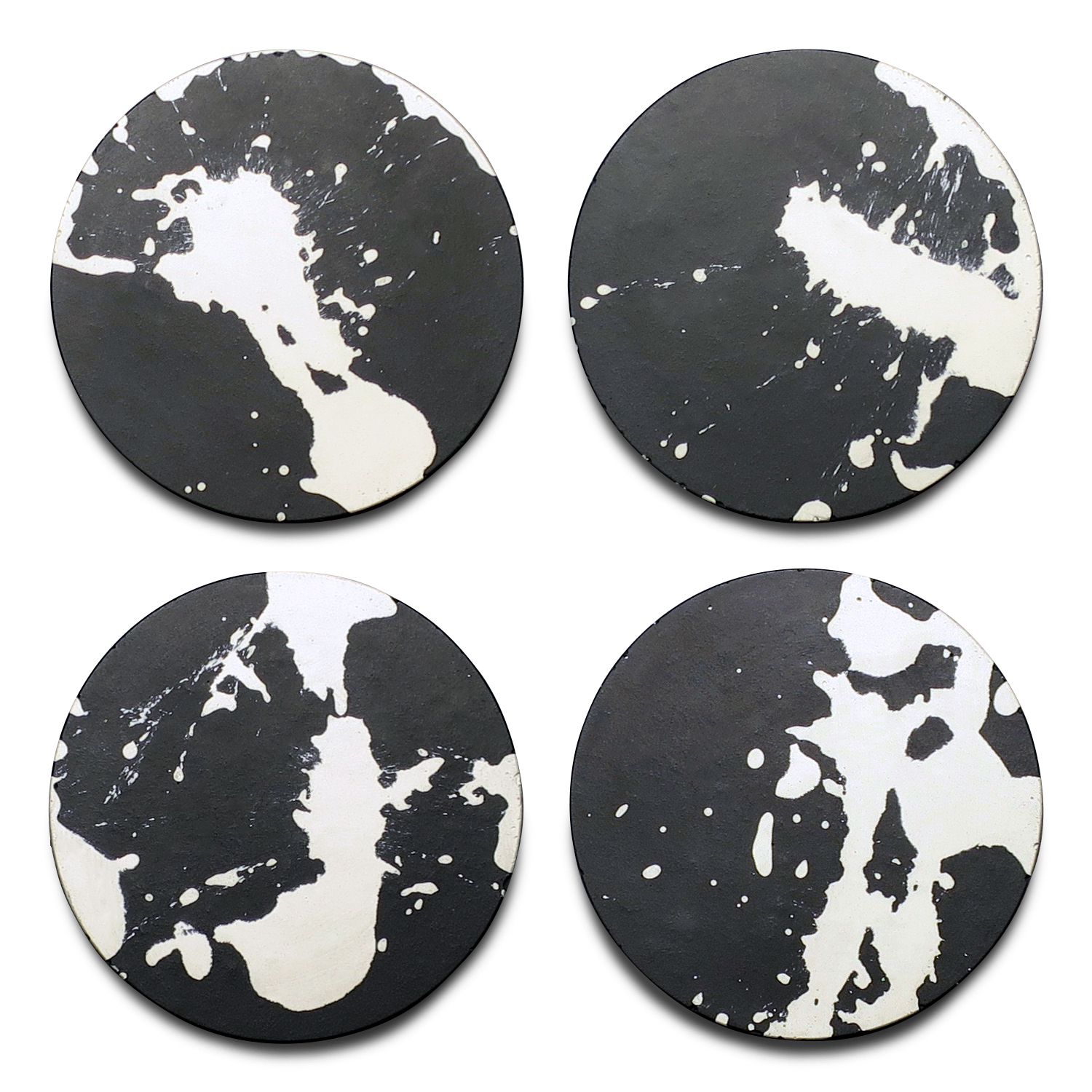 What is it you love most about what you do?

Slightly cringe-worthy to say, but it's working together. We bring out the best in each other and our strengths and weaknesses balance each other out.
Aside from the cringe, we love creating product that the customers really seem to like – from the concrete touch, to the candle fragrances to our packaging. Since we launched, we have had so much amazing feedback – via emails and social media messages as well as face-to-face. When someone buys something from our website, or even a 3rd party platform you don't really expect them to contact you personally to say thank you, but so many do. It really is humbling and incredibly satisfying to know that what we have designed and made with our own hands is making people happy.
What's next for the brand?

Hopefully to increase our stockists and spread the CONCRETE & WAX love further.
We are always developing so there will be new shapes and colours in concrete and new fragrances in wax. A Christmas wax fragrance is in the final stages of testing so will be launched soon – we know we should have it out there already, but the whole home schooling situation threw a spanner in the works a bit this year. We've been asked a number of times for placemats, plant pots and door stops, so they are also in the pipeline too…
To learn more about CONCRETE & WAX, be sure to register for or sign into Top Drawer On Demand.