18 Jan 2022
BEHIND THE BRAND | Olive & Berry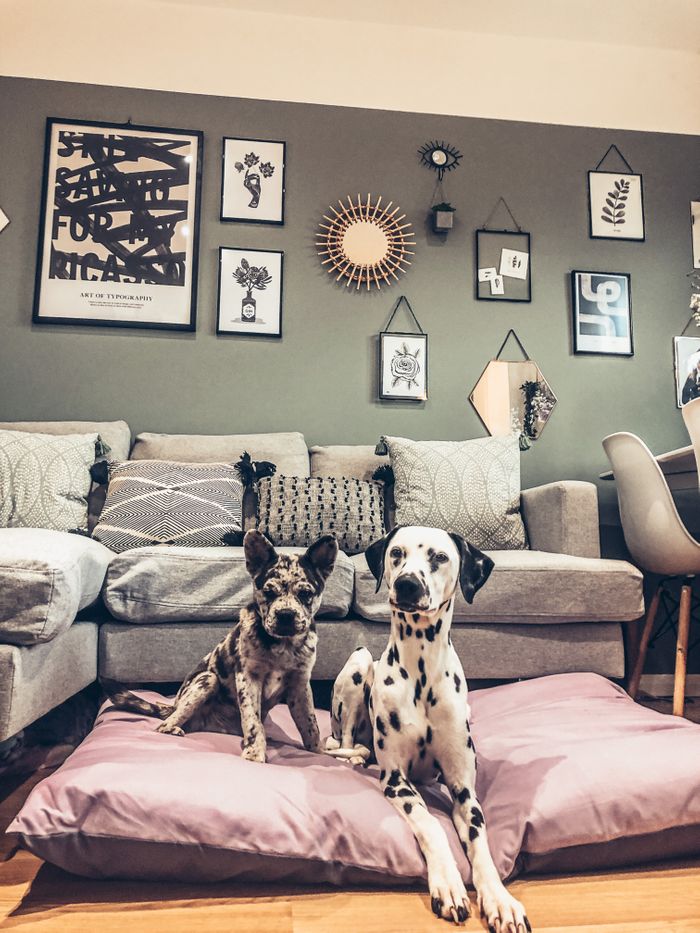 Can you give an introduction to who you are and who/what your brand is and how long your brand has been around for? Is this your first Top Drawer?
I'm Natalie, the founder of Olive & Berry. An eco-friendly, British brand that specializes in trend led gifts and interior for dogs and dog lovers.
Our aim is to offer retailers a brand that is not only all British but also chic, tasteful and interior led (products you would actually be comfortable showing off in your home), all of our products are either for dogs or for dog lovers.
Over 24% of the population have a dog & during covid this has increased significantly, this is a big market that we believe is not being serviced very well at the moment.
The business started at the end of 2018, with our first product launching at a country fair in August 2019. We're proud to say that since then we have seen double digit YoY growth in revenue, have had zero customer complaints about our products, grown our Instagram and email list to over 5,000 loyal followers and even had a pop up in John Lewis! All whilst I was working full time for a leading interior company.
I'm excited but also equally nervous to share than in Jan 2022 I will be full time on Olive & Berry to give the brand the focus it needs to grow and serve our customers.
This is our first wholesale and Top Drawer event, we are planning on launching with a bang, join us for a fun packed event where you can browse our range, chat to us about bespoke products, take home useful freebies and take a few piccies that will make you smile in our 'In The Dog House' masterpiece….
How did you start your brand?
The passion started in the boot of my car, I had parked up with my two black labs (Olive & Berry) about to visit a weekend horse trial. I love interior and I was dreaming about kitting out my new flat, you know, sofa's, curtains, colour scheme etc…. it hit me then that I would like to purchase some beautiful dog interior (beds, bowls etc) to match. I started my search and was disappointed with the products on the market, they were a little tacky and most of them were grey, green or brown! The products I did like were incredibly expensive, plus £200 a dog bed!
So, this is where our first product was born, our two tone, slogan deluxe dog beds and duvets, designed to complement modern interior led homes, it's a bonus they're made from recycled bottles too!
Following this, the brand spiraled, at the time I was a gift buyer and recognized the demand for quality, dog inspired gifts. Even though I was a buyer of one of the biggest retailers in the UK, I could not find a brand that fitted the young, interior & dog loving profile and even when I tried to create these products, there was a shortage of factories set up to do so due to the wide range of product types. And due to the retailer type at the time, I was searching in both the UK & China…yes the factories and products did not even exist in the super production hub that is China.
So guess what, I saw a gap and challenged myself to create a brand that fit this market.
What's been your biggest highlight whilst creating your brand? Why is it you love what you do?
For me the passion is in the design of the products, creating something truly innovative and different. Pushing the manufacturing boundaries by supporting our local economy with a sustainable approach and UK production. Our customers are just like me, they have a passion for all things home and they take pride in their interior. Another mug with a Labrador head on just isn't their cup of tea.
I love seeing our products in customers' homes, this is really heartwarming, especially when we receive such lovely feedback and it's not just the owners that love our products! Branding is important to us, hopefully you will be able to get a feel for this when you visit our stand this year, J81.
It's been a crazy couple of years (cough cough pandemic!) but I've learnt so much and I can't wait to grow this passion of mine into a successful large business that gives back to the community and offers something different for retailers ranges.
Knowing what you do now, what advice would you give to yourself when you were first starting out?
I think it's probably best to be a little naïve and not know everything, I would say the biggest advice for any business owner in any market is to be resilient, there's going to be a whole host of ups and downs and having a mindset to problem solve is going to do you wonders.
I would also say plan your finance, one of the biggest reasons for the failure of a small business, especially a product-based business is capital, that awkward middle ground where you don't have economies of scale but you need to produce products that are fit for retailers & scalable is hard. Business in the early stages is a money eating monster! So if you can work in another job until you really need to leave or seek investment from family, friends, investors, bank loans etc.
Although it may feel weird, ask yourself at the very beginning, what do I want my company to look like? Large corporate giant or small family run business…your plans will look very different.
Can you tell us about your new collections/ranges that you'll be launching at Top Drawer?
Since this is our first B2B show, it's all going to be new and exciting, be sure we're going to bring the smiles and hopefully something you have never seen before!
You will see running through all of our products the unique combination of home interior and dogs, trust me it works well through our cheeky brand tone of voice!
Watch this space!
Any personal favourites from your new collection?
We don't launch any product that we don't love, I think my favourite has to be our deluxe dog bed range, these were the first products created and really set the tone for our brand. British made by a supplier who really cares about quality, designed with homes and interior in mind, innovative, the first dog bed to have quirky slogans on the side and made out of recycled plastic bottles for our eco credentials.
We can't wait to woofing meet you!