08 Apr 2020
Behind THE BRAND: Ohelo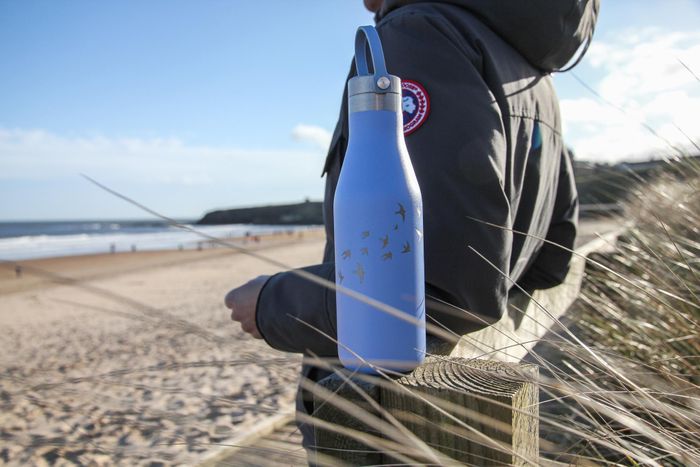 After, quite literally, having their products appear to them in a dream, Katy and Alex got to work creating a range of reusables that truly stood apart in a crowded market. Having made their debut at Top Drawer S/S20, we caught up with them to learn more about their incredible brand, as well as their approach to navigating these difficult times.
Hi guys, can you tell us who you are and what your brand is?
We are Katy and Alex. Our brand is Ohelo – producers of high-quality, insulated reusable bottles and tumblers designed by us here in the UK with modern life in mind. We launched our bottles at the end of November and our tumblers were launched mid-December 2019.
How did you start Ohelo?
We took a trip to British Columbia to take some time to reflect. That trip changed our lives. We decided we wanted to take charge of our own destiny and create a business together. One that would have a positive impact.
We spent weeks researching a long list of plausible business ideas that we had been jotting down over the years (it was a LONG list). Eventually the world of reusables chose us. Dreams invaded by bottles (yes really!) coupled with the great influence of Sir David Attenborough made reusables the perfect choice.
The reality of growing up in the 1980s were the traditional thermos flasks with their plastic feel and cups sat atop. Definitely practical, but not aesthetically pleasing. Not exactly the must-have accessory for modern day urbanites. In my experience they almost always contained a lukewarm hot chocolate and were never associated with keeping cold drinks cold. Surely, we could do better than that. We didn't want to reinvent the wheel – just make one for the modern day.
Our vision of making beautiful reusables was born. We wanted to create high-quality products that were uniquely designed by us. Products that would be durable, hard-working and prevent mountains of single-use plastic from coming to being. Products that were eye-catching, that could be taken on a weekend hike and just as happily to the trendiest café in town. Products that would keep drinks steamy hot on days where jack frost is nipping at your nose and refreshingly cold when it is hot enough outside to brave a North Sea dip.
We've learnt the process of designing and engineering a new product, we've gotten to grips with trademark and design registration law and we've travelled 1000 miles across China to find a manufacturer we were happy with.
It has taken us over a year of hard work (blood, sweat and tears) to bring our products to market with countless delays and set-backs along the way. It has certainly more than tested our resilience and self-resolve. In some ways it feels like the end of an uphill struggle as we approach launch date. In reality, our journey is just beginning.
Reusables is a crowded market, what sets Ohelo apart?
I think this has to be our unique design and the choices we made with regards to our product materials. All of our products are designed by us in the UK, so are unique in both visual aesthetics and functionality. All of our products use lead-free solder to ensure they are safe for our makers as well as our customers (the majority of brands in our field still use a solder containing lead). We use a different welding technique to most other brands, allowing us to use a thicker steel to make our products more durable, while still being a comparable weight to our competitors.
All of our products are designed to be 100% leakproof.
Our bottle has a soft carry strap that is comfortable to hold. The strap is also removable, so can be used to attach the bottle to a bag strap allowing you to go "hands free" while enabling people to customise their bottle with a different strap colour.
Our tumbler has a 100% leakproof sip lid. Drink from any angle, while going from sip mode to leak free with a simple twist. It also comes with a stainless steel mesh attachment that can be used as a protein shaker, a loose leaf tea strainer, a fruit infuser or more, making it the perfect multi-tasker.
What's been the biggest highlight so far in your journey?
We were super happy to make the Style List in Stylist magazine. As any Londoner will know and attest to, it is a great feature full of great products. We were selected for their "30 little pick-me-ups to brighten up self-isolation" article – the readership may be down compared to what it would be ordinarily, but we were honoured to be picked for this feature.
What do you love most about what you do?
We love creating products that will make a difference to both the people that use them and the world we live in. We make our products to be tougher, safer and prettier than others on the market. For example, we use a lead free solder to ensure our products are safe for both our customers and the people making them – this is not industry standard and most companies are still using a material that contains lead to seal their products, exposing their workers to this material. I also love the fact that by making products that will last, we are preventing masses of single use plastic from coming to being.
Knowing what you do now, what advice would you give to yourself when you were first starting out?
It is going to take longer, cost more and be more stressful than you could ever imagine. Pace yourself, learn to accept that things will go wrong because not everyone is as passionate about what they are doing as you are about what you are doing. The drive to make something of great quality that is pretty and also practical will see you through.
You exhibited at Top Drawer for the first time in January, what was that experience like for you?
Top Drawer was our first introduction to retailers and a great learning curve for us. We were so happy that the feedback we received was unreservedly positive – people loved our designs, loved the product finishes and loved the paths we had taken to make our products safer and more sustainable for everyone.
We had a couple of comments with concerns over price, but I think that is something you will always get. Unsurprisingly, you do get what you pay for, and after touring manufacturing facilities we are very aware of what making our products cheaper would mean – and were not willing to accept that compromise. The same goes for our choices of materials; using thicker stainless steel than competitors along with things like the lead free solder do make us sit in the higher end of the market – but with consumers becoming more switched on you cannot and should not rely on simply labelling something as "eco-friendly" or "sustainable" – you should make sure you pay attention to all the parts of the process to ensure the product you make is something that you would want your family and friends to use.
From Top Drawer we got our first retail orders and started to grow our retail presence both across the UK as well as on the continent.
We are obviously in very unprecedented times at the moment. What are you doing to stay positive and keep the brand looking ahead?
I guess the thing that keeps us going is the thing that will be keeping all start-up companies and great brands going right now – the knowledge that things will return to normal, and when they do return to normal consumers will still appreciate great design, great quality and brands they can depend on to deliver what they preach.
Our brand has a place in the world once things return to normal – looking after our surrounding natural world by making informed purchases has been gaining more traction with the mainstream consumer. People want to buy quality products that are unique and will last a long time, especially if they are eco-friendly products and help us be a less wasteful society.
As a brand we agreed to give 5% of profits to charitable organisations from the get-go. Through the current period we have partnered with the blue light card, which offers discounts to all NHS, emergency workers and social workers. We are offering 15% to any blue card holder to show our solidarity with those working hard to save us. This gives us positivity that our products could be the little pick me up someone needs at the end of a hard week.
These crazy times are virtually impossible for our brand – as high quality reusable water bottles and travel cups are not on many people's minds right now. Retailers are no longer contactable and stopped taking orders – we had invoiced orders left unpaid and undelivered. I think that will be seen by many suppliers around the world and it is not realistic to grow a brand through this time period – though I think you can still grow brand awareness and brand connectivity.