29 Mar 2022
BEHIND THE BRAND | LAIZE LONGUE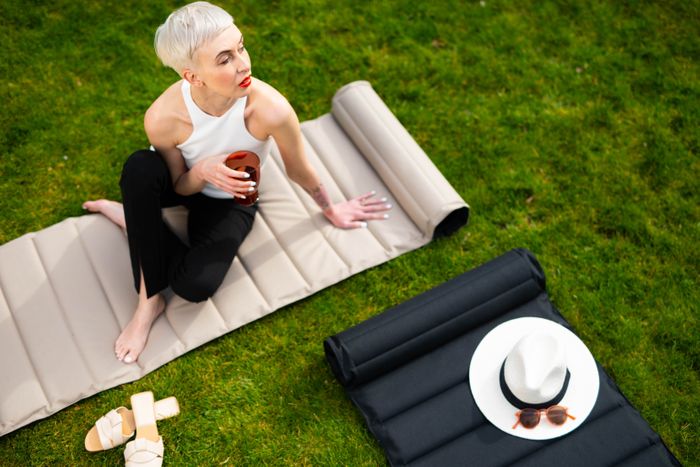 Can you give an introduction to who you are, what your brand is and how long your brand has been around for? Was this your first Top Drawer?
Hi, it's Julia and Madelyn here from Happy Place Design. We are a small interior design studio based in Park Royal London. Our passion has been designing happy spaces for our clients since we launched the company in 2015. During lockdown we did see a slow-down of projects during the pandemic, so we sought to change our business model to also include production rather than just service-based offerings for us to scale our business.
In 2020 whilst socialising in the park, an idea came to us. Sitting on the grass after a few hours became quite uncomfortable. We longed for a fabulous and comfortable way to create a personal space outdoors. With further lockdowns looming it made sense that outdoor socialising would remain the way we can all stay connected. We searched for innovative picnic mat options but surprisingly, nothing came up. Mats on the market currently are all the same; just made from different materials and sold at different price points.
Since that moment, we have focused our attention on creating the most fabulous, design-led, padded picnic mat, that includes integrated head/back support. After spending 2021 designing, sourcing, planning and prototyping, our idea is now a reality and we are ready to launch!
How did you start your brand?
Introducing Laize Longue - A luxury, design-led, padded picnic mat with an integrated and adjustable back support. Inspired by the geometric purity and ergonomic excellence of 20th-century chaise longues, this compact and contemporary luxury mat is form and function rolled into one.
Our idea arrived during the pandemic when we were forced to socialise outdoors for much of 2020. At the beginning of 2021, when faced with another summer of outdoor socialising, we searched for more comfortable and fabulous picnic mat options but to no avail, so Laize LongueTM was born.
Relax and recline wherever life takes you with the sun's warmth on your face and a chilled drink in hand, there's nothing better than lounging in the park with friends or soaking up the view from your favourite rural idyll. But lugging around a bulky folding chair or perching awkwardly on garish picnic blankets mean any en plein air paradise soon loses its appeal.
Laize Longue is here to change that. Julia and I have combined our industry knowledge and design pedigree to bring creativity, comfort, and a soupçon of sophistication to the great outdoors. Transform al fresco reclining and Sauvignon soirées with this sleek and stylish accessory. Portable, minimal, and envy-inducing, Laize Longue is ideal for sun-seeking summer days, festival vibes, and staying out under the stars.
Simply show up, unroll, and relax for as longue as you like.
What's been your biggest highlight whilst creating your brand? Why is it you love what you do?
Once our design was sufficiently progressed, we looked for like-minded partners to collaborate with. We want to help Britain bounce back and support other SMEs in doing that. In developing Laize LongueTM, we were adamant about keeping the production in the UK, so that we could support UK businesses, and so that we could remove the risk and lead times that come from manufacturing overseas.
At this point, we have been able to achieve the following:
Our padded filling is made in the UK from recycled plastic bottles
Our ergonomic bolster is made in the UK from recycled electrical waste
Our leather strap is made in the UK using leather that is a by-product of the meat industry
Our fabric is sourced from a UK family-run supplier
Knowing what you do now, what advice would you give to yourself when you were first starting out?
Getting a final prototype of Laize LongueTM has probably been our greatest challenge to date. We have gone through many versions to get the details right. Things often take more time than you think and what initially felt like setbacks and obstacles to us have resulted in a better outcomes; whether it be a design detail for the product, finding the right materials, suppliers & manufacturers.
Can you tell us about your new collections/ranges that you launched at Top Drawer?
We are launching Laize LongueTM in 5 colourways – Ebony, Cocoa, Ash, Saffron and Ochre.
Product features:
Accommodates multiple sitting and reclining positions
Built-in ergonomic padded bolster for optimum comfort
Portable and easy to use
Provides insulation from mother nature
Designed and manufactured in the UK
Measures L 160 cm x W 60 cm
Weighs 3.2kg
Any personal favourites from your new collection?
We love all the colourways for Laize Longue, not sure we can pick a favourite.
How did Top Drawer go for your brand? What was your highlight?
Top Drawer was fantastic - we met several potential leads, some of which we have already started discussions with. We also also met loads of other inspiring brands and entrepreneurs that we have kept in touch with. It was also an opportunity to receive invaluable feedback on our product and brand. So Top Drawer was definitely worth doing for us!