04 Apr 2022
BEHIND THE BRAND | KARINITI
Can you give an introduction to who you are and who/what your brand is and how long your brand has been around for? Is this your first Top Drawer?
We are Karin and Itai from Tel Aviv-Jaffa and we are the proud owners of KaRiniTi - a paper products brand. This is our family business, and for the past 6 years it grew with us: from a couple, we are now a family of four (and a dog!) and from a line of a few products we now have a whole range of notebooks, calendars, paper blocks and other paper products that makes life easier, and prettier.
We always try and think about what will make the users plan their tasks better. We are big fans of organized charts and there is nothing like marking that v when you complete your task, but more than that, as the brand and family grew we realised how important it is for us to have a way to plan our day-to-day, the week the month and make some order in our messy-happy life.
This was our first time at Top Drawer and we were very excited to share our products alongside such great brands.
How did you start your brand?
Top and foremost was our passion for paper. We are in looooove with all stationary so it was basically designing for our own needs of planners, to-dos and dairies. From that, we learned that the design had to be minimalist so the user will have the main impact on the page, but with an aesthetic, pleasant background.
Another surprising source was the writing direction of Hebrew - it is right to left, and in the beginning it was a challenge to create a product that can be used in all languages, ways and manners. But in the end it became an inspiration for creating a better design.
What's been your biggest highlight whilst creating your brand? Why is it you love what you do?
We love the smell of fresh paper from the printing house. Paper is basically a very simple material, but it also has a long and ancient history and a never-ending variety so working with is always exciting. Our minimalist design is made so the users writing and notes will be the centre. We love seeing our product being used, the combination of our huge typography with the softer look of handwriting. This is the way it looks complete, this is the look we are aiming for.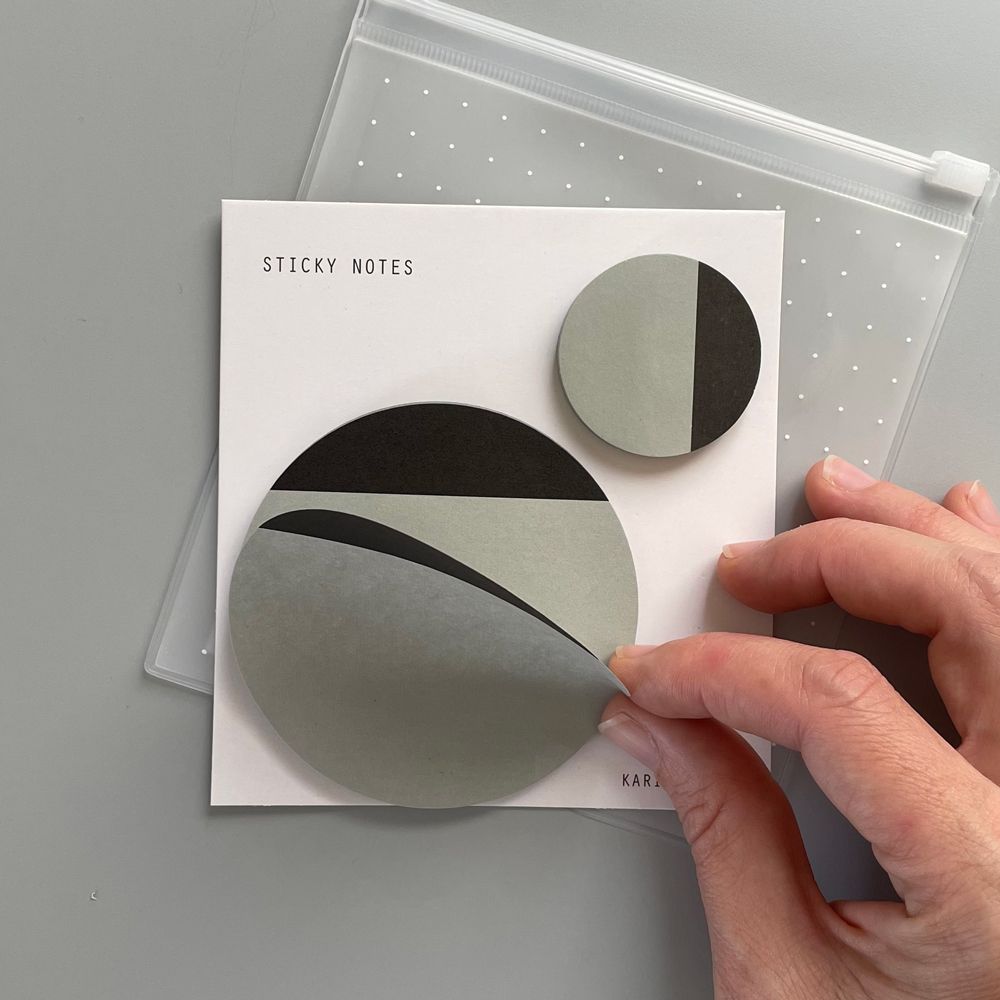 Knowing what you do now, what advice would you give to yourself when you were first starting out?
At the beginning of KaRiniTi's as a brand, we were concerned that the minimalist experience of the products would only suit a small group of customers. Today we are happy to see that there are lots of people who love our aesthetics and still choose to work with pen and paper, that there are a lot of people who appreciate a good planner and all the work and thought that went into creating it.
Looking now at us half a decade ago, we would only offer to mark our beloved V not only on daily tasks, but also on our biggest and most exciting goals, and not be afraid to celebrate those achievements.
Can you tell us about your new collections/ranges that you launched at Top Drawer?
We launched our best seller collection of open planners, to-do's and notebooks, all designed to highlight good design and beautiful typography. We hope our designs inspire all our customers to grab that pen and start planning their future and dreams.
Any personal favourites from your new collection?
Our two favourite products are the Today - Daily Planner and the Sticky Notes.
The Today - Daily Planner completed our series of planners (Monthly and Weekly) so each person can find their own way to organise their schedule.
Our Sticky Notes, which are two packs of round memo pages that come in eco-friendly zipper packaging, have been created as one of those products that can change your entire workflow, with only a little change such as using our Sticky Notes. When a sticky memo page peeks out of a notebook or diary it always reminds us that what we see from the outside is just a small part of the whole story and that it is worth opening the pages and finding out what is hidden inside.
How did Top Drawer go for your brand? What was your highlight?
Top Drawer was for us above all a significant step in exposing our brand to new markets. We were happy to see that we were able to get buyers interested in our brand and make them want KaRiniTi to add style and freshness to their shelves.

For us the high-light of checking for the first time the temperature of the water and discovering that they are particularly pleasant was exciting. Business and community relationships with buyers and colleagues across the UK have been priceless, and we hope to meet them and many others again at upcoming fairs.