22 Dec 2021
BEHIND THE BRAND | Haynes Foods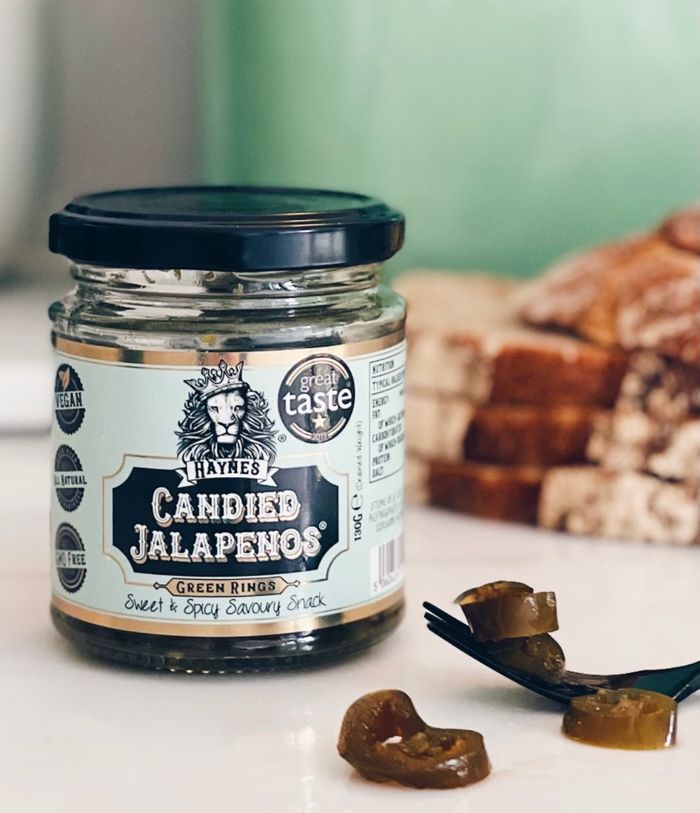 Can you give an introduction to who you are and who/what your brand is and how long your brand has been around for? Is this your first Top Drawer?
My name is Charity Haynes, and I am a 30-something mother of two teenagers, and self professed foodie. I started my company, Haynes Gourmet, back in 2017 with my Dad and my husband. But the products, and story started a long time before that. It all started back in 2013. My youngest son, Hayden, was very poorly, and was always in and out of hospital. He had Pneumonia when he was only 18 months old, and his lung collapsed. He very nearly died. Since then his lungs were very scarred, and he had developed sever asthma. This meant that sometimes at the drop of a hat he would go from being happy and healthy, to not being able to breath.
I wanted to be able to be home with my boy whenever he was unwell, and not worry about asking my boss for time off, so I started my own business. Initially the business included making wedding cakes and homemade jams and chutneys. It had been a passion of mine for years, and all my friends had been encouraging me to start my own business, and this was the push I needed to take the leap. I had no idea at the time what the business would turn into, and the journey it would take me on.
How did you start your brand?
It all started with a trip to visit my parents, who were then living in Texas, USA. (I am originally from the States, and still have the residual American accent, even if it has been somewhat watered down over the years.) I was running my small wedding cake business at the time, and making jams and chutneys for local farmers markets, and selling to local shops nearby.
One day, while out shopping with my Mum, and in true American fashion, we were given some free samples to eat. We didn't really even think about it, and put the free sample in our mouth and walked away. As we ate whatever we had been given, both me and my mum literally stopped dead, looked at each other with wide eyes and said – "what was that? It is AMAZING!" We had just tried a Candied Jalapeno. It is no exaggeration to say that it was an absolute flavour sensation!!
It was sweet, it was spicy, it was just the perfect flavour combo. Needless to say, we marched straight back to the free sample stand and bought several jars, rushed home and made the whole family canapes with the Candied Jalapenos. Everyone was blown away. We were seriously excited about this awesome new food.
I would bring jars and jars back from the States when I'd visit – to share with my friends. We would always make the Candied Jalapeno canapes when we had friends over for dinner, and the obsession grew. My friends wanted some, my friend's friends wanted some… and to be honest, I couldn't bring enough jars over from my holidays to the States. Until one day, my best friend said – "why don't YOU try to make them?" honestly the thought had never occurred to me. Fresh Jalapenos were almost impossible to come by in the UK at the time. But it was like a lightbulb went off in my head. A 'Eureka!' moment…
I researched recipes, and hunted down raw jalapenos to test out my product development. After playing with the recipe and adjusting it, I managed to make some darn good Candied Jalapenos – which I would say were even better than the ones we used to buy from the States. So I started to sell them at the farmers markets and local shops.
Hands down, the Candied Jalapenos would outsell EVERYTHING else I made, 10 to 1. I could never make enough. I would constantly sell out at markets, and kick myself for not making more. I was waking up at 5 in the morning to buy raw jalapenos fresh off the plane at Heathrow, put as many as humanly possible in my run-down car and then spend all day chopping and cooking. At night I would sit on the floor, in front of the telly, and laboriously label every jar by hand. We had crates and crates of jars stacked in our very small house, which would be sold out by the next Food festival or Farmers Market. It was exciting, but I just could not keep up with demand.
One day, while chatting things over with my Dad, he says to me, "I really think you are on to something. No one else is making Candied Jalapenos here in the UK. The flavour is incredible, why don't you forget about the wedding cakes, and jams and chutneys? I'd like to go into business together – Let's re-brand, and focus on just the Candied Jalapenos!" So that was the turning point. I closed down my old company, and together with my Dad and my husband, we started Haynes Foods Limited, Trading as Haynes Gourmet, where we focused on big flavours.
To be honest I could not have done any of this without the amazing support, advice and guidance from both my husband and Dad. Starting a Limited company, becoming VAT registered, getting trademarks and suppliers would have seemed like an impossible, overwhelming task. But working together with both of them, they helped me take it one step at a time.
I wanted the brand to be very British. Hence the royal Lion on our logo. I know I am American born, but I have lived in the UK since I was age 7, and this has become my home. I love living here, I love the people and the culture. My husband is British. And now my children, with their British accents, thrill my American relatives.
Originally, we wanted to call the company 'Brave Gourmet'. Again, it explains the Lion logo, but the word 'Brave' was not allowed due to another 'Brave' trademark. So we went with Haynes Gourmet – Our surname. I was pretty disappointed in the beginning about the name change, but now I think Haynes Gourmet is perfect. Sometimes, the hiccups in our plans work out for the best don't they?
What's been your biggest highlight whilst creating your brand? Why is it you love what you do?
The biggest highlight for me, besides getting to work with my Dad every day, is my amazing customers. They are so loyal and I often get lovely emails from them. I love seeing the enthusiasm for the products and the flavours, it reminds me of when I first tried Candied Jalapenos – I still remember the excitement and thrill of sharing a completely new flavour with my friends. That is what I now see with my customers. And I think word of mouth is still our strongest form of advertising. Nothing speaks louder than someone's genuine excitement and enthusiasm.
I think I am also really proud of the fact that all of our products are all natural, and don't have any E-numbers or additives. If you look at our ingredients label, you will see that it's really the ingredients that sing for themselves. I always feel better when I know that my family is eating something that is not filled with unnecessary additives and flavours, so I feel proud that we are sticking to this ethos. Plus, all our products are Vegan!
Knowing what you do now, what advice would you give to yourself when you were first starting out?
This is a great question! I think, for me anyway, the best piece of advise I would give is be patient, and trust in your product. I think the initial struggle has always been that this is a very new product, and an unusual concept for some people to get their head around. Remember, no one else in the UK was doing Candied Jalapenos, at least not on a large scale.
I think the plain pickled jalapenos you can get from the supermarket had given jalapenos a bad rep – and a lot of people were either convinced that they didn't like them, or frightened of something they thought would be really spicy. And, as I said before – our biggest asset was the power of word-of-mouth. So it took time for people to catch on to the idea of Candied Jalapenos.
Pre-COVID we would always do markets and give out free samples. It was always a joy to watch people who were convinced that jalapenos were 'too hot', or 'disgusting' and then watching them try the product. Seeing their faces change to amazement at how lovely the product is, never gets old. I love the surprise factor of our products, and it is fun sharing that journey with them.
I think it's the same with selling to retailers. It has taken time for people to get to know us, to hear good feedback from customers or friends, but slowly the word is spreading and now the wholesale side of the business is really taking off. If you had told me back in 2013 that we would be selling Candied Jalapenos to Hong Kong, Korea, USA, France, Germany and the Netherland, I would never have believed you.
Can you tell us about your new collections/ranges that you'll be launching at Top Drawer?
This is the first time we will be at Top Drawer in person – we did a virtual Top Drawer over lockdown, but this is the first time we will actually be at the show, and I am absolutely buzzing about it! A lot of retailers might never have seen our products, so first and foremost we will be showcasing our 'Bestseller' Range. This includes our Flagship product, the Candied Jalapenos (Green). But also includes our Red Candied Jalapenos – which won 3 stars in the Great Taste Awards 2020, and our Candied Jalapeno Hot Relish which is a firm bestseller.
I am also excited to showcase our Candied Jalapeno Marmalade, which was first released last year as a limited edition product, but this year, won a Great Taste award, and so we are adding it to the full range, much to the delight of our customers! There were some who had withdrawal symptoms when they limited edition stock was sold out last year…
And then we have our Gifting Range! I love a beautiful gift, and so for me this gets me really excited. We will have a range of gift box bundles, as well as our brand new mini jar sampler sets, which are just gorgeous, and give a taster of most of the products in the range.
Me and my Husband will be at the stand, and we will have tasters on offer – so I'd love for people to pop over to our stand (FEA8) and come give them a try!
Any personal favourites from your new collection?
Well, nothing beats the Candied Jalapenos – the original product is still the best! So I am really excited for anyone who has not tried them yet, to pop over and see us and give them a try.
I think I am also really excited about the Marmalade. It is a flavour that shouldn't work. Candied Jalapenos and Marmalade? But it just does. It is delicious eaten on toast for breakfast, and also with cheese in the evening. My favourite way to eat it, is a cream cheese and ham filled croissant with the marmalade generously slathered inside – a sandwich combo that should definitely not be missed!
My two boys said that the Marmalade should be from 'Willy Wonkas Factory' it is such an awesome flavour journey – in a good way *wink *wink*.