04 Jan 2022
BEHIND THE BRAND | HANNAH REFAAT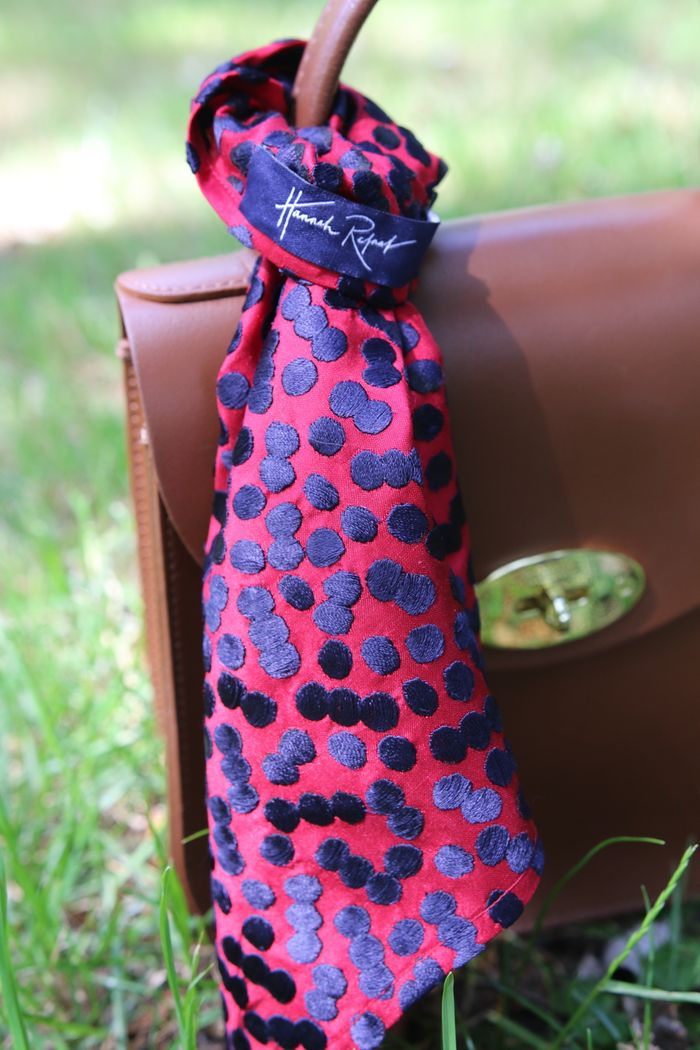 Can you give an introduction to who you are and who/what your brand is and how long your brand has been around for? Is this your first Home & Gift?
I am Hannah Refaat, a British-Egyptian Textile designer, specialising in embroidery. I studied textiles at world-renowned universities, Central St Martins, Loughborough and my postgraduate at Royal College of Art. I established my business upon graduation in 2017.
As a British-Egyptian textile designer and I am inspired by researching my own heritage. My accessory collection focuses on a combination of hand and machine embroidered textiles, and the visual research I use to inspire my designs really explores the landscape and environment of the Middle East – a part of the world where I've spent many months forming countless precious memories over the years.
I adopt a fusion of traditional Middle Eastern and Western techniques, where I try to modernise them in inventive ways by using interesting and bold colour combinations, and I experiment with different media and detailed embroidery techniques. I draw on an inspiration from the, environment, colour, material and technique from the Middle East with each of my handmade products
The most important part of my process is layering a range of material and technique. I do this by using interesting colour combinations, contrasting material surfaces and weights and a range of textures in print and stitch techniques. I tend to do as little planning as possible as that usually limits my creativity in the composition. I work extremely organically and intuitively.
Every material I use is carefully considered; I make sure that I use different weights and surfaces to create layers and depth to my work. I apply these techniques to textiles: homeware products, garments and fashion accessories. I have a made-to-order ready to wear collection and receive bespoke and custom orders from clients.
This year I will be exhibiting as part of spotted/pulse as this will be my first trade show. I am really looking forward to being part of Top Drawer, who help new businesses enter the market. What I am looking forward to most is meeting galleries, boutique shops that have an interest in the creative process of unique, limited edition products.
How did you start your brand?
After my studies, I applied for the Radcliffe Craft Development Award given to me by Cockpit Arts, which is London's leading studio for craftspeople where I'm now permanently based. I was able to purchase my equipment through the grant and a free studio space for a year. This is how I purchased my freehand embroidery machine which laid the foundations for my current business – my embroidered accessory collection, garments and textiles.
Being at Cockpit, which is recognised as London's leading studios for contemporary crafts, has really been a blessing. They provide public showcases and marketing and business incubation services to the makers, which gives us the tools to succeed in our business ventures.
What I love most about Cockpit is that it offers business support to showcase the talented craftspeople in our community. They provide workshops to each studio holder which help with brand-building and equips us with all sorts of techniques to achieve successful businesses. I'm also able to get mentoring and advice by booking one-to-one sessions with the specialised staff there.
I share my studio with makers all from a textile background. It's amazing being surrounded by people who understand the field. We're able to exchange tips and advice even though we're all at different stages of our career.
Being in the Cockpit community is invaluable as we understand the hardships of running your own business, and we're always encouraging and motivating each other. It's also great to be surrounded by like-minded people to share all the moments of our individual successes with!
What's been your biggest highlight whilst creating your brand? Why is it you love what you do?
During the pandemic I have been featured in the publications: The Times, The Financial Times, Town and Country, Dancing with Her. Craft is something that is extremely therapeutic and something that can be done from home. I think that the repetition of some to the techniques is a great distraction and can really improve on people's mental health. It is something that anyone can pick up if they put their mind to it. What I have found interesting over the last 18 months is that I have been showcasing the process of my behind-the scenes making and have found that people have been more engaged. They are able to understand the skill level and time involved to create one piece. It is fundamental to my enterprise that I offer a personable and honest approach, where I share my behind-the-scenes development and processes with my audience. I do this so that they can develop trust in my methods when I deliver my sustainable products to their door. Products are all made by me in my studio and I think people love to engage in the creative process.
I am on the Craft Council directory which gave me the opportunity to collaborate with Toast on a Renewal project, reviving their deadstock garments, to auction and give the proceeds to the Craft Council. Sustainability is a fundamental aspect of my business, where products are made-to-order encouraging less wastage and risk of over-stocking. An ethical framework, which puts in place a transparent supply chain and values every individual involved in the process, is core to my business. Toast is a lifestyle brand that views their products as a resource to recycle rather than waste. They strive to increase the longevity of garments, looking at the thoughtful and artistic ways we can give new life to products. This ethos is something that I will continue to promote in my own brand.
I was also able to collaborate with The New Craftsmen for the Cockpit Award that fosters creative excellence and diversity in the craft sector, a subject I am extremely passionate about. This initiative, for which I am a proud ambassador, invites early career-makers to receive financial and practical support, a funded studio space and mentoring. I actively seek opportunities to be involved in ways of diversifying and encouraging inclusion in the craft and design sector. I believe it is fundamental to continually aim to break through the barriers of cultural, societal and class norms, to create fairer opportunities for all. This will also ultimately make for a much broader and more interesting landscape in the craft world, given we all, as individuals, draw inspiration from our own experiences.
I have facilitated and been part of many talks and presentations this year. I have volunteered to deliver presentations at Loughborough, RCA, Cockpit Arts, The New Craftsmen Award, Diversity in Craft and Textiles and London Craft week: Textile Talent Tours. These presentations, discussions and Q & A sessions have been about my own professional journey, a minority in the craft sector, as well as advice on studying in demanding and competitive universities, and working and securing opportunities in the industry.
Knowing what you do now, what advice would you give to yourself when you were first starting out?
Being in the creative industry is extremely difficult as the skills and creative talent you have don't always align with other tools necessary to run a successful business. For example, I'm dyslexic so I find it more challenging to write, which is obviously important when you are doing things like submitting applications for grants or focusing on the PR and marketing side of your business.
Marketing is something I never learnt about or researched until starting my business and it's something that I've had to keep on top of as the landscape has changed, particularly where the presence of social media is now booming. It takes a lot of time and I find it distracts you from the making, so it's something I would like to outsource when my business grows. At the moment though, having to stretch myself to conduct all aspects of my business whilst also having to source funding from other places, is definitely my biggest challenge.
The best advice I can give is not to be insular. You have to be able to receive constructive criticism to develop and improve your methods which may not be working for you. It's also so important to seek advice where you can and collaborate with people. I think that sometimes in the creative industry, where our ideas and designs are ultimately our livelihood, we live in this fear that if we invite others in, we may get taken advantage of. But a lot of the time this can be a hindrance, as being open to collaborating with others and sharing your own journey to help those in the industry are still really fundamental to your own success. You can always learn from other people, whatever stage you are at in your career.
It's also easy to get swayed in different directions which you may not feel like you want to take when seeking advice as a new creative. Whilst taking advice from experienced creatives and businesses is really necessary, it's also so important to stay true to your own values and what you want to achieve. Attend workshops, continue to learn and educate yourself even after your studies, and speak to people with more experience.
Can you tell us about your new collections/ranges that you'll be launching at Top Drawer?
I will be showcasing some of my embroidered garments which I was unable to exhibit during the pandemic as well as my staple ready-to-wear accessory collection. I have also created new scarves and textile pieces that I will be exhibiting.
Most of my ready-to-wear products will be for sale and available to order at Top Drawer. However I will also be exhibiting samples, which are shown as examples of how I can be commissioned to make bespoke products. Commissions are welcomed and encouraged from stockists or personal clients. These samples displaying a range of techniques/colours/materials are examples of what I am able to create. I encourage collaborative projects where I am able to create something specific to the clients wants and needs.
Any personal favourites from your new collection?
I have really enjoyed creating larger textile pieces and this is the direction I would like to move my business in. Creating larger homeware products allows me to be more experimental and create pieces with more impact. It invites the observer into my space to look at the embroidery detail, which takes a lot of time and love to create.
Instagram: @Hannahrefaat
Website: www.hannahrefaat.com