20 Jul 2020
BEHIND THE BRAND: Gin in a Tin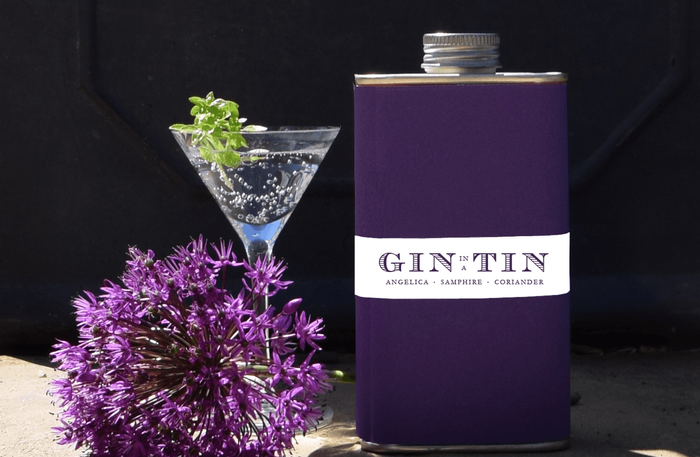 Hello! We'd love to hear a bit about Gin in a Tin and your story?
Set in the quintessentially British countryside of the Cotswolds, Gin In A Tin started
as the brainwave of the locally-known gin connoisseur, Martin Agius, founder of the
renowned Gin Pantry. A destination for gin-enthusiasts, the Gin Pantry houses a
famous collection of hundreds of gins from across the globe, for all to see, smell,
sample and explore.
With an infinite amount of knowledge, coupled with years of sharing his passion for
the beautiful juniper berry, Martin began a quest to find his ultimate gin and
commenced blending his own collection to share. A partnership with his artistic
daughter Charlotte developed and so Gin In A Tin was born at the tail end of 2016
and made its 1st appearance at Top Drawer in Sept 2019!
Today the founders showcase 'The United Colours of Juniper'. Whereby presenting
their bespoke collection of gins of distinction, that speak volumes, in stylish tins,
straight to your front door. In the form of gift sets, subscription packages ranging
from monthly, bi-monthly and quarterly, as well as individual tins.
How did you start your brand 'Gin in a Tin'?
Martin wanted to create his own brand of gin but back in 1998 when there was not as
many gins on the market. Today it is a saturated one. Martin could see this was going
to be a hurdle to overcome.
He set about distilling lots of different botanicals and came up with six vastly
different gins. The collection was to be sold on a subscription bases by post. His aim
was for it to be delivered without it being signed for by Royal Mail and to fit through
a letterbox. Going to the post to collect parcels is something he loathes.
He handed this dilemma to his daughter Charlotte famous, in the marketing design
world, she came up with the idea of putting the gin into a tin.
Why?
She played about with endless designs using bottles but was not 100% happy. She
wanted to develop something eye catching, create a USP to sand out from the crowd
and make the designs all link together with Martins notion of a collection by
subscription; but it also had to be light to post.
The eureka moment whilst looking into a rhyming dictionary when playing a game at the
kitchen table one evening (sadly not drinking gin at the same time) was Gin rhymes with Tin.
The creative cogs went into overdrive! As a result, our signature tin was manufactured
and labels designed, to look like books, and the tag line – Gins of Distinction, that Speak Volumes was established. (Today the tag line has evolved to 'The United colours of Juniper, Gins that Speak Volumes' as we now have a lot more than six colourful tins!)
Martin continues to develop exciting blends, with wonderful creativity. Inspired by the
great British allotment and Seasons. Charlotte is endlessly drawing, evolving and
strengthening the brand identity and this year Christmas 2020 will see some wonderful
new designs on the shelves, including the limited addition of Mr Turkey Lurkey– Merry
Christmas - It's time to get stuffed and sloshed!
The Gin In A Tin collection has now grown to 17 blends. As a result, customers have
become part of the wider Gin In A Tin family and return to us to grow their gin
collection at home.. We are currently the only gin company out there with 17 gin blends,
all London dry and none are infused.
What's been the biggest highlight so far in your journey?
Charlottes' eureka moment at the kitchen table of quite literally putting gin into a tin and
from that the whole project snowballed. A USP, brand name and an identity all
wrapped up in one.
What do you love most about what you do?
We love being innovative and creative with our Gin In A Tin brand. Covid 19 pandemic
has thrown many a curve ball, we have all had to adapt fast. In March we branched out
into an area that was inconceivable even in Jan 2020. We embrace rising to challenges
and have been delighted that we have been able to help so many keyworkers with the
donation of many tins bottles of our hand sanitiser.
We are always developing London dry gins. We thrive on being traditional in our gin
production, but love adding that contemporary twist when it comes to our presentation.
We love coming up with new ideas and bringing them to the market quickly.
Everything we do is developed in house. Charlotte leads on design and marketing; Martin
very much concentrates on what goes inside the tin and loves to talk to people. It is a
Father, Daughter partnership that thrives off their individual interests and skill set yet
every element is discussed together. Thus, the brand identity has become so strong that
"GIN IN A TIN'' is turning into a lifestyle brand and in 2020 branched out into the
interiors sector, with the launch of Gloria the Glorious Gin Tin Lamp.
Knowing what you do now, what advice would you give to yourself when you were first starting out?
Lots of patients, and don't underestimate the power of Social Media.
We are obviously in very unprecedented times at the moment.
We love hearing about how brands are doing their bit to help and wanted to hear more about how you are staying positive and keep the brand looking ahead?
Working from home, with so many thoughts racing through our heads. Such as:
Will the business survive the pandemic?
Wholesale orders could totally dry up with the closure of shops.
Subscriptions might be put on hold.
Can we increase online sales in anyway?
But at the fore front of all of this was:
We are all in this together, are we doing our bit, and is there anything we can do to help?
That; we commenced on a project to create hand sanitiser to help with the shortage.
Though out lock down we have been over the moon to have been able to use our stock
to help provide hand sanitiser to key-workers most in need. Lots of pictures of this can
be found on our Instagram page @gininatinofficial
Our bestselling citrus Gin No.2 Lemon Peel, Cardamom and Coriander takes on a new dynamic. The bi products of this luxury high end gin have worked their way into an everyday essential, as we are reminded daily to wash our hands to keep germs at bay throughout the Covid pandemic.
Using the 'heads' (a bi product) produced when distilling Gin No.2 we have infused
our WHO - Recommended Alcohol Hand Rub Formula 80% ABV to create a
unique Hand Sanitiser titled: RUB A DUB DUB!
This everyday essential is presented in our stylish mini size tins, perfect to store in your
jacket, handbag or car without the need to find a sink, water and soap to clean hands.
A picture of it can be seen on our website:
https://www.gininatin.co.uk/product/gin-in-a-tin-hand-sanitiser-hand-rub-hand-wash-
80-abv-rub-a-dub-dub/
This gin innovation has enabled us to keep a hi profile during lockdown and a story to tell. Social media has played a big role in this. But at the same time helping those all important keyworkers that have been on the front-line saving lives.
As the breaks on lockdown are eased, we have opened up our hand sanitiser to our wider Gin In A Tin community. All 50cl tin orders, placed online get a free bottle of it. Our buyers have received samples of our latest blends which get launched this Summer to cheer them up during lockdown as well as Rub A Dub Dub. It keeps us in their minds eye. Touching base with buyers is extremely important for when the upturn comes and shops and hospitality re open fully; but so is washing your hands to make sure lockdown 2 does not arrive.