07 Feb 2022
Behind the Brand | Duo-Hue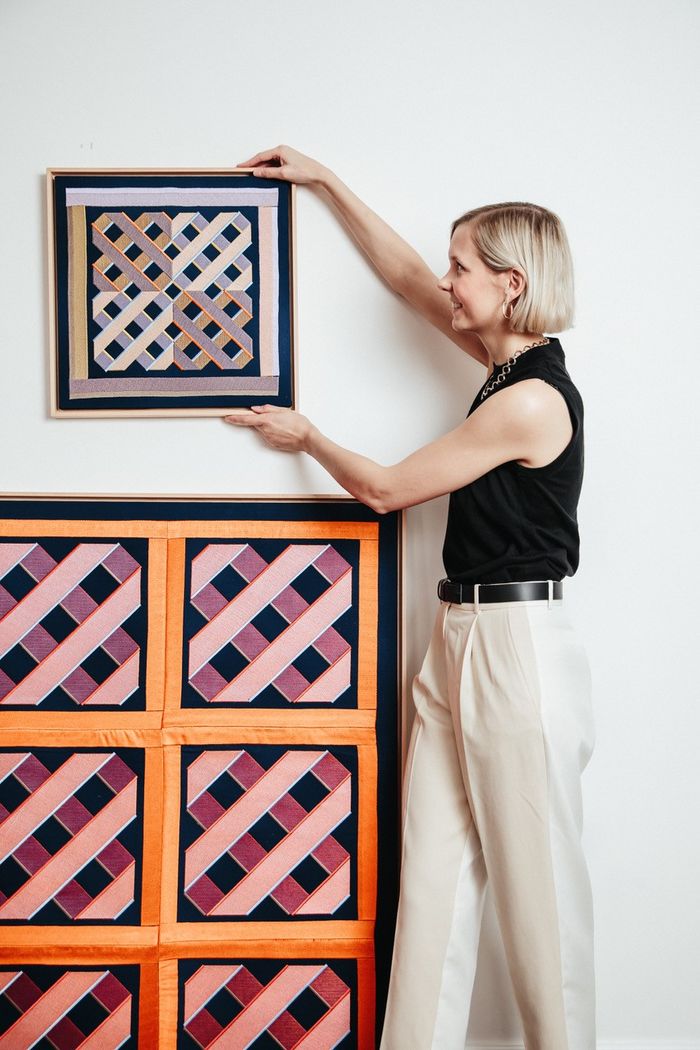 Can you give an introduction to who you are and who/what your brand is and how long your brand has been around for? Is this your first Top Drawer?
I am Amelia Ayerst, owner and designer of DUO-HUE. I launched my brand in February 2021 during lockdown. I previously was working for Dyson in Bristol, working closely with James Dyson on the electric car project he was working on. I was a CMF designer (colour, materials and finish), so working on the textiles, plastics, exterior paint of the automotive project. It was a really exciting part of my life, but then when the project got cancelled, I decided not to go back to Dyson on the haircare and floor care products and instead take the redundancy money and start my own business. I used the money to buy a Digital Embroidery machine.
My brand is based around an innovative stitch that I created whilst studying at the Royal College of Art. I explore different stitch densities and directions alongside colours to create a colour morphing stitch when the product moves. This is where my brand came about and all based around this technique.
My collection launched with a range of artworks and cushions. People can purchase the artworks as individuals or build their own grid for a feature wall. I also create one of a kind artwork which are either wall hangings or framed pieces. I also can do bespoke embroidery for interior spaces.
I launched during lockdown so this will be my first Top Draw where I will be showing in the Launchpad section.
How did you start your brand?
I spent time during lockdown to really develop my brand, exploring different patterns and colours. This was a really helpful time for me, because it was lockdown it meant I didn't have to rush this process and really gave me a focus point to keep me busy. I feel like because I slowed down the process, the quality and detail of my work really increased.
I was lucky that during lockdown, like minded designers who are already very established really helped me and gave me tips. It was really motivating having other creatives giving me advice over Instagram and Zoom. To connect with interior designers I would send them sample packs of my embroidery which had a great response.
I was lucky enough to go to India just before lockdown happened, therefore my first collection was very much influenced by my travels. I was inspired by the country's vast array of colour and movement, and I wanted to create designs that would reflect the excitement of colour when applied to home and lifestyle products.
My new collection is based on different weave structures. I always wanted to learn how to weave so I try and recreate different structures through my embroidery. This particular collection was again inspired during lockdown, so looking at my wicker furniture and how it is created. I also will be launching a blanket collection at Top Drawer which I am really excited about. I am working with Bristol Weaving Mill on some woven blankets using a jacquard loom. These are insured by my patterns and are luxury merino wool.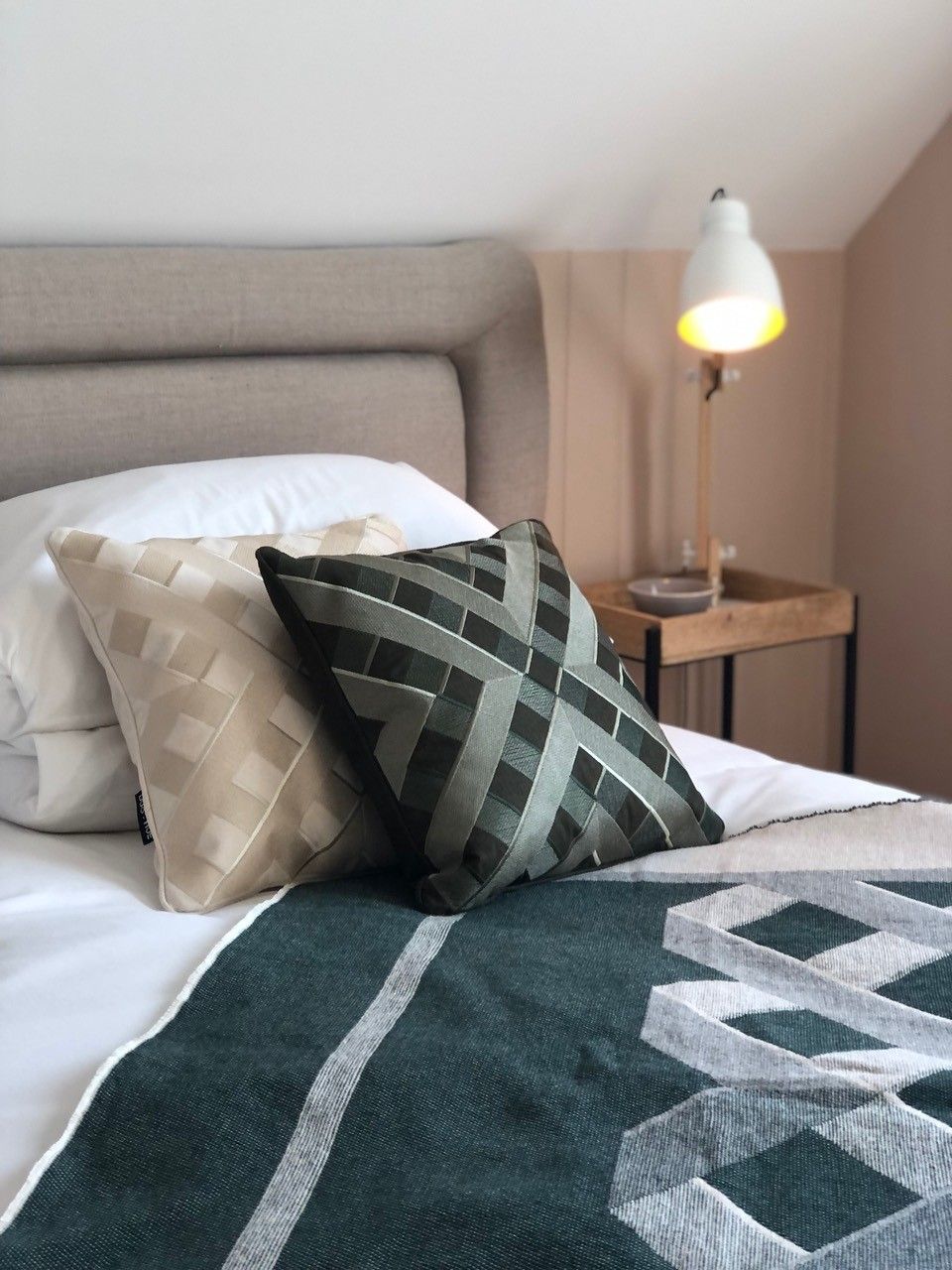 What's been your biggest highlight whilst creating your brand? Why is it you love what you do?
My biggest highlight would have to be seeing my brand in some of the top magazines. I have been lucky enough to be featured in Elle Decoration, House and Garden, Homes and Garden, The English Home, Living ETC, Homes and Antiques, Design Milk, The Times and many more. I also have recently been able to attend design shows with Design Nation which have been a great success. It is so lovely to finally, be able to show my products in real life. Textiles are such a physical thing and my work really comes alive in person because of the colour shifting nature. It's been such a highlight to finally connect with customers and interior designers in real life and get such positive feedback.
I have always wanted to do my own thing so I am the happiest I have been in my career. I am finally doing what I love and exploring colour and having fun with designs. I really love working with brands and interior designers on bespoke embroidery and it is so rewarding to see my work in people's homes, hotels and offices and seeing how each person uses my work differently.
Knowing what you do now, what advice would you give to yourself when you were first starting out?
Be patient, things don't happen overnight. I also would say don't be afraid to ask for help. Most people have been in your situation, so it's okay to ask for help. Most people know how it feels to start a new business, let alone during lockdown. The majority of people will want to help and they can give you tips on what works and what doesn't. At the start I was afraid of failure and asking for help but I soon realised that this is the best thing to do. Speak to designers, connect with people because they have a lot of knowledge out there that can help.
Can you tell us about your new collections/ranges that you'll be launching at Top Drawer?
I am launching my new collection of artworks and cushions. These I mentioned about, they are much more tonal and playing on subtle colour changes. Less bold and colourful than my first collection. There are designs that are earthy and neutral.
I also am launching a very exciting collaboration with Bristol Weaving Mill. I have a range of 6 different coloured luxury blankets all based on my designs. They are all woven in the UK and using Merino wool. They also will have matching cushions.
Any personal favourites from your new collection?
In January I am also launching a new collection which I am really excited about. I am working with interior design studios using their waste material. With their waste material, I am embroidering the material and using the pieces to make quilts, wall hangings and cushions. It has always been something I am interested in, as a designer I want to create as little waste as possible and I feel like my skill can work with design studios to reduce their waste too and bring a new life to scraps of discarded material. I will also be launching a range of cushions that I have created using end of roll material, each piece a completely one of a kind piece.
I also will be showcasing my jumper range - I have had a great response online from these. At the moment I stock them on Wolf and Badger but my unisex jumpers have had such a great response from everyone. Only retailing at £85.